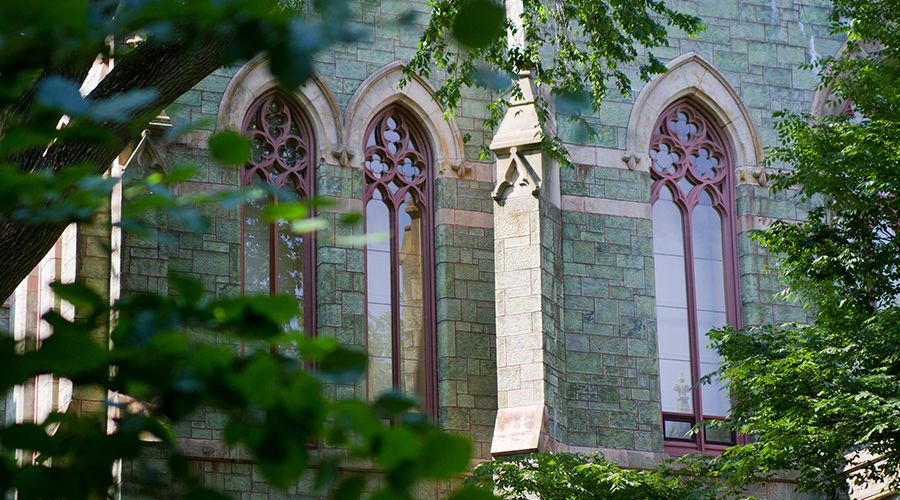 Spring 2021 events and information sessions announced
The faculty and staff of the College of Liberal and Professional Studies invite you to join us for our spring 2021 events and virtual information sessions. Join us to learn about our undergraduate, post-baccalaureate, graduate, and certificate programs.
Meet program directors and recruitment staff to get your questions answered about curricula, advising, and how our programs can help you reach your personal and professional goals. We look forward to answering your questions and helping you get started on the application process.
January
Master of Environmental Studies
Virtual Café
Tuesday, January 5, 2021
12 – 1 p.m. EST
Get Master of Environmental Studies event details »
Fels Institute of Government
Virtual Information Session
Wednesday, January 6, 2021
Thursday, January 28, 2021
12 – 1 p.m. EST
Get Fels Institute of Government event details »
Master of Science in Applied Geosciences
Virtual Café
Thursday, January 7, 2021
12 – 1 p.m. EST​​​​​​​
Get Master of Science in Applied Geosciences event details »
Pre-Health Programs
Virtual Information Session
Tuesday, January 12, 2021
5 – 6 p.m. EST​​​​​​​
Get Pre-Health Programs event details »
Organizational Dynamics
Virtual Information Session
Tuesday, January 19, 2021
6 – 7:30 p.m. EST​​​​​​​
Get Organizational Dynamics event details »
Master of Applied Positive Psychology
Virtual Information Session
Wednesday, January 20, 2021
9:30 – 10:30 a.m. EST
Get Master of Applied Positive Psychology event details »
Master of Liberal Arts
Virtual Information Session
Thursday, January 21, 2021
12 – 1 p.m. EST​​​​​​​
Get Master of Liberal Arts event details »
February
Master of Environmental Studies
Virtual Café
Tuesday, February 2, 2021
12 – 1 p.m. EST​​​​​​​
Get Master of Environmental Studies event details »
Master of Science in Applied Geosciences
Virtual Café
Thursday, February 4, 2021
12 – 1 p.m. EST​​​​​​​
Get Master of Science in Applied Geosciences event details »
Master of Science in Applied Geosciences
Virtual Information Session
Tuesday, February 9, 2021
12 – 1 p.m. EST​​​​​​​
Get Master of Science in Applied Geosciences event details »
Fels Institute of Government
Virtual Information Session
Wednesday, February 10, 2021
12 – 1 p.m. EST​​​​​​​
Get Fels Institute of Government event details »
Pre-Health Programs
Virtual Information Session
Wednesday, February 10, 2021
5 – 6 p.m. EST​​​​​​​
Get Pre-Health Programs event details »
Master of Environmental Studies
Virtual Information Session
Thursday, February 11, 2021
12 – 1 p.m. EST​​​​​​​
Get Master of Environmental Studies event details »
Master of Liberal Arts
Virtual Information Session
Tuesday, February 16, 2021
5 – 6 p.m. EST​​​​​​​
Get Master of Liberal Arts event details »
Organizational Dynamics
Virtual Information Session
Tuesday, February 16, 2021
6 – 7:30 p.m. EST​​​​​​​
Get Organizational Dynamics event details »
March
Master of Environmental Studies
Virtual Café
Tuesday, March 2, 2021
12 – 1 p.m. EST​​​​​​​
Get Master of Environmental Studies event details »
Fels Institute of Government
Virtual Information Session
Wednesday, March 3, 2021
6 – 7 p.m. EST​​​​​​​
Get Fels Institute of Government event details »
Master of Science in Applied Geosciences
Virtual Café
Thursday, March 4, 2021
12 – 1 p.m. EST​​​​​​​
Get Master of Science in Applied Geosciences event details »
Pre-Health Programs
Virtual Information Session
Wednesday, March 10, 2021
5 – 6 p.m. EST​​​​​​​
Get Pre-Health Programs event details »
Master of Liberal Arts
Virtual Information Session
Tuesday, March 16, 2021
12 – 1 p.m. EST​​​​​​​
Get Master of Liberal Arts event details »
Organizational Dynamics
Virtual Information Session
Tuesday, March 16, 2021
6 – 7:30 p.m. EST​​​​​​​
Get Organizational Dynamics event details »
April
Master of Science in Applied Geosciences
Virtual Café
Thursday, April 1, 2021
12 – 1 p.m. EST​​​​​​​
Get Master of Science in Applied Geosciences event details »
Master of Environmental Studies
Virtual Café
Tuesday, April 6, 2021
12 – 1 p.m. EST​​​​​​​
Get Master of Environmental Studies event details »
Fels Institute of Government
Virtual Information Session
Tuesday, April 6, 2021
Tuesday, April 27, 2021
6 – 7 p.m. EST​​​​​​​
Get Fels Institute of Government event details »
Organizational Dynamics
Virtual Information Session
Tuesday, April 13, 2021
6 – 7:30 p.m. EST​​​​​​​
Get Organizational Dynamics event details »
Pre-Health Programs
Virtual Information Session
Wednesday, April 14, 2021
5 – 6 p.m. EST​​​​​​​
Get Pre-Health Programs event details »
Master of Liberal Arts
Virtual Information Session
Tuesday, April 20, 2021
5 – 6 p.m. EST​​​​​​​
Get Master of Liberal Arts event details »
May
Master of Environmental Studies
Virtual Café
Tuesday, May 4, 2021
12 – 1 p.m. EST​​​​​​​
Get Master of Environmental Studies event details »
Master of Science in Applied Geosciences
Virtual Café
Thursday, May 6, 2021
12 – 1 p.m. EST​​​​​​​
Get Master of Science in Applied Geosciences event details »
Pre-Health Programs
Virtual Information Session
Wednesday, May 12, 2021
5 – 6 p.m. EST​​​​​​​
Get Pre-Health Programs event details »
June
Master of Environmental Studies
Virtual Café
Tuesday, June 1, 2021
12 – 1 p.m. EST​​​​​​​
Get Master of Environmental Studies event details »
Organizational Dynamics
Virtual Information Session
Tuesday, June 15, 2021
6 – 7:30 p.m. EST​​​​​​​
Get Organizational Dynamics event details »​​​​​​​