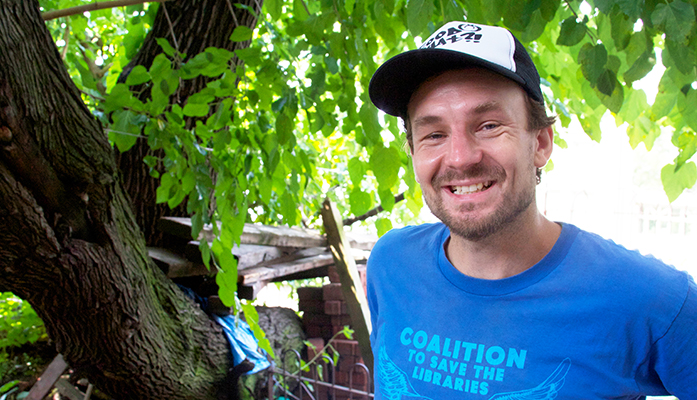 Building for the community and the environment
Above the foyer in Tony Larson's West Philly home, visitors are greeted by a cluster of strange green action figures. Like the Hulk … but fuzzier. Even in this house full of salvaged finds, the glowering green tribe stands out.
"It's Moss Man," Tony (Master of Environmental Studies '12) says cheerfully. "It's a rare He-Man character. I started collecting them because I found one and thought it was cool. Then I found out that Moss Man actually is one of the most powerful characters, a protector of the earth. He marshals the forces of nature for good. My friends pick them up for me whenever they find one."
Moss Man couldn't have found a more fitting home — the house, once an abandoned shell, was restored using salvaged and found materials. And Tony couldn't have found a better mascot. Today, Tony builds affordable green housing units and trains underserved young people in the best green building practices.
Tony wasn't always interested in green design. He grew up in Philadelphia, raised in a tradition of civil rights activism by his progressive parents, but environmentalism wasn't part of his worldview.
In college, he studied history, and afterwards became a teacher and leader of after-school programs for young people in Philadelphia. But he still felt restless.
"I felt like there was a piece of the puzzle missing. So I got in a van and traveled around for two years to see what was happening on the grassroots level."
Tony — a part-time DJ and expert crate-digger — funded his trip in part by finding and selling rare records from city to city. "I like old records, and was thrifting already," Tony shrugs. "It helped me keep going."
During his travels, Tony asked new friends which projects were making a difference in people's lives. Everyone was talking about urban farming.
"I didn't have a lot of environmental consciousness, and it was really new to me. Gardening could seem really frivolous. But then you start to see the interconnections of it. Digging your hands in the earth is important for a person's mental health and sense of self, not even getting to food justice or food sustainability."
On his roadtrip he was also getting his first big dose of nature itself.
"I was hiking in state parks for long stretches. At first it was weird to me being in the great outdoors. But by the time I got out to the redwoods in northern California, I knew that that's what my purpose was — to serve nature."
When Tony returned home, it was with a calling: "I wanted to be involved in the regreening of Philadelphia."
Tony found a job at the Agatston Urban Nutrition Initiative and trained high schoolers in urban farming. With a vision of striking out on his own in green building, he began his Master of Environmental Studies degree part-time.
"[Director] Yvette Bordeaux was so amenable to crafting courses that fit my needs," Tony says. It helped me bring together all these interests that I didn't know overlapped. I'm interested in food and housing, making them accessible and environmentally friendly, and available to middle and low-income people. The program helped me see how I could put that into practice."
Tony did his capstone project on residential stormwater catchment, investigating incentives for homeowners to go the extra mile. For the last chapter, he designed a system to handle stormwater on the roof of the home he now lives in West Philly.
The Master of Environmental Studies degree also offered him key connections. "It broke down the Ivory Tower. I was very close to big decision makers — people who had, say, the health of the Delaware River on their list of to-do's."
His new venture, an LLC, continues in that pragmatic spirit.
"We don't have any grand plans. We're working slowly and carefully to create affordable green housing units for rent. I work with young people, several of whom are my former students, to do the restoration."
Once the homes are restored, they will serve long-time low-income residents, even as waves of gentrification wash over the neighborhood.
"We just want to invest in our community and keep those benefits here," Tony says. "We're thinking about the future. That's what the program teaches: it felt like the work was not just for a grade, but contributing to advancement of green thinking and green issues for the future, too."