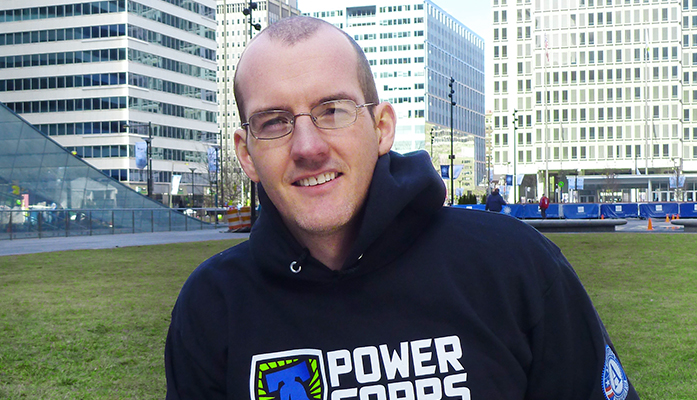 From protecting the Gulf waves to Philly's storm water
In 2010, the massive Deepwater Horizon oil spill wreaked havoc in the Louisiana Gulf. At the time, Alex Warwood (Master of Environmental Studies '13) was serving as a marine science technician in the Coast Guard. As the severity of the spill became clear, Alex found himself assigned to the Gulf to help stem the damage.
"That was a very daunting task," Alex says, "and that's where my understanding of how environmental protection really began. I worked in Louisiana, Alabama and Mississippi as a pollution investigator and saw how many people and miles of coastline the spill impacted. We observed safety crews and also mapped appearances of the product, to make sure the actual oil was not entering into Lake Pontchartrain. The product looked like wet dog food, orange and brown and floating, because they were putting dispersant on the product as it was spilling out from an incredible depth."
Observing the impact of the oil spill helped Alex to clarify his next career steps. After graduating from Temple University and realizing that a planned career in teaching no longer felt fulfilling, Alex joined the Coast Guard. Both his father and grandfather were in the service, and the Coast Guard marine science post offered a way to travel and learn about environmental work. After his experiences in the Gulf, Alex says, "I understood that there is an incredible amount of work necessary in the field of environmental protection. People need a lot of education to fully understand the impact of what we are doing to the environment. Being present at the site of the disaster gave me an understanding that I wanted to stay in the environmental field."
Alex ended his four-year enlistment with the Coast Guard in 2011, but not before making a visit to Penn's campus to check out the Master of Environmental Studies program.
"I had met with Program Director Yvette Bordeaux and Professor Stan Laskowski, who eventually became my advisor, and sat in on a class with them. The day I visited, Yvette actually did a presentation on Deepwater Horizon, so that was very interesting. Stan was a 30-plus-year EPA executive so I talked to him a lot about the federal level of environmental protection."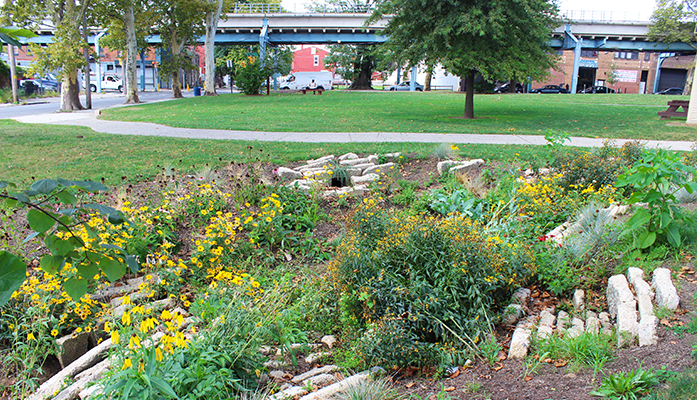 The visit made Alex's choice to apply to Penn's Master of Environmental Studies program obvious. "I knew it was going to be a good fit because I saw that people had a real wealth of knowledge that I could build off of."
As a veteran, Alex found the transition to the program to be an easy one. "Penn really worked with me with my veteran benefits," he says. "They gave me a lot of support early on with my pension and GI bill. I had an awesome experience with the registrar's office."
As he began his classes, he quickly sought out connections with professors to help point him in the right direction. "The classes were very small, very intimate, and they were the best part of the program. I had a ton of face-time with the faculty, all of whom were very open to meeting and offering counsel. That attention was key to allowing me to find my current career."
Alex chose Environmental Policy as his concentration. His connection with Professor Howard Neukrug, Philadelphia Water Department commissioner and Master of Environmental Studies professor, helped him find the direction of his capstone project, focusing on urban flood issues.
"Howard connected me with an internship with the Water Department, and he was integral to showing me how to use my work at the Coast Guard and my education at Penn to find an appropriate position post-graduation. I'm currently an environmental consultant with the Trans-Pacific Engineering Corporation, and I work with the Philadelphia Water Department to support green infrastructure."
In this position, Alex connects his teaching talents with his environmental experience, helping to lead a team of young environmental stewards. PowerCorpsPHL pays young people to work alongside Philadelphia Parks and Recreation and the Philadelphia Water Department, teaching them about the green infrastructure systems that keep our cities clean and showing them how to maintain them.
"Our team works so hard," Alex says. "They come in, they make an area look 100% better, all across the city, in front of people's businesses. They're really doing a great service to the Philadelphia Water Department and Philadelphia. If you want a boost of enthusiasm, you go and work with these guys."
In the future, Alex says, he just wants to continue the course he first charted back on the coast of Louisiana. 
"I would love to continue to work with Philadelphia youth and advocate for the Water Department, and continue building on what we've started over this last year. With green storm water management and the city's Greenworks program, we're set on becoming the greenest city in America. And I want to be a part of that."