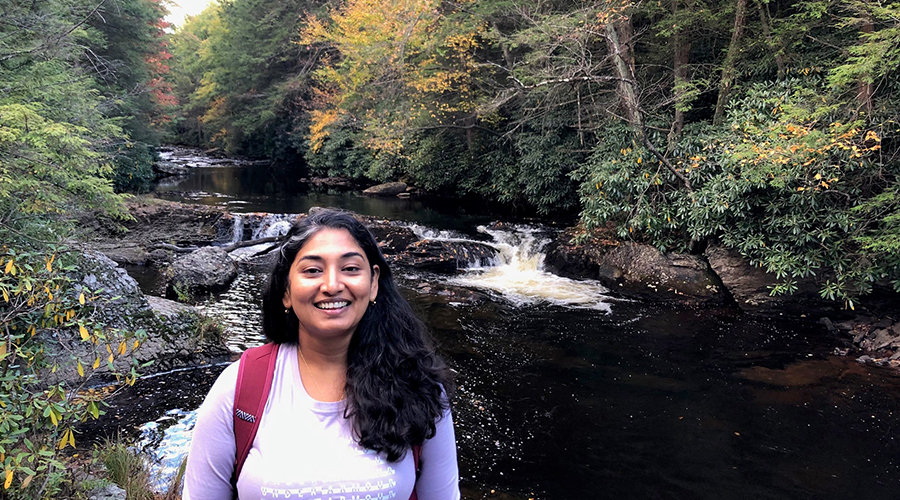 "I attribute my interest in the environment to growing up on an island and being mindful of the resource constraints of island living," says Reshmi Nair (Master of Environmental Studies '08). She's originally from Andaman and Nicobar Islands, a union territory of India in the Bay of Bengal. "The water, the land, everything is limited there," she says. Her godfather ran a non-government organization (NGO) there that advocated for environmental protection and the rights of marginalized indigenous people, and, as a kid, Reshmi would work with him during the summers. Her passion for protecting her home fueled her interest in studying botany and environmental management on the Indian mainland. "After finishing school, I came back to the islands and worked with the NGO for another two years. I got to interact a lot with international anthropologists, many of whom were educated in the US," she says, which drove her to do the same.
Reshmi was accepted to several schools in the US, including Penn's Master of Environmental Studies (MES) program. At first, she was leaning toward a human ecology program at another east coast school. Then an anthropologist she was working with—who also wrote her a graduate school reference—pointed her toward the Ivy League.
"He said to me, 'Do you realize where you've gotten in? Nobody refuses Penn,' and I said, 'Yes, sir!'" she laughs. He encouraged her to reach out to the Penn program before making a final decision. After speaking with the former program director, Dr. Susan Gill, Reshmi was convinced. "I didn't know what my path was back then," she shares, though she considered pursuing a PhD after her master's. "What Penn offered was a wonderful mix of students and faculty and disciplines. All those different perspectives gave me an opportunity to look at potential professions," she says. "So that's how in 2006 I landed in the US, in Philadelphia, with two suitcases."
While taking a breadth of courses, Reshmi gained work experience on campus that would help her in her future career. One job was with the Initiative for Global Environmental Leadership International (IGEL), which supported sustainable business practices and policies. Her role was cold-calling companies to partner with the initiative. "It was a lesson in stepping out of my comfort zone," she says. She also worked at the Small Business Development Center (SBDC) at Wharton, where students provided free and low-cost environmental compliance consulting for entrepreneurs and fledgling businesses.
"IGEL and SBDC took me out of my PhD mode and put me into consultant mode, eventually leading me to my career," she says. "My idea to get a PhD and go back to the islands started becoming a little blurred because life took over. By my last semester at Penn, I had an offer with a consulting company near Philadelphia."
Before switching fully to stateside consultant mode, Reshmi used her culminating capstone project to complete a chapter with Andaman and Nicobar Islands. Picking up where the thesis for her diploma earned in India had left off, Reshmi expanded her research on sustainable development practices that could be applied to her home islands. Thanks to a grant from Penn's Department of Earth and Environmental Science, she was able to spend three months on the islands working with her godfather at his NGO to complete the project.
After graduation, she started with the global consulting company Environmental Resources Management (ERM). "I began as a generalist. That's where the flexibility of the MES program helped so much," she says. Her chosen MES coursework exposed her to broad environmental, planning, and business topics that gave her the insights and vocabulary to hit the ground running with clients. "I had the know-how to help out and get involved in projects," she explains. "If the project dealt with wetland delineation, I didn't have to look a lot up because I took a course on wetlands. If a client needed environmental impact assessments and permits to keep their business running, a course that covered the National Environmental Policy Act helped. I knew about green buildings from my environmental planning course. I knew about water and soil sampling," she says. The list goes on.
She found her campus job consulting with small businesses had been great practice for her new larger-scale responsibilities. "I had an idea of what the expectation and responsibilities were in consulting," she says.
Reshmi is quick to point out the good fortune she had landing a job with ERM—a recruiter saw her in a Penn sweatshirt and struck up a conversation—and that accepting the position was practical. As an international student who wanted to stay in the country after graduation, employment in her field of study was essential. "When I got the job, I needed the job," she summarizes. But her pragmatism did not shake her optimism. "I came from a grassroots level, advocating for communities against corporations using up resources," she says. "If I couldn't do that for a career, I could still do something rewarding and gratifying by helping corporations reduce their impact on communities and resources."
Reshmi spent 12 years in consulting, working with Fortune 500 clients in chemical manufacturing, pharmaceuticals, and metals, honing her skills in the niche field of environmental compliance assurance. During that time, she got married and had two children.
Three years ago, when she wanted less travel and a better work-life balance, she left consulting for an industry position. "Today, I manage the environmental program for a leading pharmaceutical company site in Pennsylvania. I'm doing essentially the same work I did as a consultant, but now my clients are the site's engineering, maintenance, operations, and production groups," she explains. In addition to keeping the site compliant with federal and state environmental regulations, Reshmi is taking her role a step further, working on sustainability programming to reduce the site's water and energy use. She is hopeful that successful practices at her site can be applied to others.
Recently, Reshmi was invited to an MES alumni panel, where she shared her career and life experiences with current MES students eager for career and job search advice. "If you haven't decided which area of the environmental field you want to go into," Reshmi advised, "consulting gives you good exposure to everything." She also recommended that students stay current in emerging areas throughout their careers. "Don't be stagnant; there is someone who has an edge on you, so keep growing and learning," she told students, as well as reminding them to research an organization before accepting a job. "Your passion and your ethics should match the company culture."
Finally, she offered some hard truths mixed with positivity. "I told the students that making your passion a profession is an ideal situation that doesn't happen for a lot of us, but you can't survive by disliking what you do just for the sake of earning a living either. You have to find a balance," she counsels, noting that that can take time, maturity, and experience. Life happens.