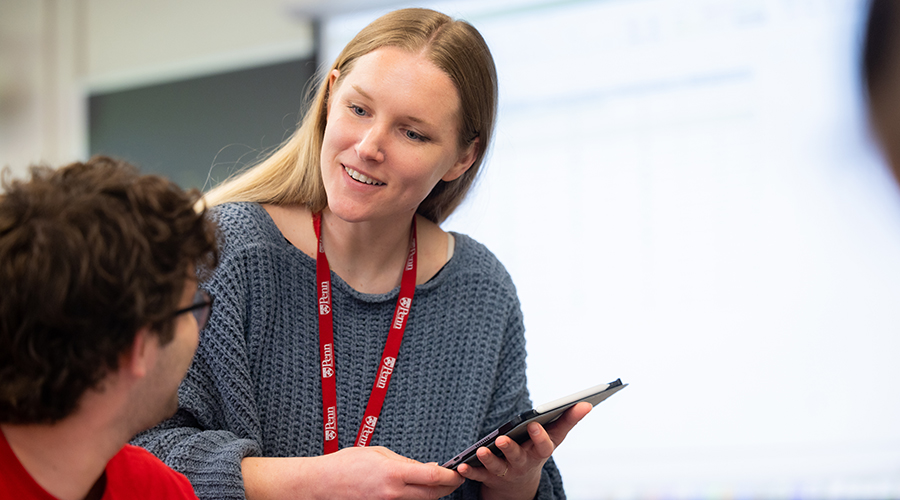 We've designed our Pre-Health Programs to help you make the most of your experience at Penn. The array of incomparable resources available here can be daunting, and we're committed to helping you flourish in this exciting environment so that you not only leave the program with an excellent application portfolio, but one that reflects the type of truly exceptional academic and career preparation you can only find at Penn.
Personalized advising
The Director of the Pre-Health Programs oversees academic advising for all students enrolled in the program. Each student is assigned a team of academic advisors at the start of their program. The Pre-Health Programs advising team is made up of dedicated professionals with significant healthcare, life-science research, and higher education experience. At Penn, we've designed a program that ensures you will benefit from the full team's diversity of healthcare and pre-health backgrounds as well as their powerful professional networks. 
A member of the Pre-Health Programs team will work closely with you to develop a customized course of study that meets your unique educational and career goals. Not only will we provide you with outstanding preparation for successful application and entrance to your chosen professional school, but more importantly, we will assist in your personal and career development as a future medical, dental, or veterinary professional. The Pre-Health Programs team will also write your committee letter, which is a comprehensive letter of evaluation that will be used as part of your professional school application. As part of the committee letter process, you will be assigned a personal application coach to guide you with your primary applications to professional school.
Workshops and special speaker events
During both the fall and spring semesters, the Pre-Health Programs team will offer a variety of carefully designed workshops that will enhance your training and familiarity with relevant topics in your future career field. These events draw upon University-wide resources and networks, including opportunities to hear faculty present on current healthcare issues and learn from the successes of Pre-Health Programs alumni.
The fall semester workshops focus on exploring different healthcare specialties and hot topics by bringing in current healthcare professionals; organizing visits to medical, dental and veterinary schools; "Meet the Deans," where Deans of medical schools will come to campus for a candid Q&A with Penn Pre-Health students; and much more. Each fall semester, we also present a two-part workshop series on interviewing with confidence.   
The spring semester workshops provide application-geared events that prepare you for your professional school applications, including tips on writing personal statements and prospective nominee process for linkage, in addition to our MCAT exam preparation.
As part of the program's special speaker events, Dr. Zeke Emanuel, Vice Provost for Global Initiatives and the Diane v.S. Levy and Robert M. Levy University Professor, Co-Director of the Health Transformation Institute, joined the Pre-Health Programs team to talk to students about the German healthcare system, including its similarities and differences as compared to the US healthcare system.
If you're having trouble with this video, you can watch it on YouTube.
As part of the program's special speaker events, Rear Admiral Bruce L. Gillingham, Surgeon General of the US Navy, joined the Pre-Health Programs team share an overview of "the power of Navy medicine": the breadth of what Navy medicine does (it's not just serving aboard ships!), its opportunities for health professionals, and the US Navy medicine COVID-19 response.
If you're having trouble with this video, you can watch it on YouTube.
As part of the program's special speaker events, Dr. David Fajgenbaum, groundbreaking physician-scientist, disease hunter, speaker, and author of the national bestselling memoir, Chasing My Cure: A Doctor's Race to Turn Hope Into Action, joined the Pre-Health Programs team to discuss his personal struggle with Castleman disease and his professional research to find a cure for it.
If you're having trouble with this video, you can watch it on YouTube.
Community resources online
We know that our students lead exciting, busy lives, and we've developed resources that are available when they need them most. In addition to the many events and meetings that bring us together in person, we also encourage you to continue accessing our community virtually. 
The Pre-Health Programs online resources provide space for accessing:
Volunteer, shadowing, and research opportunities
Recorded videos of application workshops
Comprehensive course and registration information
Academic deadlines
Post-Baccalaureate Student Society announcements and events
Updates from professional health associations (e.g., AAMC, AACOM, ADEA, AAVMC)
Peer forums for selling books, roommate searches, social event invitations, etc.
Networking with alumni
And much more