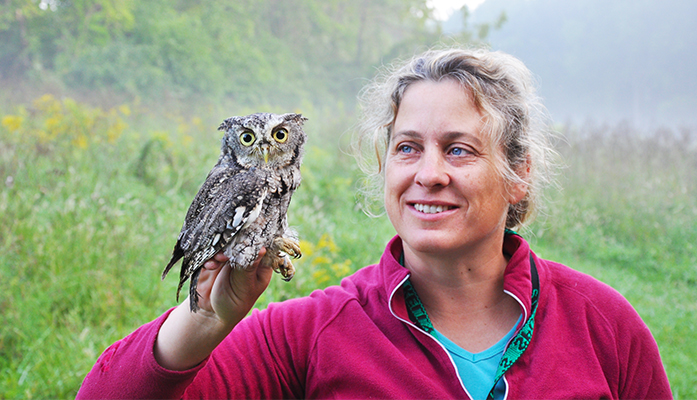 Migratory birds, that is
On an average spring morning, Lisa Kiziuk (MES '04) wakes well before sunrise. When light breaks over the muted mid-Atlantic greens of the Willistown Conservation Trust, Lisa will already have put in hours with a team of volunteers, gently extricating migratory songbirds from the nets set up at the Trust's bird banding station, tagging and recording data about the birds, and setting them loose for the next stage of their long journey north.
Lisa will tell you she's never been happier. But 10 years ago, before pursuing the MES degree at Penn and finding her passion for conservation, her career couldn't have looked more different.
Lisa received a business degree from Lafayette College, and made a smooth transition to the corporate world, working in telecommunications at the Philadelphia Convention Center. At the intense, seven-days-a-week job, Lisa says, "I was making money but wasn't intrinsically motivated."
Then family tragedy struck. A few short years after her father retired from his corporate career, he passed away after a battle with cancer.
"I realized how short life was, and I knew I had to make a change — I wanted to spend my life doing something I really cared about," Lisa says.
She went back to school at Penn, studying to become a science teacher. A chance detour would change her life path forever.
"I was taking as many different science classes as possible, and decided to go on a tropical field ecology trip to Panama through Penn. It was unlike anything I'd ever seen. I alone logged 50 new species. I was astounded by the immense diversity of life, and I knew I'd found my passion."
Lisa decided to change her focus from environmental education to conservation, and enrolled in the Penn MES program. There she took "as many field courses as possible," traveling to Puerto Rico, Panama and the Rocky Mountains. After completing her degree, she found work at the Willistown Conservation Trust, a historic land trust in Chester County, as Stewardship Manager.
Lisa's main role at the Trust is to connect people to the wild habitats in their backyards. In 2008, as the Trust was seeking ways to more fully engage their local constituents, Lisa received a call from the Delaware Ornithological Society.
"They asked me if I had any ideas for a possible grant proposal. And at that moment, I remembered my experience in Panama. It just came to me — a bird banding station! We could have one right there at the Trust."
Lisa received the funding for the bird banding station — complete with mist-nets for capturing them humanely, and materials to weigh, measure and photograph the birds and log the collected data. The program, she says, "has changed everything" for the Trust in terms of audience engagement.
People love the opportunity to see the birds up close, and the experience has increased volunteering and engagement exponentially. "It's filling the void for a lot of people who don't have an opportunity to connect to nature. We're so used to indoor comfort, but bird banding requires you to be out every day, either at sunrise or at sunset, and it's an incredibly moving experience for people," Lisa says. Together, Lisa and her volunteers help conservation efforts for migratory songbirds and Saw-Whet owls.
She thanks the MES program for helping her see the connections that led her to create the program. "The best part of the MES program is that it taught us how to think, how to be independent and analytical. They gave me the skills I needed to develop my own program, based in my passion and creativity, and I took that into my career."
Today, Lisa often still works seven days a week, especially during the spring, summer and fall, when the bird banding station is in full swing. But she doesn't seem to mind.
"I don't get much sleep anymore, but I do feel tremendously fulfilled. Being awake when the sun comes up, you see something new and beautiful every day."