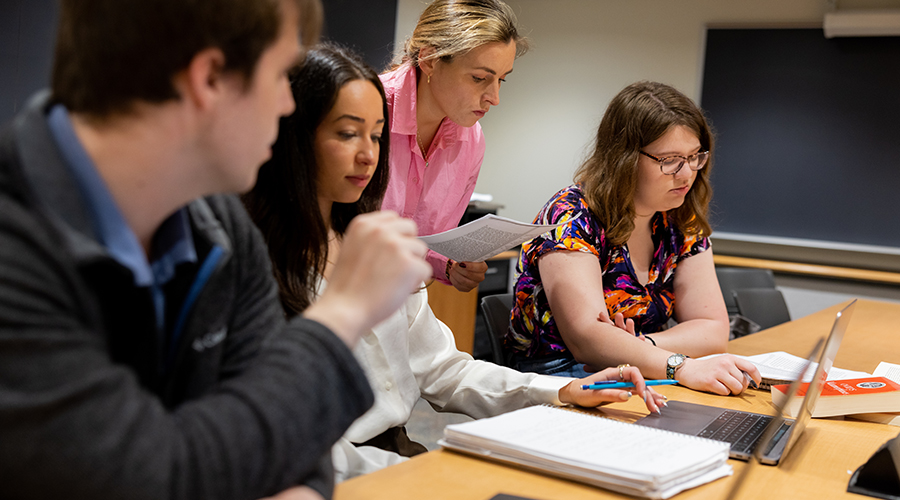 The Classical Studies Post-Baccalaureate Program is designed with a cohort structure that encourages the development of collegial relationships and strong friendships amongst the students in the program. You will spend the year studying and learning with a group of no more than 22 peers who share similar career and academic goals.
You will receive individual advising from the Classical Studies Program Director throughout the year. The Program Director takes a student-by-student approach, offering the open conversation and personal advising relationship you need to help you determine the path that meets your needs.
Course options and selection
The range of courses available means you can construct a course of study that will best enhance your previous experiences and prepare you for your next level of study.
All students in the Classical Studies Post-Baccalaureate Program are required to take one Latin and one Greek course per semester. The majority of our post-baccalaureate students enroll in the dedicated seminar courses, the Post-Baccalaureate Seminar in Latin (CLST 5902), and the Post-Baccalaureate Seminar in Greek (CLST 5901). Depending on your language background, and in consultation with the Program Director after your placement examinations, you will determine the levels of Latin and Greek suited to your needs. Some of our students also enroll in extra courses, most commonly German or courses in related fields such as Ancient History, Archaeology, Religious Studies, or Linguistics.
Symposia and lectures
Together with the other members of your cohort, you will attend biweekly lunchtime symposia. This noncredit Proseminar series provides an opportunity for you to hear from the Program Director, the faculty codirector, and members of the Classical Studies faculty as they discuss the particulars of applying to graduate programs. In addition, current graduate students in Classical Studies and related fields are often guests at our symposia. Many of these individuals are alumni of the post-baccalaureate program, and all can offer advice from their own personal experiences.
You are also encouraged to take advantage of the many exciting opportunities to engage in the broader intellectual community around Penn. You are invited to attend as many outside lectures as possible, including the Classical Studies department's weekly Thursday afternoon series and the Center for Ancient Studies' Friday lunchtime series.
Preparing for your first semester
It is recommended that all students have studied Greek or Latin through the intermediate level so they can participate in the dedicated post-baccalaureate seminar courses. Therefore, we may recommend that you gain more formal training prior to entering the program. One option for facilitating your ongoing language education is to participate in our intensive introductory and intermediate summer courses in Greek and Latin; please visit the Summer Course Guide website for course details.
Because all Classical Studies Post-Baccalaureate Program students are required to take placement tests on the day before classes begin in the fall, it is not necessary for you to register for courses before arriving on campus. If, for financial aid purposes, you must register for courses, you may register for the post-baccalaureate seminars in Greek (CLST 5901) and Latin (CLST 5902). We will determine whether adjustments need to be made to your schedule during the first week of classes.