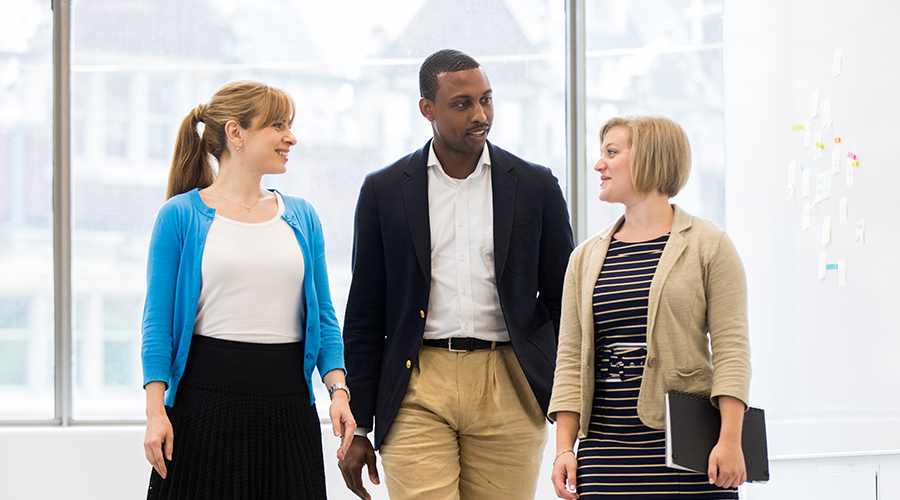 If you would like to take Organizational Dynamics courses, but are not interested in obtaining a degree or are not ready to commit to a degree at this time, you may consider enrolling in the Dynamics Learning Exchange (DLE). The Dynamics Learning Exchange program offers you the unique opportunity to achieve your goals by enrolling in up to two courses as a non-degree-seeking student.
As a Dynamics Learning Exchange student, you will complete the same requirements and be held to the same academic standards as the Organizational Dynamics graduate degree students. And you will earn a grade that is posted on a University of Pennsylvania transcript.
Dynamics Learning Exchange students who successfully complete their coursework, and who are admitted into one of the Organizational Dynamics graduate degree programs, may apply the courses taken as a Dynamics Learning Exchange student to the degree program curriculum.
Admissions and eligibility
In order to enroll as a Dynamics Learning Exchange student, you must complete the application process and be offered admission into the program.
Successful applicants must hold a baccalaureate degree from a regionally accredited US institution and must possess at least a 3.0 grade point average in their undergraduate studies. In addition, candidates must have completed at least five years of full-time, management-related, professional work. Standardized tests such as the Graduate Record Exam (GRE) are not required when applying for the Dynamics Learning Exchange program. 
COVID-19 and admissions reviews 
Recognizing the challenges of teaching, learning, and assessing academic performance during the global COVID-19 pandemic, Penn's admissions committees for graduate and professional programs will take the significant disruptions of the COVID-19 outbreak in 2020 into account when reviewing students' transcripts and other admissions materials as part of their regular practice of performing individualized, holistic reviews of each applicant. In particular, as we review applications now and in the future, we will respect decisions regarding the adoption of Pass/Fail and other grading options during the period of COVID-19 disruptions. An applicant will not be adversely affected in the admissions process if their academic institution implemented a mandatory pass/fail (or similar) system for the term or if the applicant chose to participate in an optional pass/fail (or similar) system for the term. Penn's longstanding commitment remains to admit graduate and professional student cohorts composed of outstanding individuals who demonstrate the resilience and aptitude to succeed in their academic pursuits.
Application deadlines
You may apply to begin Dynamics Learning Exchange studies during the fall, spring or summer terms. Your application portfolio, including all transcripts, must be received by the following deadlines:
| Term of Entry | Deadline |
| --- | --- |
| Summer 2022 | May 1, 2022 |
| Fall 2022 | August 1, 2022 |
| Spring 2023 | December 1, 2022 |
Application materials checklist
Since all required supporting documents are submitted through the online application system, hardcopy material other than official transcripts or letters of recommendation will not be accepted.* Please urge your recommenders to submit their letters through the online system. Please note that all application materials become the property of the University of Pennsylvania and will not be returned. Remember to retain a personal copy of your application.
Applications must contain all of the following in order to be considered complete:
*Unsolicited material will not be used for review.
Completed online application
Current resume or curriculum vitae (CV)
Nonrefundable application fee
Application essays, listed below
Unofficial transcripts from each post-secondary school attended uploaded through the online application system 
One letter of recommendation (details below)
Dynamics Learning Exchange application essays
Your application will include essays addressing the following topics. Please compile all essays together in one document. Number your essays clearly and begin each essay on a separate page. Responses may be as long or as short as you feel necessary. The equivalent of approximately one to three pages (250-750 words) is a general range. Each essay should demonstrate your writing skills, critical thinking, initiative and motivation, planning and organizational skills, creativity, and flexibility.
Write an essay that presents your reasons for applying to the Organizational Dynamics graduate studies program. Include factors, personal and professional, that influenced your career decisions and describe future goals you hope to attain by completing studies at Penn. Indicate why you believe the time for you to pursue this degree is now.
(Optional) If you believe your undergraduate or graduate transcripts submitted do not present an accurate picture of your anticipated performance in Organizational Dynamics, please write an additional essay explaining why.
Letter of recommendation
Each applicant will submit one letter of recommendation. The letter should come from an individual in a position to evaluate your professional and/or academic work, such as a supervisor or professor, and who knows of your desire to enter the Dynamics Learning Exchange program. Recommendations may be submitted online (preferred) or by mail. For online recommendations, please follow the instructions in the Recommendations section of the online application.