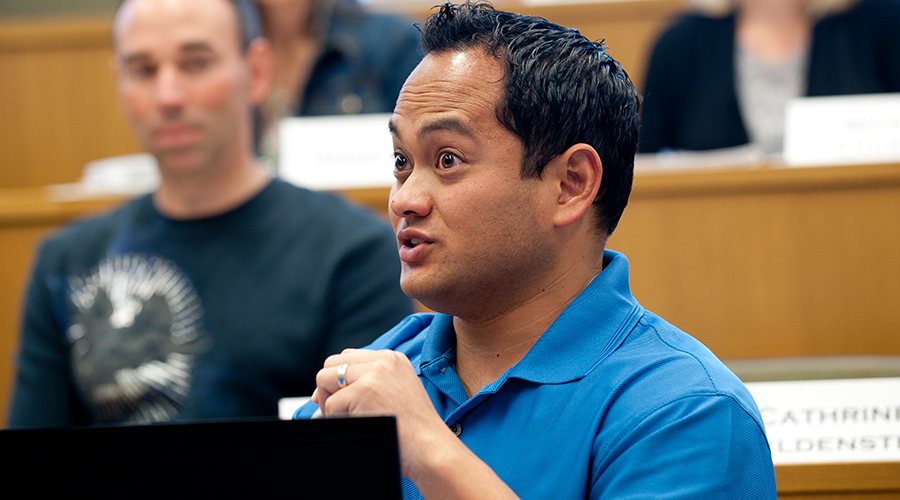 Application deadline
Thank you for your interest in the Master of Applied Positive Psychology (MAPP) program! MAPP is designed for individuals from a variety of backgrounds and requires no specific prerequisite courses. We start a new cohort every fall! Your application portfolio, including all transcripts, must be received by the following deadline. MAPP does not have rolling admissions—all completed applications will be reviewed after the deadline in roughly the order they are completed, and applicants will receive decisions on or before the last day of June.
| Term of Entry | Deadline |
| --- | --- |
| Fall 2024 | March 1, 2024 |
Please note, it is your responsibility to make sure we have all of your application materials by the deadline.
We recommend starting your application early and following it closely because some materials, such as test scores, transcript evaluations, and letters of recommendation can take a long time to arrive. Additionally, pay close attention to our emails which will notify you of missing materials and inform you when your application is complete. We do not review applications until all required materials are received, confirmed, and marked complete.
Application material
Applications must contain all of the following:
Completed online application
$75 nonrefundable application fee
Current resume
Application essay
Your essay should address each question thoroughly, be no longer than 1500 words (single spaced), and be submitted as a single document. You can answer each question separately, or write a single narrative that incorporates all four questions. The essay questions are:

How did your interest in positive psychology develop? How familiar are you with the field?
What do you hope to learn in the MAPP program, and how do you expect to apply that knowledge in your professional career?
How will this affect your career?
How will this affect the profession in which you are (or will be) working?

Unofficial transcripts from each post-secondary school you have attended need to be uploaded through the online application system. If you have copies of your transcripts to upload, you may upload those. If you need to order copies, then please be aware that a common problem that delays applications from being completed on time is that some schools list "The University of Pennsylvania," and not "The College of Liberal and Professional Studies." If your transcripts get sent to "The University of Pennsylvania," they will likely go to the undergraduate division, where we cannot access them. Please be very specific when you order your transcripts and ensure that they are sent to "The College of Liberal and Professional Studies," (address is at the bottom of our website) or lps-admissions@sas.upenn.edu with "MAPP applicant (and your name)" in the subject line.

Note: If you don't yet have your transcripts and wish to work on other parts of the application while you wait, you can temporarily bypass the transcript section. To do so, upload something in each transcript slot such as a simple Word document that briefly indicates why the transcript isn't there (such as "official transcripts have been sent to Penn" or "waiting for unofficial transcripts to arrive").
Three letters of recommendation
Letters should come from individuals with whom you have had a close professional or academic association and who know of your desire to study positive psychology at an advanced level. In the application, you'll be prompted to enter email addresses of your letter writers and "submit recommendation request," which will prompt our system to email them instructions on how to submit their letter through the online recommendation portal. Letters of recommendation should be on letterhead with an original or electronic signature and must be sent directly from your letter writers. Recommendations without letterhead and/or a signature will be more closely monitored in our application credentials review process. There is no required length, although they are usually about one page long. Please urge your recommenders to submit their letters through the online system promptly. If they have difficulties with the online system, they can submit your letter by emailing lps-admissions@sas.upenn.edu with "MAPP applicant (and your name)" in the subject line. Letters can be received before you submit your application, however, they will not be marked as received until roughly 24-48 hours after you submit your application.
GRE test scores, if applicable

If you graduated college after the spring semester of 2021, the GRE is required.
GRE scores must be sent electronically from ETS to the University of Pennsylvania's College of Liberal and Professional Studies (LPS), testing school code: 2986.
To locate a testing site near you or schedule an exam, visit the GRE website. Please note the at-home GRE exams are available and acceptable through the 2023-2024 admissions year.

TOEFL or IELTS test scores, if applicable
A strong command of the English language is necessary for successful study at Penn. Applicants whose native language is not English must submit either an official Test of English as a Foreign Language (TOEFL) or unofficial or official International English Language Testing System (IELTS). Please note the at-home TOEFL or IELTS exams ("IELTS Indicator") are available and acceptable through the 2023-2024 admissions year. If you want to take an at-home test you will need to take the TOEFL.

TOEFL: To locate a testing site near you or schedule an exam, visit the TOEFL website. We do NOT accept the TOEFL Essentials exam scores. TOEFL scores must be sent electronically from ETS to the University of Pennsylvania's College of Liberal and Professional Studies (LPS), testing school code: 2986. The minimum TOEFL scores required for admissions consideration are: Internet Test (iBT) = 100; with no subscore below 23, and listening/speaking score of 26+; Computer-Based Test (CBT) = 250: Paper-Based Test (PBT) = 600

IELTS: The minimum score for consideration is a 7.0 composite, with a writing score of 7.0 or higher, and no other subscore below 6.5. You may upload an official or unofficial copy of your IELTS test to the standardized test score section of your application or email it to lps-admissions@sas.upenn.edu. To locate a testing site near you or schedule an exam, visit the IELTS website.

This is a strict requirement for the MAPP application process to ensure all students who enter the MAPP program can be successful in a fast-paced learning environment. In rare occasions, someone might qualify for an exemption, however, the following are not considered sufficient for exemption: working in the US for many years, having a degree from a school where the instruction was in English, and/or working or living in an English-speaking country. Exemption requests will ONLY be considered AFTER your application has been submitted and all other application materials have been received; the exemption review will naturally add additional time to your application review process, which may impede your ability to schedule and take the test if your exemption request is declined. For those reasons, even if you feel you have mitigating factors that would qualify for exemption, we strongly recommend that you take the TOEFL or IELTS if English is not your native language, as it will strengthen your application and ensure its timely processing. If you have questions about how this requirement impacts you, please email lps-admissions@sas.upenn.edu.
CertiFile or WES for all international transcripts
Applicants who have attended a college or university outside the US are required to have a course-by-course credential evaluation (with grade point average and course levels) performed by an outside evaluation service. Credential evaluations will be reviewed by our administrators, and the determination of degree equivalency to US degrees is at the discretion of the College of Liberal and Professional Studies. The following two evaluation services are acceptable:

CertiFile/CollegeNET Document Service: Applicants from international institutions are encouraged to use the CertiFile/CollegeNET Document Service within the College of Liberal and Professional Studies application to request and submit authenticated transcript(s) and other academic documents. This service provides certified documents and course evaluations which are then included as part of your application materials. If using this service, Penn requires the "Evaluation" service at a cost of $190.

World Education Services Inc. (WES): WES must complete a course-by-course evaluation of all post-secondary credentials. The course-by-course evaluation should include the comparability level of your education and list each of your courses along with the equivalent US marks and credit. Please select the WES basic course-by-course evaluation (with grade point average and course levels) and request that WES send your evaluation to Penn College of Liberal and Professional Studies Admissions. The school can be found by searching the University of Pennsylvania and then selecting College of Liberal and Professional Studies. The evaluation becomes an official academic record and sole property of the University upon its receipt. For additional information about the WES application and their review process, please visit the WES website.

Please note that these services charge a fee for the evaluation.
Since all required supporting documents are submitted through the online application system, hard copy material other than official transcripts or letters of recommendation will not be accepted.

Unsolicited material will not be used for review.

All application materials become the property of the University of Pennsylvania and will not be returned, therefore please retain a personal copy of your application.
Evaluation criteria
How are MAPP applications evaluated?
There are three areas of focus in the application evaluation process. Strong applications demonstrate excellence and contain robust evidence to substantiate performance in all three categories; particular excellence in one category may compensate for areas of lesser strength, so applications will be considered holistically.
Academic performance
The applicant should have a bachelor's degree with at least a 3.0 undergraduate GPA.
The applicant should have a demonstrated ability for quantitative and analytical coursework based on transcript-visible courses that required students to analyze numerical or symbolic data (e.g., math, economics, statistics, biology, genetics, logic, linguistics, engineering); OR high quantitative scores on the GRE; OR practical experience demonstrating skills in quantitative analysis (e.g., financial management or marketing).
The applicant should score above the 50% tile on each section of the GRE (if required).
Non-native speakers of English must take the TOEFL and reach the following acceptable minimum scores:

Internet Test = 100, no subscore below 23, listening/speaking score of 26+
Computer-Based Test = 250
Paper-Based Test = 600
Professional accomplishment or promise
This piece is mostly assessed through the applicant's resume but can also be found in their essay or letters of recommendation. The committee is looking for people who are successful in their profession and are in a position to influence their workplace. For applicants without much professional experience, the committee will assess professional promise. Indicators of professional promise include leadership roles in extracurricular and/or volunteer activities, awards, and/or strong letters of recommendation from supervisors, professors, etc.
Program fit
This is a broad category that is made up of three sub-categories and is mostly evaluated through the applicant's essay.
Knowledge of positive psychology: How much does the applicant already know about positive psychology? Can they cite and intelligently discuss authors, books, and concepts from the field?
Dedication: Does the applicant see MAPP as a necessary step in their professional development? Has the applicant already been applying positive psychology in their work?
Vision: The admissions committee likes to see an applicant with a strong vision for how they want to apply positive psychology to their profession. The vision should also be achievable, given the applicant's professional position and experience.
COVID-19 and admissions reviews
Recognizing the challenges of teaching, learning, and assessing academic performance during the global COVID-19 pandemic, Penn's admissions committees for graduate and professional programs will take the significant disruptions of the COVID-19 outbreak in 2020 into account when reviewing students' transcripts and other admissions materials as part of their regular practice of performing individualized, holistic reviews of each applicant. In particular, as we review applications now and in the future, we will respect decisions regarding the adoption of Pass/Fail and other grading options during the period of COVID-19 disruptions. An applicant will not be adversely affected in the admissions process if their academic institution implemented a mandatory pass/fail (or similar) system for the term or if the applicant chose to participate in an optional pass/fail (or similar) system for the term. Penn's longstanding commitment remains to admit graduate and professional student classes composed of outstanding individuals who demonstrate the resilience and aptitude to succeed in their academic pursuits.