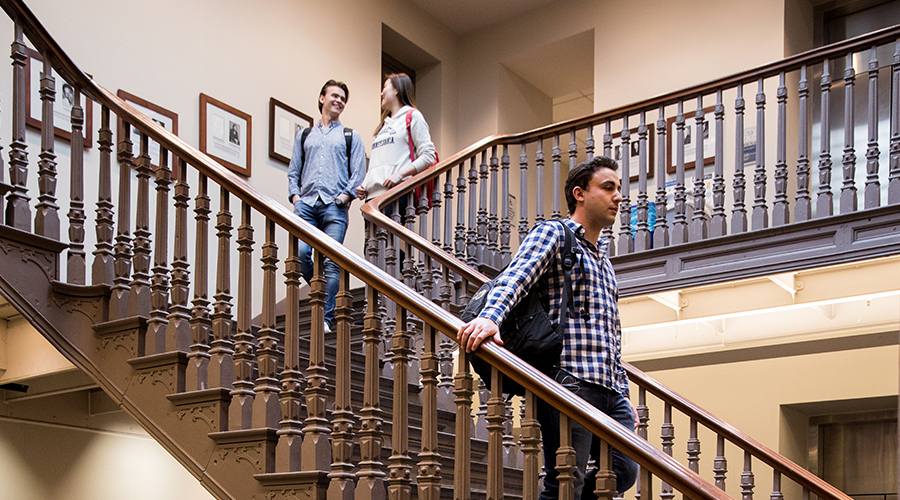 In the Master of Behavioral and Decision Sciences (MBDS) program, you join a vibrant intellectual community, with access to a wide range of academic and cultural resources.
Virtual alumni panel discussion
Recent Master of Behavioral and Decision Sciences alumni panelists talk about their professional and academic lives and reflect on how the MBDS program fit into and influenced their career trajectory.
If you have a problem viewing this video, you can watch this on YouTube.
Student handbook
For guidelines on MBDS degree requirements, structuring your individualized curriculum, and program policies, refer to the Master of Behavioral and Decision Sciences Handbook (PDF).
Academic resources
Find the various ways to get involved at MBDS and take advantage of all that the University of Pennsylvania has to offer. Academic resources include:
Research resources
The Master of Behavioral and Decision Sciences program collaborates with many schools, centers, and institutions across Penn. At MBDS, students are welcome to explore independent research opportunities and attend seminars with:
Student representatives
Join and lead student groups by becoming a student representative. A Master of Behavioral and Decision Sciences student representative is a program student elected to serve as a liaison between the student body and the school administration. MBDS student representatives are tasked with being the voice of the MBDS program in the LPS student government and with working hand in hand with program faculty to bridge the gap between students and the administration. This includes:
Being a sounding board for students
Relaying the wants and needs of your peers
Working with the program director to find ways to build positive student interactions and experiences
Meet our current student representatives:
Ravenn Triplett (she/her) is a part-time graduate student at MBDS, focusing on intervention design. She graduated with honors from the University of California, Santa Barbara, with a dual degree in economics and psychology. Before heading back to school, she supported efforts to combat systemic inequality as a staff member at various nonprofits, including United Way and the Working Families Party. Ravenn currently works as a campaign organizer and hopes to stay in the political education space after graduation. In her free time, Ravenn enjoys taking on creative projects, planning trips, rollerblading, and working with kids.
Bump Lisk (he/him) is a part-time graduate student at MBDS with a concentration in behavioral economics. Originally from central New Jersey, he completed his undergraduate studies in finance at Endicott College in Beverly, Massachusetts. Bump is currently an analyst at Roundview Capital Management, a family office wealth advisory firm in Princeton, New Jersey. Prior to joining Penn and Roundview, Bump spent summers at Wells Fargo, BC Partners, and Northeast Equity Research. In his free time, he enjoys traveling, reading, and running.
MBDS committee members
Within MBDS, there are student-led sub-committees that aid in building internal networking, alumni relations, and social engagement. These groups are essential in finding out what students want, how they want it, and how we can make it happen. Meet our current members:
Mason Shihab - Social engagement
Ori Huang - Alumni relations
Karuna Banerjee - Internal networking