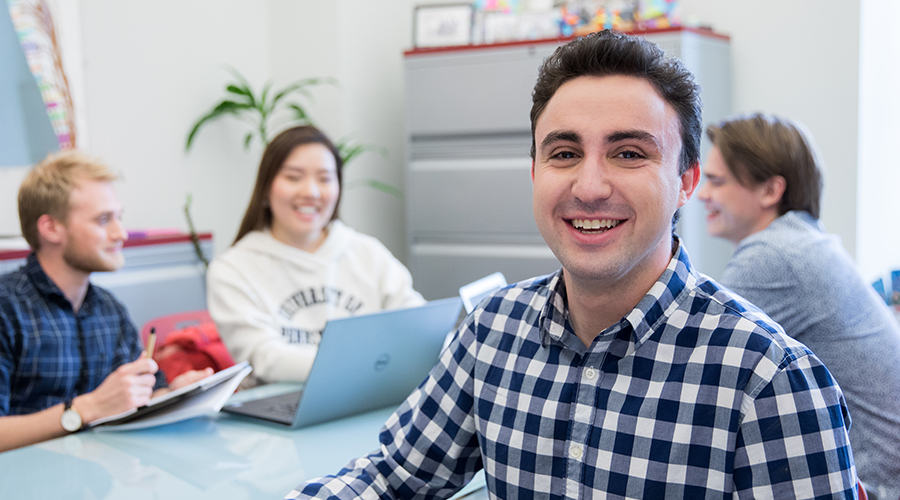 Application deadlines
| Term of Entry | Deadline |
| --- | --- |
| Fall 2023 (priority admission) | December 1, 2022 |
| Fall 2023 | February 1, 2023 |
Application materials checklist
Since all required supporting documents are submitted through the online application system, hard copy material other than official transcripts or letters of recommendation will not be accepted. Please urge your recommenders to submit their letters through the online system. Please note that all application materials become the property of the University of Pennsylvania and will not be returned. Remember to retain a personal copy of your application.
Applications must contain all of the following to be considered complete:
Completed online application
Current resume or CV
Nonrefundable application fee
Personal statement (details below)
Unofficial transcripts from each post-secondary school attended uploaded through the online application system 
Standardized test scores, if applicable (details below)
Two letters of recommendation (details below)
After a complete application is received and reviewed, candidates under serious consideration may be invited to interview with a member of the Admissions Committee on campus or remotely. 
Personal statement
Please describe your interest in the Master of Behavioral and Decision Sciences at Penn and what you hope to gain from the experience. The length of your personal statement should be approximately 500 words that fit on two double-spaced pages.
Letters of recommendation
Each applicant must submit two letters of recommendation. Letters should come from individuals in a position to evaluate your professional and/or academic work, such as a supervisor or professor, and who know of your desire to enter the Master of Behavioral and Decision Sciences program.
If you graduated less than five years ago, we recommend that you provide one recommendation from a college instructor who knows your academic work and one from a work supervisor who can speak to your professional performance. Otherwise, two professional recommendations are appropriate if you graduated over five years ago.
Recommendations may be submitted online (preferred) or by mail. For online recommendations, please follow the instructions in the Recommendations section of the online application.
Standardized test scores
A strong command of the English language is necessary for successful study at Penn. If your undergraduate or graduate degree courses were taught in English, the TOEFL/IELTS test requirement can be waived by indicating this in the appropriate field in the application. Applicants whose native language is not English must submit Test of English as a Foreign Language (TOEFL) scores to demonstrate English proficiency. Please note that the TOEFL is rarely waived; therefore, we encourage applicants to take the test to avoid delays in completing the application. The minimum TOEFL scores required for admissions consideration are 100 (iBT), 250 (CBT), or 600 (PBT). The TOEFL must be sent from ETS using the institutional code 2986. To locate a testing site near you or schedule an exam, visit the TOEFL website. International English Language Testing System (IELTS) is also accepted and the minimum score for consideration is a 7. You may upload a copy of your IELTS test to the standardized test score section of the application.
GRE test scores are required for applicants who have just completed undergraduate studies or who have less than 5 years of professional experience.
Flexibility for international applicants: We recognize that there may be limited testing opportunities for the IELTS and TOEFL exams in your home country and some applicants will not be able to report scores by the application deadline. If this pertains to you, we encourage you to complete the application to the best of your ability and to include a supplemental statement that explains your circumstances. Your information will be provided to the appropriate admissions committee and your admissions decision will be based on the materials available at the time of review. Please note, the College of Liberal and Professional Studies is accepting at-home TOEFL test scores and the IELTS Indicator exam scores through the 2021-2022 admissions year. Please visit the specific standardized testing websites for exam options in your home country.
International transcripts from institutions outside the United States
Applicants who have attended a college or university outside the US are required to have a course-by-course credential evaluation (with grade point average and course levels) performed by an outside evaluation service. You do not need to have a transcript evaluation done for a university which was attended for only one semester as an exchange student. Credential evaluations will be reviewed by our administrators, and the determination of degree equivalency to US degrees is at the discretion of the College of Liberal and Professional Studies. The following two evaluation services are acceptable:
CertiFile/CollegeNET Document Service: Applicants from international institutions are encouraged to use the CertiFile/CollegeNET Document Service within the College of Liberal and Professional Studies application to request and submit authenticated transcript(s) and other academic documents. This service provides certified documents and course evaluations which are then included as part of your application materials. If using this service, Penn requires the "Evaluation" service at a cost of $190.
World Education Services Inc. (WES): WES must complete a course-by-course evaluation of all post-secondary credentials. The course-by-course evaluation should include the comparability level of your education and list each of your courses along with the equivalent US marks and credit. Please select the WES basic course-by-course evaluation (with grade point average and course levels) and request that WES send your evaluation to Penn College of Liberal and Professional Studies Admissions. The school can be found by searching the University of Pennsylvania and then selecting College of Liberal and Professional Studies. The evaluation becomes an official academic record and sole property of the University upon its receipt. For additional information about the WES application and its review process, please visit the WES website.
Please note that these services charge a fee for the evaluation.
Frequently Asked Questions
We encourage applicants to submit before the December 1 priority deadline for a faster enrollment decision. The MBDS program only admits a certain number of students each fall, so getting your application in early increases your chances of being considered for enrollment. Our standard application date is February 1.
There are no scholarships or grants specific to the MBDS program. Therefore, most students self-fund their degree through loans or personal savings. Other students secure external scholarships or are sponsored by their employer.
Deferrals are rarely granted. Some students may leverage their MBDS acceptance into an external scholarship or to be sponsored by their employer, but we cannot guarantee a deferral. Therefore, apply to the MBDS program when you are ready to join the next fall cohort.
Career Services at Penn provides professional development support and on-campus recruiting experiences for domestic and international students. Penn MBDS alumni have access to a wide variety of Penn Career Services indefinitely.
Most of our students are securing positions as strategists, consultants, and analysts (quantitative, qualitative, financial, etc.). Many of our students have "Behavioral" in their title, for example: Behavioral Strategist, Behavioral Analyst, and Behavioral Scientist. Graduates are securing positions with large and smaller boutique consulting groups, tech companies, and nonprofits.
Our master's program is only offered in a traditional in-person classroom setting.
Successful part-time students are able to engage with the program beyond simply taking classes. They take part in experiential learning opportunities through Design Challenges, professional development workshops, Action Design Meetups, and more. At present, our classes meet once a week for three hours, with many beginning at 5 p.m. If you have a flexible work schedule that allows you to take some courses during regular working hours, and can take two classes a semester most semesters, attending part-time can work.