A Penn MES grad coordinates resources to preserve our wild places
As a kid in rural Chester County, the limits of Moses Katkowski's backyard were just as far as he could walk.
"We had a nature preserve behind our house, and I spent hours walking the stream to see how far I could go. My dad was always cutting wood, working outside. It was beautiful, and gave me a sense of exploration, freedom and solitude that is really important to me."
However, Moses didn't realize that he could make a career in the environmental field until he was several years into his undergrad education.
"I took a field botany course and really enjoyed being outside, and once again paying attention to the plants around me that one doesn't really notice otherwise."
The experience re-awakened Moses' dedication to wild places, and he switched his major to environmental education. His mid-course change led him to a job with the Nature Conservancy right out of college.
"I was pretty lucky; my senior year, someone from the Nature Conservancy came to present at my college. I shuffled over and said that I was interested in doing an internship with them as my senior project. After the project ended, I just stayed."
Moses' first job was as a land steward for Cumberland County, helping to manage the land that the Nature Conservancy purchases for protection. He helped guard piping plovers' nests, place signage, and a multitude of other tasks. However, his taste for exploration was not yet satisfied.
"I always had the desire to go back to school and get a master's degree. I liked my job, but I wanted to learn about more things and expand what I could do. I put a lot of time into considering which degree would be best."
Ultimately, Moses chose Penn's Master of Environmental Studies program because it was geared towards professionals, and offered a broad range of classes that interested him.
"I've never liked to focus on one thing," Moses says. "So I found it really interesting and pleasantly surprising that I had classes with people who were lawyers, teachers, from a wide range of professions and ages. The diversity of opinions and thoughts made group projects a great learning experience."
In addition, his classes connected him with high-level professionals in his own field.
"Carol Collier, for example, is the [former] executive director of the Delaware River Basin Commission, and she taught one of my classes. A lot of work I now do is in the Delaware Bay, which her commission oversees. That gave me tremendous insight into the stakeholders I now work with."
Moses was also able to take a class in local field ecology and return to the experience that ignited his interest in college.
Because Moses was still working for the Nature Conservancy, he took classes at Penn part time.
"It was challenging, I won't lie. It was a lot of work in addition to a full time job. But the scheduling of the program fit my schedule really well — I could always find the classes I wanted at a time that worked for me."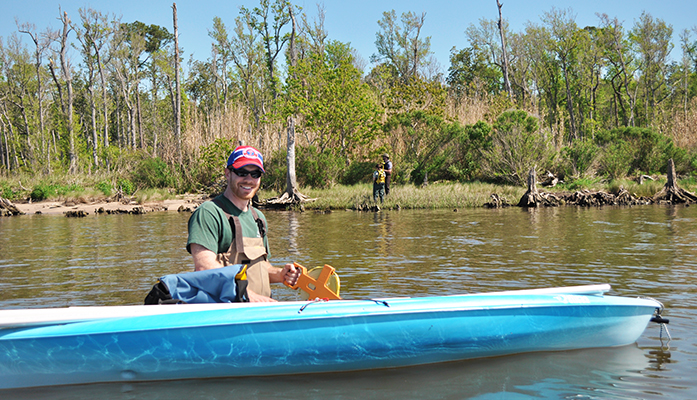 For his capstone project, Moses studied river herring, fish that spawn in fresh water and live in the ocean. Dams and culverts mean they often can't get to their spawning areas. Moses worked in the Great Egg Harbor riverside to identify stream connectivity projects, removing a dam or other barriers that would allow the fish to thrive.
Today, Moses has taken on a new role at the Nature Conservancy — that of Marine Conservation Coordinator. He is currently working on an oyster restoration project in the Delaware Bay, demonstrating the use of oysters to eliminate erosion.
"If we restore the reefs, they become natural breakwaters," Moses says. "They reduce the wave energy and erosion behind the breakwaters, and we hope to put in almost 5 acres of oyster reefs next summer."
The work itself, Moses says, draws a great deal on his experiences in the Master of Environmental Studies program. "My job now is a lot of coordination and conversation with many different people. One day I may be talking to a regulator who has been at the Department of Environmental Protection for years, the next day to a college student or a contractor. The MES program has helped me bring people together, all towards the same goal of protecting natural places."