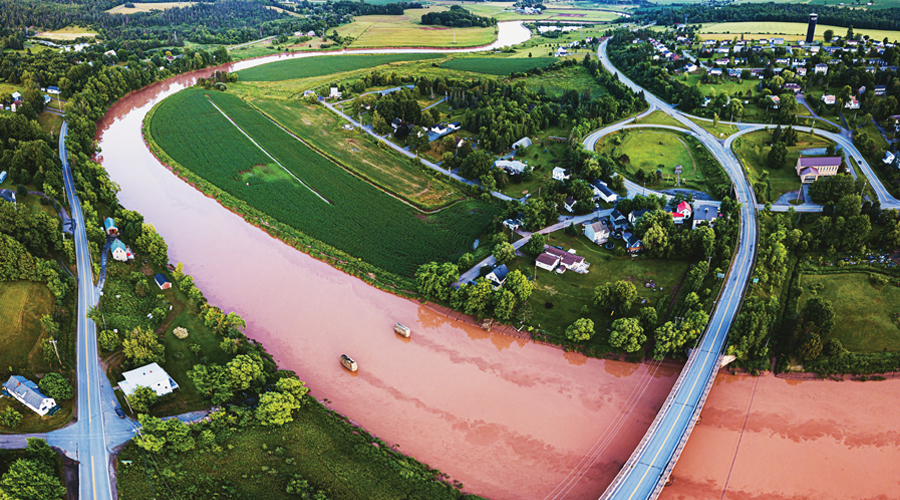 "Adaptation requires you to look at what you've done and decide on a better path ahead—whether you're dealing with a public health crisis or a very large environmental crisis that's coming and will not go away," explains John A. Miller (Master of Environmental Studies '18), who serves as Mitigation Liaison to the State of New Jersey for the Federal Emergency Management Agency (FEMA). When Miller joined the Master of Environmental Studies (MES) faculty to teach a fall 2020 course titled Floodplain Management in a Changing Climate, he planned to focus on how different stakeholders in floodplain management adapt to a rapidly changing climate. Designed to complement the curriculum of the Environmental Resilience and Adaptation degree concentration, Miller's course would explore relevant topics from disaster preparedness to equitable public policy in floodplain management.
Miller also planned to introduce on-site components to his classroom, such as a field trip to the Jersey Shore to see examples of adaptive construction and beach renourishment—but the pandemic made it necessary to find a different path ahead. "I was looking forward to that, but our goal is to make sure that students are safe and getting a solid education," says Miller. "It's a challenging time for students, and there is going to be a need for some flexibility and to be considerate of each student's particular circumstances." The emphasis on flexibility echoed Miller's experience with FEMA last spring. Miller had been deployed to Albany when stay-at-home orders were issued, and although his role as a federal liaison with the New Jersey Office of Emergency Management typically requires travel to state offices in order to effectively assess and respond to state needs, he returned to his home and collaborated virtually with his colleagues. "At FEMA, we've had to adopt some things that we had never done before to keep going. It wasn't optimal, but it was necessary," says Miller. "And that's basically what all of us are learning right now. This floodplain management course is about adaptation, and we are going to be living adaptation as the course is going on."
Perhaps environmental work with water particularly suggests a flexible and adaptable approach in times of suboptimal conditions. "We had gotten into patterns of building in risky areas for way too long. There are a lot of reasons for that. But undoing or adapting to those patterns, getting to a place where we have safe housing and equity in communities—considering sea level rise, climate change, and the flooding risk we already had—that's going to be a real challenge. It's not going to be solved in our generation, but we'll make some dents in it," he adds. "I want to excite future generations to take on these challenges and continue progress. There isn't one correct answer. There are advancements we can make and improve upon them in the future."
Prior to completing the MES degree, where he studied state and national flood insurance programs, Miller's background was in engineering. "There are certainly many engineering roles in floodplain issues," he explains, enumerating topics from flood mitigation to stormwater management. But beyond that, floodplain management raises questions and concerns about human behavior, such as what role policy, government incentives, insurance, and housing inequality play in how and why people decide to buy or build in floodplain areas. "As my career matured, I got more interested in some of these bigger picture questions. How did we get to where we are in terms of all the housing and infrastructure that's at risk of flooding?" he says. "That's what led me to go back to school."
Miller looks forward to engaging all of those questions and topics in his fall course, drawing on one of the strengths of online learning: the opportunity to introduce his students to the expert practitioners and appointed officials he's met in his line of work. These guest speakers will drop by online class meetings to share their work experience and expose students to different perspectives, methods, and concerns in floodplain management. "One of the blessings I've had in my career is knowing a network of people I could call on to discuss things I'm working on or investigating," he says. "I've either worked with, collaborated with, or been taught by every one of these guest speakers."
Miller also anticipates that the students themselves will have vital perspective and knowledge to share: in the interdisciplinary MES program, his students will come from a variety of professional and educational paths, with interests ranging from public policy to public health and sustainability to social inequality. Whether or not his students plan to pursue the optional certification exam for floodplain management—a career-enhancing bonus for those who would benefit—they'll certainly find ways to connect the complex issue of flooding to their own academic and career pursuits.  "We're all going to learn together," says Miller, who compares his role as an instructor to a project manager facilitating in-depth discussions among students with diverse perspectives, expertise, and ambitions. "One thing you can say about Penn students is that they don't sit on their hands. They've done their preparation. They are engaged, they will ask questions, and they will not be shy," he laughs. "I see the students as part of the teaching, because they are going out and looking and analyzing and bringing that back to the classroom. I'm excited about really hashing things out and having good debates, because there aren't any easy solutions."
"I just had such a good experience in the MES program," Miller adds. "I feel that I have something to give back for all the great instruction that I received and the opportunities I had as a student."