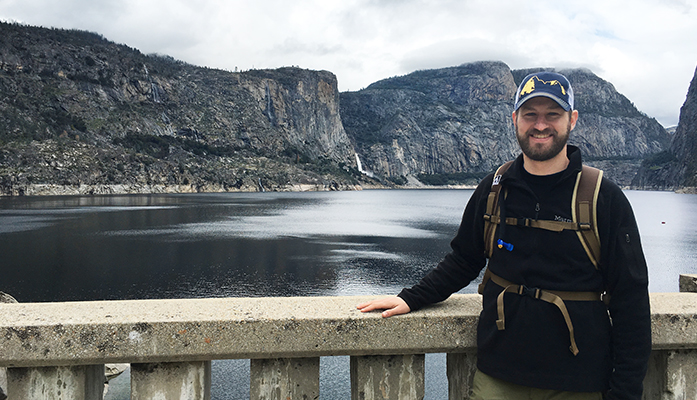 A Penn alumnus climbs high in a green career
On some days, John Butow (Master of Environmental Studies '14) works with Aramark Facilities Services locations to help their operations comply with environmental regulations and find solutions for risks. On others, his office is the Sierra Nevada Mountains. "I've been in the Environmental, Health and Safety (EHS) field for 13 years, and supporting our concessionaire operations in Yosemite National Park is a career highlight," shares John, a Senior Environmental Specialist for Aramark's Global Risk Management Group.
John grew up in the Lehigh Valley area of Pennsylvania where he spent weekends hiking and backpacking the Appalachian Trail with his Boy Scout troop—so a life spent working in, and for, the great outdoors was something he always envisioned. John set the course, and Penn's Master of Environmental Studies (MES) program helped him excel.
Prior to joining Aramark, John spent 10 years working for Environmental Resources Management, an EHS consulting firm. There, he traveled all over North America—from West Virginia to California and Puerto Rico—helping industrial clients with regulatory compliance auditing and program implementation. During that period in his career, John decided it was time to earn an advanced degree.
"I already had the technical experience I needed for my Professional Engineering license with my work background and undergraduate degree in engineering," he recalls, "so I wanted a program that was open, flexible and offered a wide array of classes. I did a lot of research and the MES was the perfect fit."
John was able to balance his studies, full-time job and family life by taking his classes one at a time and working with his advisors to craft a curriculum around his interests. "I have done a lot of business traveling in my career. My professors were understanding with advanced notice. They were very accommodating."
The flexibility of the MES program also allowed John to complete a month-long independent study in Ghana. Through this US Department of State-sponsored exchange program, John attended lectures at the University of Ghana with Ghanaian leaders in NGOs, mining companies, industry trade groups and with the State of Ghana Environmental Protection Agency. "It was a fantastic experience. Ghana is a wonderful country, and its people have an infectious attitude for life."
Because John spread out his time to complete his degree, he was exposed to an array of professors and experiences. "I took classes taught by officials working in the EPA and the White House. Because Penn always offers new and exciting classes, I took full advantage of the opportunities. And I made a lot of lasting friendships."
Today, John helps Aramark Facilities Services locations keep up with environmental regulations and make plans for a greener, cleaner future. "I like making solutions before a problem arises. That's what excited me about completing the sustainability track for my MES degree—it's very forward-thinking."
When it comes to everyday changes we can all make, John recommends, "Recycling. Take public transportation, or bike to work—just get out there. Our country is made up of 300 million people. If everyone did just a little extra: recycled their plastic bottles, used a coffee travel mug instead of disposables or purchased the clean energy option (if able) on their electricity bill, it'd make a huge difference."
Now in its 20th year, the Master of Environmental Studies at the University of Pennsylvania prepares students like John to become leaders in the environmental field—from careers in the private sector to public policy and beyond.