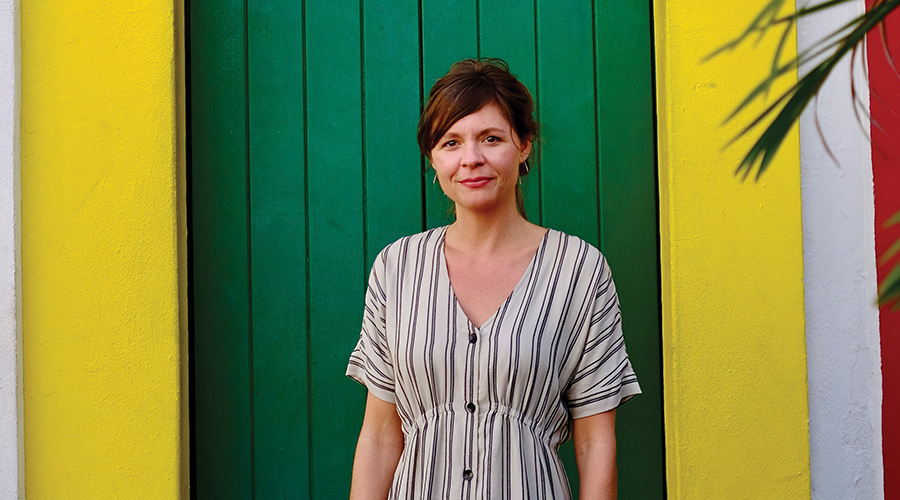 "My approach is about how to apply a positive psychology lens for sustainability work—basically, what brings out the best within organizations and individuals," explains Kim Quick (Master of Environmental Studies '15), independent sustainability consultant and Master of Environmental Studies (MES) instructor. "The formal definition of positive psychology is the scientific study of the strengths that enable organizations and individuals to thrive. This is how sustainability work can bring out the best in your people, the best in your company: It's about doing more good and moving beyond doing less bad," she adds.
Quick first came to the program after having worked in energy education and outreach for a university, where she realized she wanted to learn more about the intersection of environmental issues and human behavior. "What really attracted me to pursuing the MES degree was that it had that flexibility to be able to design your own curriculum," she recalls. During her time in the MES program, she took classes at the Annenberg School for Communications, Fels Institute of Government, and in the Organizational Dynamics program as well as her core environmental studies courses. "I felt that the program was very well-rounded and allowed me to pursue my areas of interest, which were particularly related to human behavior and communications," she says.
In pursuit of her interdisciplinary studies at Penn, Quick encountered positive psychology and realized its enormous potential as a frame for environmental sustainability. After she completed her capstone research on the subject, her advisor observed that her unique approach could be adapted into a course for the MES curriculum—which became Leading Change for Sustainability. In a fitting reflection of her experience taking courses across Penn, Quick's students are from Wharton, Organizational Dynamics, and Behavioral and Decision Sciences as well as from the MES program. "Many of my students are interested in corporate sustainability, so I bring in some examples from the private sector—and those can be applied in a number of organizational settings," she says. "The class is designed for professional leadership skills, but the students say the skills are transferable even to their personal lives. A lot of what they learn in class is about emotional intelligence and relationship building." In addition to those life and leadership skills, Quick's students get a few lessons in self-care. "This work can get really hard," she says. "Sometimes you hear a lot of 'no,' when sustainability isn't prioritized within an organization as a core strategic objective. And people get very passionate and committed to taking care of their organization. I'm trying to equip students with skills to take care of themselves, too."
Quick speaks from extensive professional experience: as an MES student, she took an internship with a firm that launched her career as a sustainability consultant for the next seven years. At the firm, she worked with national organizations ranging from banks to transportation companies to major food brands, gaining exposure to different industries and their particular sustainability challenges. Then she went into business for herself as an independent sustainability consultant, which allowed her to collaborate with smaller organizations and local businesses. "I am focused on how sustainability will help them live into their company values. There's a potential for real impact here," she explains. Independent consulting also allows Quick to center her passion for sustainability in food service and hospitality. "The food sector is where I belong," she says. "I see so many opportunities in terms of improvement around local food sourcing, plant-focused menus, composting, food waste reduction, community impact, and employee wellness."
Beyond her own consulting career, Quick also serves on the Board of Directors of the Sustainable Business Network of Greater Philadelphia (SBN). "I really love SBN. Our mission is to build a just, green, and thriving local economy in the greater Philadelphia region, and that's given me a great opportunity to connect with individuals from different walks of life and different backgrounds," she says.
While Quick takes a positive, values-affirming approach to all of her sustainability work, she finds that teaching offers even more opportunities to put positive psychology into practice. "I tend to come from the perspective of believing that all of the students have the capacity to be sustainability leaders," she reflects. "I get the sense that some students may not believe that about themselves—maybe they're shy or haven't explored concepts around leadership yet—but something that runs throughout positive psychology is the concept of the growth mindset. Your skills and your characteristics are not fixed; you can develop them over time with practice, dedication and work."