When sports and sustainability team up
Dan Schupsky, Assistant Swim Coach at the University of Pennsylvania, had been a passionate advocate of the environment in his earlier career as a high school science teacher. However, he'd never linked green issues and his coaching work — until he started his studies at Penn's MES program.
"A little lightning bolt went off!" Dan says. "I envisioned an eco-rep program, in which student athletes on each team would lead student-based projects to make our sports teams more sustainable."
Dan's idea found enthusiastic support both in the MES program and in the university as a whole. Dan's MES advisor encouraged him to pursue it as an independent study project. He worked alongside Penn's Environmental Sustainability Director, Dan Garofalo, to develop his idea further, and Penn Athletics warmly welcomed the new program.
Last year, 12 eco-reps on 11 different teams worked to improve recycling in locker rooms, at games and on the road. The eco-reps set up recycling bins on sports team buses, and created a shoe recycling program around campus. During the annual Power Down challenge, Penn's four-week building energy reduction competition, the eco-reps worked as an internal consulting group to reduce energy usage at the Pottruck Health and Fitness Center.
This year, seven student athletes, selected carefully through an application process that Dan created as part of his independent study, are leading the green charge. Of the group, six are competing varsity athletes and one plays for a club team.
Dan and his eco-rep acolytes aren't afraid to think big. Next up are two ambitious goals: to reduce energy usage at the Penn Relays, and to convert the Palestra, Penn's Cathedral of College Basketball, into a zero-waste building.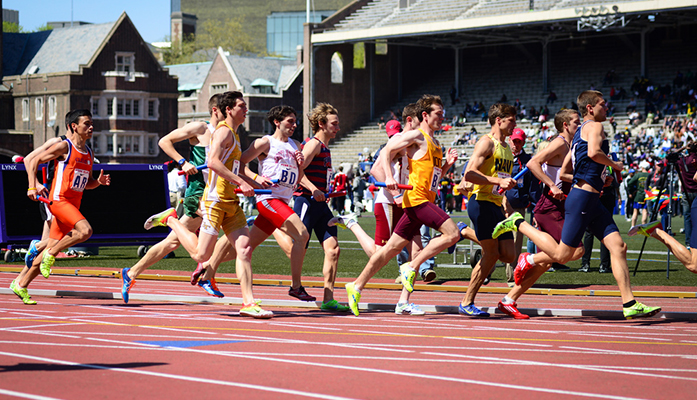 Dan enjoys weaving his former teaching and coaching experience into advising the eco-reps, and watching them grow personally and professionally. He says, proudly, "They're getting experiences that are helping to shape their future careers. From creating benchmarks to learning how to navigate bureaucracies to create change, to inspiring their peers, they're learning skills that will travel — and many are choosing to study sustainability."
For his MES capstone project, Dan is working to turn the eco-reps program into a model for other schools in the state. While other schools have pursued similar programs, he wants to create a standardized program that is easily replicated anywhere. The Natural Resources Defense Council has offered to be a technical advisor for the project, and will help to pilot the program, test it and make improvements.
Dan says he never would have thought he could have pursued a project of this scope without the MES program. He's spoken at conferences, published articles and found support and inspiration to do so in his program. "I'm close to the forefront in this sort of grassroots sustainability thinking, and that is something that Penn encourages — innovation and pioneering."
Once Dan graduates from the program, he's planning to stay in his coaching role at Penn for the near term, and perhaps move into a larger sustainability role. However, he emphasizes that he feels lucky where he is, and sustainability isn't an all-or-nothing proposition. In fact, he says, "sustainability is an integrated discipline, and it will be involved in everything I do."
"You can make sustainability work anywhere," Dan says, "And I'm lucky that MES gave me the support and creative freedom to prove it."