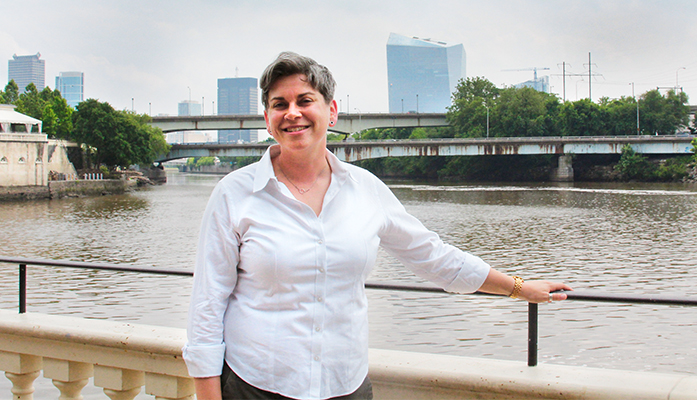 One MES student explores the power of water right here in Philadelphia
Meg Malloy was first enchanted by water as a little girl at Rehoboth Beach in Delaware. There, she says, "I felt the magic of coming upon a tidal pool, observing the creatures left by the tide. I was fascinated that it connected so many countries and areas, that there was a whole world under the ocean that we humans didn't fully comprehend, and I fell in love with the mystery of it."
She considered making the study of water her career early on. After reading pioneering marine biologist Eugenie Clark's book Shark Lady, she says, "I would go home and write pretend research papers on sharks and other ocean organisms, imagining I was on a ship."
Her fandom of the book led to an unexpected connection. "My aunt worked at the same university where Eugenie Clark was a professor, so we got to exchange some letters! It changed my life, knowing you could pursue something you loved as a career."
In high school, Meg studied life sciences, biology, zoology and anatomy, and started her undergraduate degree in marine biology. A year into her studies, however, feeling unsure about career prospects in the field, she decided to pursue molecular biology instead. Upon graduation she began work as a laboratory technician in Philadelphia hospitals.
Then she heard about Penn's Master of Environmental Studies (MES) program, and felt the call of the aquatic world once again.
"Growing up, I had a love affair with the environment, watching the interconnections, and I had left that behind to make a more financially responsible choice in molecular biology. I loved molecular biology, too, but it was just examining a tiny part of the whole story. When I was considering the MES program, and talked to Dr. Susan Gill, I kept hearing words like "interdisciplinary" and "interconnected." I felt like I finally had the opportunity to understand how complex things are, and how to explain them to myself and to others. I saw how I could mesh all my interests — water, global health, environmental education — and create one unified program."
Meg pursued a Resource Management concentration, particularly enjoying working with MES professors and the new directions their experiences opened up for her.
"It was incredible to have instructors teaching not only what they wanted to teach but also sharing their professional experience. Everyone seemed to have spent time working in the field that they were teaching. The networking was the other great thing; I was never a fan of networking, but I realized that in the program, it just means students introduce you to other students, professors to professionals. It's so easy to engage with people working in different fields." 
Meg eventually focused in on water, once again — but this time in an urban context. "I did my capstone project on the integrated watershed management plan, looking at how to break it down and teach it in the field. I made 3-5 lesson plans to get kids to the stream at the Tacony/Frankford watershed and created a protocol for sampling."
Her experiences with the capstone led directly to her first career change after she graduated.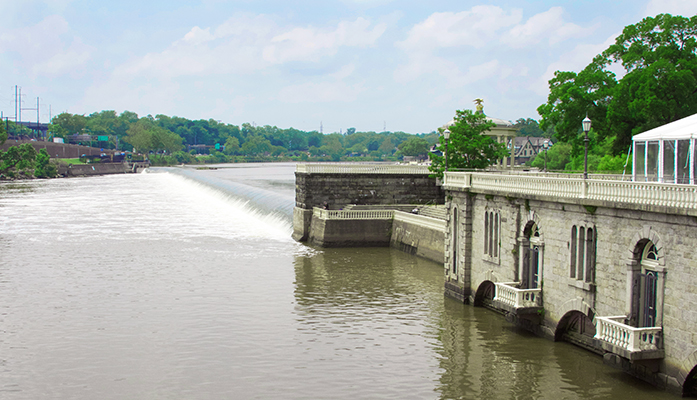 "I had made a lot of strong connections at the Philadelphia Water Department and the Fairmount Waterworks in particular, where I'd been volunteering. My connections there helped me figure out how to start my own business so I could come on with them to do consulting work on environmental education."
Meg ran her freelance business for several years at the Fairmount Waterworks, creating a Saturday science program, helping put in tanks at the Waterworks so people could see the kind of fish, flora and fauna that live in the river and improving the public laboratory. She then transitioned to a full-time position as an Environmental Scientist with the Philadelphia Water Department, continuing to carry out the same public engagement and education efforts.
"People just don't know where their water comes from or what happens to what you dump things down the drain. I give people an 'ah-ha' moment. I tell them about how Philadelphia faced its own challenges in the 1800s finding solutions to wastewater, and how we're trying to figure out what to do with the next big pollutant, stormwater. I can actually give them information that they'll think about next time they turn on a faucet."
She credits the MES program with helping her make the switch to her current career.
"The MES program 100% gave me the opportunity to come full circle and feel like that kid again exploring tidal pools. There is no way I could have transferred from a lab tech to the job I have now without going through the MES program. I get to work with water every day, and show people how water connects each and every one of our daily lives."