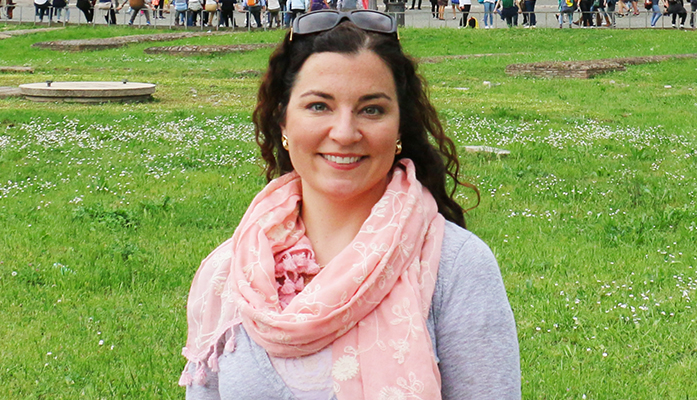 For one policy expert, the middle ground is the most exciting place to be
Christina Simeone (Master of Environmental Studies '07) isn't interested in perfection. As a policy advisor who's worked in both Governor Rendell's administration and for former Vice President Al Gore, she says, she's learned that "making real change in the world means understanding compromise. And I find identifying compromise to be very attractive."
This blending of pragmatism and idealism began in Simeone's undergraduate days when she studied economics and joined the financial industry upon graduation. Feeling unsatisfied, she moved on to working in the business side of the music industry, and then completed a second bachelor's in musical performance. But neither path — economics or music — felt quite right.
"I was wondering what was next, and thought back to important formative experiences. Although I grew up in the city, I also rode horses competitively up and down the east coast. Through that experience, I was fortunate to be given a strong connection to the outdoors. When I worked at an environmental consulting company while in school, I also learned that it was a fast-growing field. It required knowledge of science, technology, law, politics, and economics. It seemed so challenging, and so fascinating, that I figured I wouldn't get bored. "
Christina chose Penn's Master of Environmental Studies program to help her make the professional transition. "I wasn't sure what my focus would be at first, so the flexibility of the program at the time was really attractive — I could take classes in other schools. For someone who's intellectually curious, it allowed me to explore many fields. I took a cost benefit analysis class at Wharton, a geology class where I went out to Wyoming for fieldwork and classes on environmental justice."
After sampling many classes, Christina chose policy and became intrigued by the intersection between law and environmental issues. She focused on this intersection in her capstone project.
"The capstone was my most memorable and enjoyable experience — I wrote a book about constitutional environmental rights. It was really interesting to develop it, as Penn afforded me access to its library and databases, which are such a tremendous resource."
Upon graduation Christina went straight into her field of choice, joining then-Governor Ed Rendell's administration first as a policy specialist in PA's Department of Environmental Protection, and then the energy and climate special assistant to the department's Secretary. After working in Harrisburg for two years, Christina headed for Washington to expand her scope.
"I was the policy director for former Vice President Al Gore's climate change organization, where I helped the organization understand what was being discussed in congress in order to inform its Repower America and other campaigns."
From there, Christina headed back to Philadelphia, where she became the Director of the Energy Center for Enterprise and the Environment at PennFuture, a nonprofit dedicated to policy and advocacy around air, land, water and energy issues that impact Pennsylvania. There she wrote legislative proposals, intervened in public utility issues, wrote policy reports, organized clean energy businesses and developed advocacy campaigns.
Now she's begun another chapter, as Deputy Director at the Kleinman Center for Energy Policy at Penn, a newly formed center whose mission is to focus on overcoming persistent barriers to energy productivity in order to construct energy policy options that provide fairness for stakeholders, reliability for investors and opportunity for innovators. 
In her years in such varied policy positions, Christina says she's never wavered from her chosen field.
"Policy is so important because it offers us an intersection between facts and politics. Politics is more driven by stakeholders, emotions, influence; from an academic standpoint, facts would seem to show us the best thing to do. But if it were all about identifying the best thing to do based on facts, it would be a very different world. Policy is the middle ground, the art of the possible."
As she fine-tunes her practice of this art, Christina says, she is grateful for the many spheres she was able to inhabit through the MES program.
"Energy and environmental policy is very multidisciplinary, and the MES program allowed me to dip my toe into a variety of those disciplines. I don't need to be an expert in everything to be effective, but I need to be aware and educated about components of each discipline. In that sense the MES really prepared me to be able to play in those spaces. I don't need to be an engineer, I don't need to be an attorney, but I need to understand how all of those issues impact energy and environmental policy. I need to bring them to the same table and identify compromise. And that's what the MES helped me do."