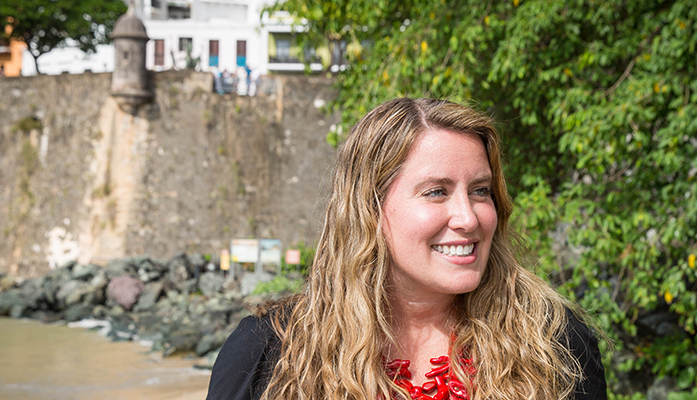 Photograph courtesy: Fernando Ortiz
A Penn alumna champions access to clean water for all
"I am connected to water because of my upbringing in Puerto Rico. The Master of Environmental Studies (MES) program at the University of Pennsylvania was instrumental in providing opportunities that fostered my passion for linking water and people," reflects Tiffany Ledesma (MES '01), an environmental consultant with CDM Smith for the Philadelphia Water Department and citywide clean water advocate.
In her role, Tiffany works on community outreach, public participation, partnership building and communication strategies on a variety of initiatives. Since its beginning, she has supported Green City, Clean Waters—Philadelphia's plan to reduce stormwater pollution through the use of primarily green infrastructure. Her work ranges from developing communications-based projects with the Mural Arts Program to helping civic leaders educate neighbors about water quality. She also encourages citizens to plant trees and rain gardens to slow stormwater runoff.
"Philadelphia is setting the national standard for environmentally friendly stormwater management," Tiffany continues, "With a 25-year commitment to the state and federal government as well as to its city partners, Philadelphia is doing it on a scale and over a period of time unlike other cities in the country."
Tiffany has been working in the water industry for 19 years, and her career journey started during her time in the MES program. Not only did she work for The Conservation Fund and the Environmental Protection Agency as a student, but she also embarked on two graduate research projects in Puerto Rico that transformed her professional trajectory.
As part of an independent study, Tiffany first traveled to Guánica where she worked on a coastal management plan to help lessen the impact of urban development on the bay. For her capstone project, she completed a feasibility study of the Blue Flag program—a global eco-label certification—for the Caribbean, identifying Puerto Rico as her primary case study. She shares, "Having Penn support me and my work for my island proved that I could have an impact on its future."
In October 2017 after Hurricane Maria, Tiffany founded Clean Water for Puerto Rico by Boricuas in PA through the global disaster relief and clean water non-profit Waves For Water. Her initiative is raising $10,000 to install water filters to help 20,000 Puerto Ricans who don't have access to clean water. "Puerto Rico has been hit hard, and we all need to help each other," she urges. "Puerto Ricans are US citizens, and those of us in the states, from the island, want to do everything we can to raise awareness."
"Water is my world," Tiffany adds, "The MES program gave me the tools to work across disciplines to solve problems, and that's essential because environmental work is highly integrated."