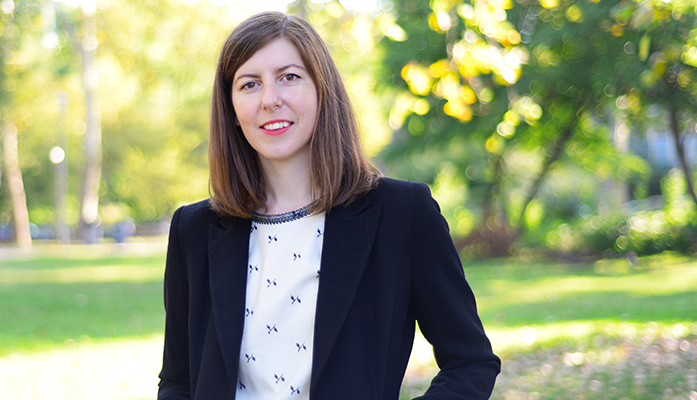 A planner brings a unique perspective to the city she loves.
Not many 10-year-olds are mulling over how cities impact the environment. But when Stephanie Chiorean (Master of Environmental Studies '08) emigrated from post- Communist-era Romania to Southern California when she was just 10, the drastic change created a lifelong awareness of the relationship between nature and urban spaces.
"Many things I grew up with influenced my outlook on human action and the environment," Stephanie says. "In Romania, I observed that many people uphold certain long-standing traditions of self-sufficiency, even as they moved from the countryside to cities, becoming useful in circumstances under the Communist government."
Additionally, Stephanie's grandfather was a silviculturist in the Romanian forest service, and watching him as a young girl fostered her respect for the natural world.
"Blocks away from Communist-era high rises, hillsides of amazing forests stand in contrast, which my grandpa helped to steward and restore. Exploring these forests with my grandpa showed me the wonder and complexity of these habitats."
As an undergraduate, Stephanie followed her interest in nature by studying biology. But soon she found herself making new connections between the microscopic life she studied and her daily life in Philadelphia.
"In studying biology, I gained a solid foundation in science, as well as knowledge of plant and animal ecologies and systems thinking. I began to be interested in how this type of thinking extends to human impacts on the environment, the diverse range of challenges that arise from the built environment of cities, and learning about sustainable solutions."
After graduating, Stephanie was working in a University of Pennsylvania laboratory studying the genetically inherited Fragile X- syndrome. In considering sustainability, Stephanie found a new field that illuminated the interconnectedness she had seen embodied by her grandfather. When she found Penn's Master of Environmental Studies (MES) program, it offered the route she needed to explore her interest in sustainability.
"The program offered courses specifically in the urban environment, and a part-time option, which was very important for me to be able to pursue a master's degree."
Through her coursework, Stephanie honed in on a more detailed focus: water issues, and in particular stormwater management. "I realized that water quality issues are universally challenging. By focusing on solutions that work with nature, I wanted to effect sustainable change within the city landscape and enhance communities.
"The MES put me on the path of thinking about water as a way to connect all my different interests. The program was really flexible. I took some planning and urban studies classes, a landscape architecture class and policy classes, all which informed my interest in water."
The Master of Environmental Studies program asks every student to pursue a capstone project, a culminating exploration and application of the knowledge acquired in the program. Stephanie chose to look at the Philadelphia Water Department's (PWD) integrated watershed management planning and its innovative land-based stormwater management programs. At the time, in 2008, this groundbreaking process was just getting underway.
"Managing stormwater in schoolyards, and other public spaces, like parks and streets, helps to protect our waterways, provides enhanced access to public green space and recreation, and helps to reduce the impact of climate change by making Philadelphia a more resilient city. This is just one way that PWD's work supports the city's broader goals."
For her capstone, Stephanie put the plan into action, "I chose to examine the implementation framework of multi-site scale green stormwater infrastructure projects in various peer cities, and how lessons learned from these examples could be applied to advancing the implementation of Philadelphia Water's land-based stormwater management programs."
Through pursuing her capstone project, Stephanie made invaluable professional connections—and her academic exploration suddenly became much more.
"As I was working on my capstone, I had meetings with Philadelphia Water, and they saw I was both interested in and had a lot of knowledge about the work underway. I had read so much about green infrastructure and had educated myself on what other cities were doing. And it turned out they had a hiring need at the time."
With her background in biology and expertise gained through the Master of Environmental Studies program, Stephanie was able to join the Philadelphia Water Department professionally, first as a consultant and then as a full-time environmental planner.
"I was thrilled because I had learned through my research that Philadelphia Water was the number one place I wanted to work. They were undertaking such innovative projects, and I was able to come in at the opportune time, right as the Green City, Clean Waters plan was being drafted. "
Through the MES, Stephanie was able to get in on the ground floor of an innovative program, "Philadelphia's unique 25-year Green City, Clean Waters is the first program to manage stormwater to comply with Clean Water Act regulations primarily through the use of green stormwater infrastructure (GSI). In addition to catching water where it falls, filtering it into the ground, or storing it for slow release, GSI provides sustainable benefits to Philadelphia."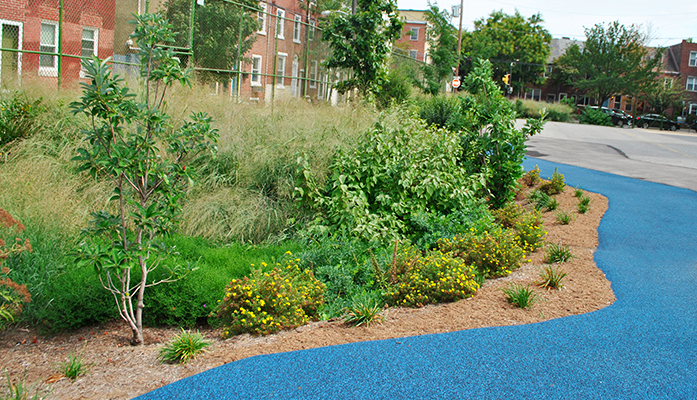 Today, Stephanie works in green stormwater infrastructure planning with Philadelphia Water Department, engaging multiple stakeholders to find support for transformative projects around the city.
"Specifically, I identify opportunities for implementation of green stormwater infrastructure projects within public spaces and schoolyards, coordinate and engage community groups and city agency partners, and work with members within my group to usher green stormwater infrastructure projects through implementation.
"I'm working with schools—which often have a great deal of pavement—to plan stormwater management systems in their schoolyards. I worked with a Philadelphia Water team and the Community Design Collaborative to develop the Transforming Philadelphia Schoolyards guide (PDF). The guide demonstrates how green stormwater infrastructure can be an amenity and enhancement in the schoolyard, and compliments other schoolyard improvements, as well as provides guidance to schools and community groups who want to improve their schoolyards and take advantage of PWD's grant programs."
Stephanie sees her work at the Philadelphia Water Department as a key part of Philadelphia's overall sustainability and future. When looking back at her career path, Stephanie sees the Master of Environmental Studies program as an important turning point.
"I didn't have a clear path charted when I began. The program helped me figure out where I needed to be, to accomplish what I set out to do. I worked in a lab for four years before switching over, and a lot of MES folks do something different and then use that program to change their career trajectory. It's fantastic."
At this point in her long journey, Stephanie says, "I want to make a difference here in Philadelphia as much as I can, and my job allows me to do that in a meaningful way."