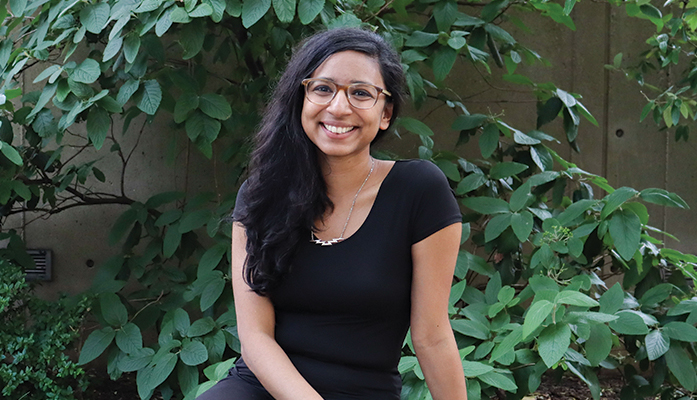 A Penn alumna finds that an environmental career can take you anywhere
"I have always been an environmentalist at heart," says Valerie Preethi Vincent (Master of Environmental Studies '19), a recent graduate of Penn's Master of Environmental Studies (MES) program. Valerie had been working in alumni relations at her alma mater in Singapore when she decided to start a career-changing study of environmental sustainability. "I looked at schools in Europe, in Singapore, and all over the world," she recalls. "I ultimately decided on Penn because it was a great university with a great alumni network—I know how important alumni can be to help launch your career."
At Penn, Valerie developed her scientific knowledge of soil science and life cycle assessment and took career-focused courses in corporate sustainability, supply chain strategies, and the psychology of sustainability. Motivated by her interest in food security and sustainable agriculture, Valerie took a summer internship which eventually became a full-time role at FMC Corporation, an agricultural sciences corporation that manufactures pesticides. "A lot of people ask me how pesticides can be sustainable," she says. "The pesticide industry is one of the most regulated industries in the world and plays a major role in creating a stable food supply for a growing population. FMC prides itself on sustainability and safety—not only for its employees but for the animals in the fields and for the planet." As a sustainability analyst, Valerie is more familiar than most with how environmental safety works on the ground: she communicates with representatives from each of FMC's locations around the world, including teams in Asia Pacific that speak the languages she grew up with.
"Sustainability is something that has to run through the entire company," explains Valerie, describing the breadth of activities she coordinates: organizing trainings for sites across the globe; coaching employees in environmental footprint reporting and community engagement; compiling the data each site reports on the company's emissions, energy use, water use, and waste disposal. For her capstone project, Valerie researched how five large agricultural sciences companies measured and regulated their Scope 3 emissions, which are the indirect greenhouse gas emissions that originate from a company's value chain. After concluding her scan, Valerie's department was prepared to work with consultants to evaluate FMC Corporation's Scope 3 emissions—with the goal of reporting success in the company's next annual sustainability report, which Valerie also helps coordinate. "In business, things move really quickly," she laughs.
A recipient of the 2019 Excellence in Environmental Studies Award in recognition of her scholarship and service to the Earth and Environmental Science Department at Penn, Valerie has found that the MES program gave her opportunity to build on her previous knowledge and experience. For example, as a member of the MES Graduate Advisory Board, she took a leading role in organizing professional student and alumni events. "My fear when pivoting careers was that my seven years of experience wouldn't mean anything, and I would have to start at square one," she reflects. "But I've realized that there are many skills that I took from my previous experience." Along the same lines, Valerie says, sustainability can be practiced in any field, at nearly any level of an organization. "Everyone has something in them that will help them succeed in sustainability," she adds.