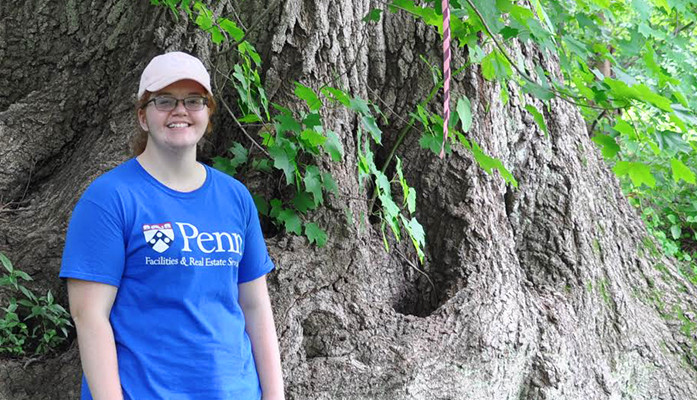 A Penn student researches how Philadelphia's trees respond to climate change
"As things get warmer and more humid, we want to figure out if migrating southern trees can combat some of the effects of climate change," notes Master of Environmental Studies (MES) student and Southern Species experiment research assistant Amanda Wood (MES '18). Through her work with Haddington Woods and Cobbs Creek Park, Amanda is researching what species of trees can survive in the Philadelphia area to get ahead of rapid changes in ecosystems.
"This project encourages citizen science," she explains, "To be successful, we need to track roughly five years of data. Community members and students can add their observations to the Philly Forest Science website to help researchers capture how the trees are responding to their migration."
Amanda's involvement with the Southern Species experiment is part of her final capstone research project and is helping her progress toward her ultimate goal of working in tropical reforestation. "I studied in Madagascar as an undergraduate and I saw the ecological and human-related effects of deforestation," she explains. "So many people depend on trees for their livelihoods, and I want to help them do so sustainably and with care for the future."
With a passion for habitat restoration and land conservation, Amanda enrolled in the Resource Management concentration in the MES program. Stepping out of the classroom and into actual weeds, Amanda became an intern for the Penn Park Orchard, a dedicated fruit forest on the southernmost edge of Penn Park. In that role, she curated workshops and events to educate and engage the local community with the space. She was also in charge of maintaining the grounds and organizing volunteers to get it all done. "I learned through that experience that my concentration in Resource Management is not just about natural resources," she reflects, "it's also about human resources."
The results of Amanda's hard work were robust, both in volume and impact. Amanda and her team harvested 20 pounds of strawberries, 10 pounds of peaches, five pounds of pears as well as an abundance of golden raspberries and almonds. The bounty was then shared with a community supported agriculture (CSA) program in West Philadelphia through the Agatston Urban Nutrition Initiative.
Reflecting on her experiences with the Penn Park Orchard and the Southern Species experiment, Amanda adds, "Being a student in the MES program has improved my writing and statistical analysis skills. I've also learned how to use tools like geographic information systems (GIS). I apply my Penn education every day in my research and work."