An environmentalist is making big waves with small initiatives
Julian Goresko (Master of Environmental Studies '14) understands the importance of small wins.
As Sustainability Outreach Manager at the University of Pennsylvania, Julian works every day to shift the behaviors of thousands of employees and students. To do so, he says, "It's really important to put personal beliefs aside and look for the places where the institution is ready to grow."
Julian has always been interested in the choices we make. In fact, his first academic interest in college was philosophy. "Originally I was interested in ethics, morality—I enjoyed the lens of decision-making from a humanitarian perspective. I'd also been given a sense of the intrinsic value of nature by my family. I saw environmental studies as a place where those two ideas meet."
Julian pursued an environmental studies major as an undergraduate at Penn, but wanted to dig deeper into the questions of how people make choices related to the environment. "The major was rooted more in hard science, and when I got to my junior year I knew I needed to work in a more cross-disciplinary matter on the applied side of environmental issues."
After speaking with Master of Environmental Studies Program Director Yvette Bordeaux, Julian took advantage of a unique feature of the program—submatriculation.
"I took three grad-level courses as an undergrad, and completed one quarter of my program before becoming a full-time master's student," Julian says. "It gave me a great head start."
Julian decided to focus on the intersection of business and sustainability. "I saw a trend in the environmental field of businesses realizing they had great opportunities if they could do business in a better way. And if they did, they could affect their consumers and whole cities."
An internship with Penn's Sustainability Office allowed Julian to put his study of consumer marketing into practice almost immediately. "I started working on campus engagement and helped create programs-focused social marketing. Facts aren't the way people make decisions; it's more their family, friends and peer networks."
Julian found he was easily able to tailor the Master of Environmental Studies program to his interests and work. "It was really flexible and allowed me to pursue opportunities outside of the classroom. I interned at the Environmental Protection Agency's Office for Innovation on outreach engagement strategies on the consumer level. I also studied emerging green areas and how traditional businesses were beginning to incorporate sustainability and integrated courses on climate adaptation."
His final classes were completed at Penn's Fels Institute of Government, where he studied grant writing, financial management, managing people in complex organizations and nonprofit leadership.
Since completing his degree, Julian continues as a member of the Penn community.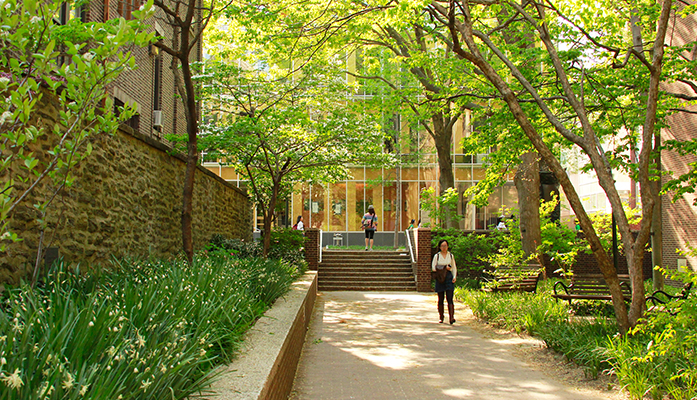 "I explain my job in three ways to people. I do policy development for Penn Climate Action. I help to manage the campus' physical landscape for sustainability, working alongside lawyers, IT people, waste management and others. And I manage various sustainability programs."
In this role, one of Julian's most recent achievements has been implementing a system to track more precisely how much trash is generated at various parts of campus.
"I coordinated a fantastic working group, including members of housekeeping and facilities, to work with a consultant and determine some rigorous goals. Then we contracted with an outside company that allows us to look at waste from the different areas of campus. We installed scales on trucks to check how much waste is being created on a building-to-building level. It's going to be transformative."
Which is how Julian makes his difference at Penn—one trash truck at a time. "If you're in it for the long haul, you have the ability to make a huge impact. You pace yourself. I see people struggle with applying idealism in a business context; that's why it's important to not be a zealot but empower people around you to understand how business, planet, profit and people all link to how an organization works."