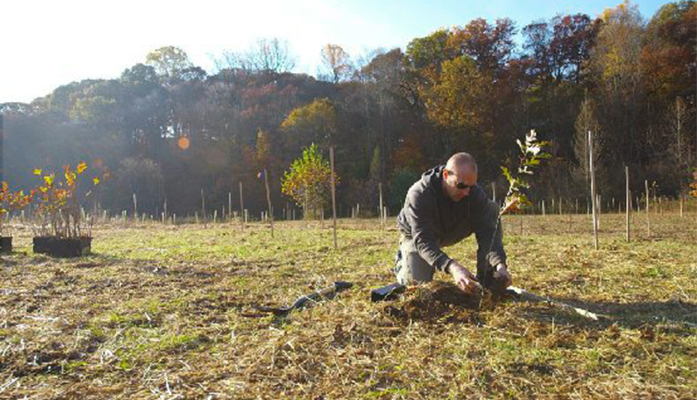 Wild creatures and their noises return to the land
When Mike Coll (Master of Environmental Studies '08) felt unsatisfied with his work — as a woodworker and photographer in Philadelphia — he took a practical approach to figuring out what he should do next.
"I started looking at people who really enjoyed their jobs. The people who thought their job was important. And when I thought about what was important to me, I decided it was the environment."
To transition into a new field, Mike considered a number of local graduate schools and decided on Penn.
"I looked around, and thought that Penn's Master of Environmental Studies program seemed the most accessible. I liked what it was offering because it was so diverse. It took in people from a diversity of backgrounds and they ended up in a wide variety of locations and other jobs. Some of the people I ended up going to school with were coming from biology undergrad, some were lawyers — people from all different walks of life."
To set himself up to apply, Mike took summer classes at Villanova University, such as biology and basic science. With recommendations from his professors there, he was accepted to the Master of Environmental Studies program and began his journey.
When Mike started classes, he didn't know which subject he'd focus on. But Penn offered the options he needed to find a path with purpose.
"I definitely didn't know where I was going to end up when I entered the program. Another great thing about Penn is that you can take classes from other schools there, so I took a class that was technically in the Landscape Architecture school — restoration ecology with Dr. David Robertson. His class was hugely influential on me."
Ecological restoration is the practice of preserving and restoring degraded ecosystems through human intervention and action that initiates or accelerates recovery. Mike enjoyed the balance of hands-on and academic work that the field offered.
 "It's a field deeply rooted in science, but you're also out there actually doing it, in the field, planting the grasses and removing the invasive species, trying to enact the concepts that you learn about. You also see the results — you can see the species that are present, year after year as you hopefully improve the habitat and allow more species to live there."
Mike also formed a strong relationship with Dr. Robertson. A restoration professional himself, Robertson is the Executive Director of the Pennypack Ecological Restoration Trust, and he eventually offered Mike a job as a stewardship assistant, an opportunity that set him on his current career path.
"The rest of the time I was in the Master of Environmental Studies program, I was working along the Pennypack Creek. What I did at that job is what I do in my career today. The stewards there restore hundreds of acres of native meadow as habitat for bird species, plant trees along riparian zones, and do ongoing maintenance on the grounds. Basically, that's what I was learning on a conceptual level in so many of my classes and here I got to actively put those concepts into use."
For his capstone project, Mike studied populations of nighthawks that roof-nest in Philadelphia. Nighthawks adapted to flat gravel roofs in the '50s, and a healthy urban population grew in the city; now, new roofing techniques are causing a significant decline across the range. But thanks to Philadelphia's old buildings, you can still hear nighthawks calling, especially in South Philadelphia.
With his experience at the Pennypack Ecological Restoration Trust, Mike became the preserve manager of the Hildacy Farm Preserve in Media, PA, owned by the Natural Lands Trust, as well as four other preserves in the area. Mike now lives in the old spring house on Hildacy Preserve and helps to create habitat from the ground up for vegetative, insect and animal communities on the land.
"You start with the small communities, such as plants and insects, which then enable birds, mammals and amphibians to live there. I particularly love spring here. It's green, things are growing, birds return from migration and begin their breeding cycle. The wetlands here gets insanely loud with frogs and peepers. It's nearly deafening!"
As for that intrinsic motivation? Mike thinks his job is more important than ever.
"The World Wildlife Federation recently released figures that show that in the last 40 years, there has been a 50% decline in the population of animals on the planet, and the main reason cited is loss of habitat. Part of fixing that is preserving land, and another part is active management to make natural areas as valuable as possible. On the eastern part of the continent there's so little viable open space left, due to development, the intrusion of nonnative species and a host of human-created problems. What we do with those remaining places is very important. I feel lucky to wake up to work that's incredibly valuable."