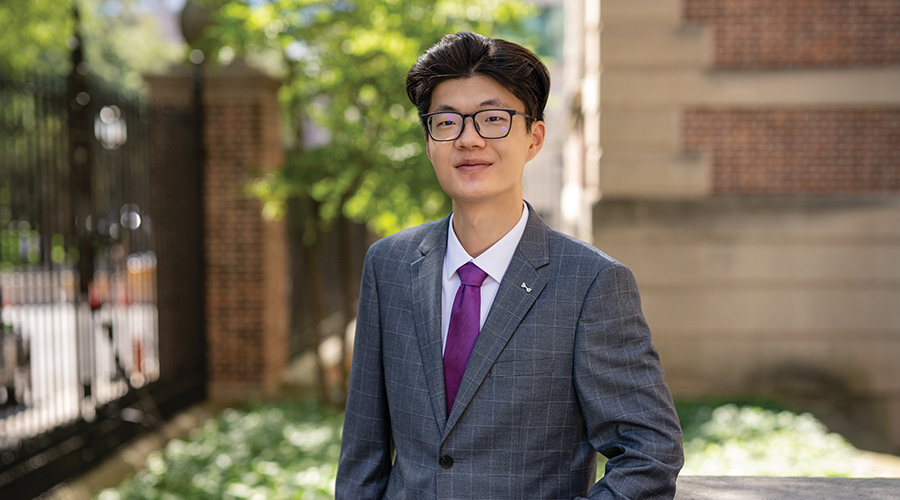 "My personal philosophy is 'know more, do more, be more,'" says Zhao Liu (MES/ML/MS `25—expected). "I am constantly seeking to expand my knowledge and skill set, and I find that my enthusiasm and energy levels increase when I am engaged in activities that align with my interests." As an undergraduate, Zhao pursued dual degrees from the Renmin University of China and the KEDGE Business School in France. "I studied business, but I still had a dream in my heart that I want to contribute to the environment, so most of my internships and course studies related to sustainable development and environmental, social, and governance (ESG)." he recalls. "My ideal job is to be an impact investor, to help entrepreneurs achieve their goals and also contribute to the environment and society." To further his own academic and professional goals, Zhao enrolled in Penn's Master of Environmental Studies (MES) program—making the most of the dual degree option to complete a Master in Law at the same time.
"I decided to go to Penn because I knew Penn has numerous interdisciplinary opportunities and the MES is a very diverse and multidisciplinary program, so I can learn environmental and legal knowledge here and also strengthen my business background," says Zhao. While environmental and legal studies may seem ancillary to a career as an investment analyst, Zhao explains that a multidisciplinary skill set is essential for the job. "Investors should learn environmental and legal knowledge to navigate regulatory compliance, mitigate risk, and make responsible investment decisions." In the long term, Zhao sees the importance of emphasizing ESG and sustainability in every aspect of business; in the short term, he sees plenty of connections between his environmental studies curriculum and his legal coursework. "While environmental laws may not directly modify the environment, they serve as a vital mechanism for managing human activities and harmonizing them with environmental issues, thereby safeguarding the earth," he says.
At Penn, Zhao found the multidisciplinary approach he was looking for. "Our advisors encourage us to take courses from other schools to improve our career prospects, if necessary," he says. "So even though my focus is environmental policy, I can use one or two courses to strengthen my business background." In addition, he says, he values the wide range of perspectives offered by classmates from different professional and disciplinary backgrounds. In one course, for example, the students collaborated to draft a plan to help a town fulfill New York state's Climate Smart Communities program; Zhao was able to contribute insight from his business background, while others brought design and architecture input. "We worked together to share our knowledge to make a beautiful handbook for the town," he says.
The MES program has also provided opportunities for Zhao. He is a member of the Penn Impact Investing student group, with whom he conducted impact investment research with an investment firm in New York. He enrolled in a course that includes a week-long trip to study ecology in Puerto Rico; the field trip piqued his interest in endangered species. Zhao also took an environmental law course where he studied the Endangered Species Act. Therefore, he joined the Environmental Law Project at Penn Carey Law to protect Atlantic sturgeon with an NGO. In an online course about life cycle assessment sponsored by the MES program, Zhao was inspired to research the carbon footprint of bottled water; he presented his findings at Penn Grad Talks: From Bottle Water to Filtered Water: Save Money and Save the Earth. "That is just a very tiny idea from our online course, but it transferred into advocation," he says. "Some sustainability actions bring us benefits, such as saving money, and this applies not only to personal consumption but also to business practices, so why not take action?"
For his second year in the program, Zhao will study in France, where he is eligible for a Mastère Spécialisé degree in Environmental Management from MINES Paris Tech - PSL. "I will go to learn more about global environmental issues and management," he says; he is also looking forward to experiencing French culture in person since his undergraduate program in France had to be completed online due to the pandemic. "I really appreciate that the MES program provides us with so many exciting opportunities," he adds. "Penn has offered me invaluable support and resources on my journey of interdisciplinary learning."
Zhao suggests students of all backgrounds to consider what they may have to contribute to the environmental field. "The MES program is very diverse and inclusive. You don't have to have an environmental science background to apply," he says. "Our world needs your support. We need people from all disciplines to work together to contribute to sustainable development and address environmental issues for the future world."