One Penn alumna helps to build a more sustainable campus
"Philadelphia is a great laboratory. There are so many examples of green infrastructure and sustainability at work," Sara King (Master of Environmental Studies '11) shares about studying and working at the University of Pennsylvania. Sara is the Director of Sustainability and Project Management for the School of Arts & Sciences Facilities, Operations and Planning. For 11 years, she's been a driving force in campus-wide initiatives to make Penn greener and cleaner.
Sara first joined the School of Arts & Sciences (SAS) as a co-op intern from Drexel University's Interior Design program. "I stayed on part-time through my senior year. When I graduated, I received my diploma on Friday and started full-time at Penn on Monday," she remembers.
Throughout her tenure, Sara has held five positions in her department. "My roles have evolved alongside my own personal and professional development," she continues, "so my courses in the Master of Environmental Studies (MES) reflect my own trajectory. I made a conscious choice to build a broad-based curriculum. MES gave me a foundation for the spectrum of projects I do every day."
Those projects range from helping faculty and staff implement deskside recycling to refurbishing offices and classrooms with non-volatile organic compound paints and carpets. While researching her capstone, Sara found that what drove individuals and organizations to make more sustainable choices was often based on three factors: cost-saving, environmental preservation and overall cleanliness of operations.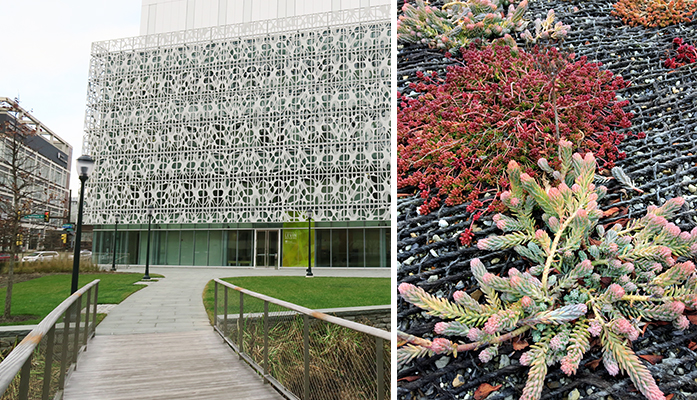 From a practical perspective, Sara shares, "When building systems work better, they're more energy efficient, they don't break as much, you're more comfortable in your space and people stay healthier."
Along with her work in SAS, Sara has been a part of many Penn projects and committees that make the campus work smarter and harder towards its sustainability goals. In fact, Sara was part of the committee that wrote Penn's first Climate Action Plan. "It was a real honor to be a part of that in its infancy," she recalls.
Though Sara wears many hats, her favorite was acting as project manager and interior design lead for the construction of the brand-new home of neural and behavioral sciences, the Levin Building. "Two years ago, I was on the floor of my apartment with the furniture specs all over. I sort of missed it this year," she recalls. "It's this modern research space that's efficient, innovative and it reflects the environment it's in."