Growing up in Connecticut, Lenny Kolstad (MES '13) spent hours outside every day, playing sports and exploring the natural world around him. He always valued the environment. But it wasn't until he graduated from college — with a mechanical engineering degree from Yale — that the question of how to preserve the environment truly became his calling.
Lenny found a good job in IT after school, but increasingly, he found himself restless, returning to the question of climate change.
"I became fascinated by the idea of sustainability," Lenny says. "It seemed like the only way to grow an economy while not abusing all our natural resources."
He knew he was ready to make a leap towards his curiosity, even if it meant leaving his comfortable career. So he headed out for Fiji on a sustainable development trip. There, Lenny taught English and worked alongside Fijian villagers to build solar-powered water heaters.
Using his engineering prowess to create sustainable power, and witnessing the rising oceans and turbulence caused by climate change in a global context, helped him decide he wanted to spend his career dedicated to preserving the natural world. On his return from Fiji, he applied to the Master of Environmental Studies program at Penn.
Lenny says, "I chose Penn MES because I didn't have an environmental background, but the program gave me the flexibility to learn the basics and still explore. Yvette [Bordeaux, MES Program Director] encouraged me to explore a range of subjects — such as sustainable design, environmental policy and green business."
Gradually, Lenny settled on the topic of sustainability as his individual concentration within the MES program, and the MES program connected him with a nine-month internship at the Energy Efficient Buildings Hub at Philadelphia's Navy Yard. The Hub is a group of 25 different firms, universities and labs, all working together to find energy-saving, whole-building solutions.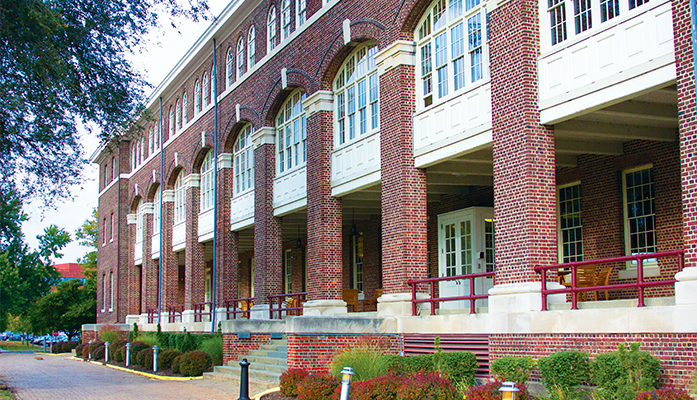 At the Hub, Lenny served as the Stakeholder Engagement intern, surveying multiple players in the building industry to learn how to make environmentally friendly retrofits more attractive to building owners.
"The Hub wanted people to pursue a deeper retrofit of their old buildings, getting them up to new energy codes by changing things like lighting and the HVAC system. To make a change, you have to upgrade multiple  systems at the same time, so cost is the biggest barrier. It was my job to figure out how to most powerfully communicate the advantages of the return on investment that come only a few years after the retrofit," Lenny says.
The internship was invaluable for him in helping him understand how to work with stakeholders across different industries. The survey that he completed, he says, had a broad audience — including engineers, building owners and architects.
"It's the first of its kind in terms of content, by providing different perspectives on how to advance the market for property retrofits," Lenny says. "It gave us a sense of the size of the properties that are the best to pursue and how to focus our efforts, by telling us what upgrades are popular and which had to be developed further."
The MES program also offered Lenny ideas for the future by acquainting him with promising new policy strategies. "City energy benchmarking policies are some of the most effective policies around now; when cities are required to disclose the energy efficiency of their buildings, it increases the likelihood they'll invest in it," he says. He also found inspiration right here in Philadelphia, in the form of the LEED Gold-Certified Comcast building.
With the experience he acquired at the Hub, Lenny found another internship in D.C., on the Energy Efficiency Finance Team at the Institute for Market Transformation, where he's working today. "Thanks to MES and the internship, I now know that I want an interactive role, something more social; one day I want to become a project manager at a sustainable engineering firm."
Lenny says that what he's learned while working with different environmental stakeholders resonates beyond just green buildings. "I tell them, it's a good investment decision to be sustainable — the investment pays for itself. And for all of us on the planet, it's an investment we can't afford not to make."