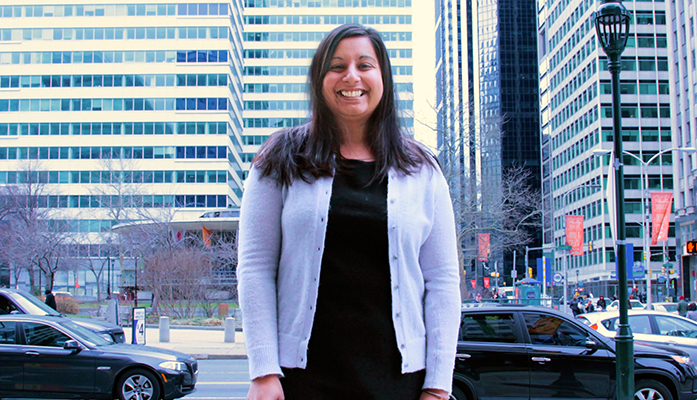 A new policy maker stewards the elements that connect us all
Rupal Prasad (Master of Environmental Studies '13) had been working in a neurobiology lab as a research assistant for over five years when a chance conversation sparked a new train of thought.
"One day in the lab, I was talking to a friend who was a lawyer, and he told me he'd actually gone to school for biology first before ending up as a lawyer. That's when I realized I could also change my career, which I just hadn't considered before."
As Rupal considered what she'd like to do next, she remembered her experiences in college in a freshwater science course, testing drinking water.
"I liked that it was related to everyone's daily life. Water is the only thing that everybody needs, a commonality and a necessity. And I knew, wow, looking at it that way, that's really a place to make an impact. I felt like working in the environmental field would be more interactive, and though my lab research would have made an impact over the long term, I wanted to make a difference where I could see it."
In doing her research, Rupal found Penn's Master of Environmental Studies program to be "more well-rounded than any other programs I was looking at. It was more exploratory; there were many professors who were in the industry and are still working and teaching."
Rupal also found that the program was very welcoming to someone changing careers.
"I met [Master of Environmental Studies Director] Yvette Bordeaux and really liked her, as well as how the program was structured. She helped me figure out how to make the transition less difficult, and made me feel like it wouldn't be so stressful. And during the program, I met many people who have made career changes too. It was encouraging and positive to learn from my classmates."
Rupal picked classes that interested her, and soon gravitated towards water and energy policy work. From talking with professors and other students, she soon saw policy was a way to make the wider impact she sought in her career change.
"A highlight for me was a trip to the World Water Forum in France. I spent a week there at an international conference, a culmination of my coursework, seeing other people from all over the world, all trying to solve all these huge problems. I also went with my classmates and became close with them and experienced a place I'd never been to, through my class. That was one of the best experiences I've ever had in school."
Other standouts from the program for Rupal include "taking classes with students from different schools in different departments. I loved the diversity of the program; the students come from all over the world."
When it came time to seek out what came after the program, Rupal says, "The professors all had a lot of knowledge, not just in subject matter but in careers too. They were really helpful, very willing to help with coursework but also with direction, opinions on what I should be doing, where I should look for a job, and what skills I should focus on."
Rupal ultimately found an internship with Philadelphia's energy benchmarking program.
"Seeing policy take action seemed like a great experience. That was last May, and I ended up staying on part-time. I'm currently pursuing other career opportunities with the city." 
Rupal is contemplating a long future in the environmental field. "In five-to-ten years, I see myself as a driver of change. As a result of my education in both biology and policy, I can be a conduit, a liaison between the science and policy side, and translating that to the community. I have the ability to talk to building owners to understand what their energy usage is, and explain how changes make savings, but also help the environment in general. I like doing that — making the changes that need to be done now, rather than later."