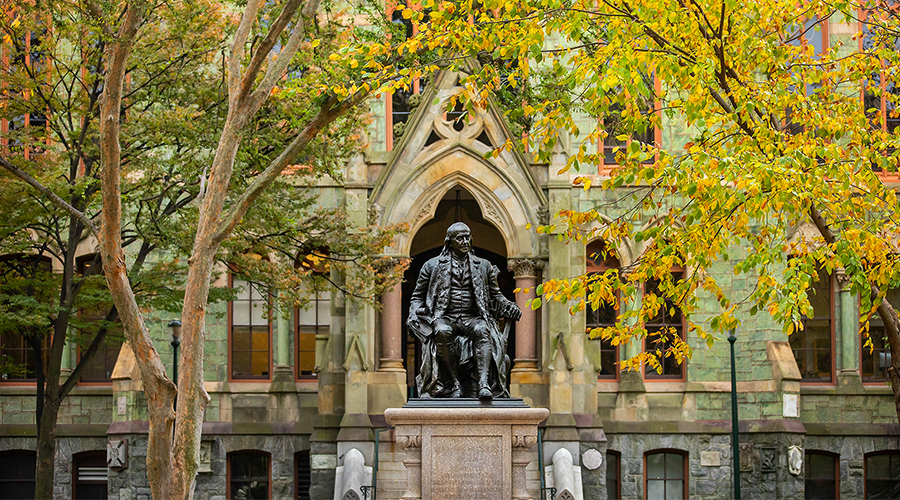 We're excited that you're considering Penn's Master of Behavioral and Decision Sciences to further pursue your professional goals. We're here to answer any questions you have about the program and the admissions process.
See yourself in the Master of Behavioral and Decision Sciences
Penn's Master of Behavioral and Decision Sciences is designed for recent college graduates and experienced professionals looking to launch or bolster their careers in the private and nonprofit sectors. Our program is also an entry point for students who want to pursue a PhD or enter business, medical, or law school. If you are already in the workforce and want to enhance your credentials or make a career change, we welcome you to bring your expertise into the classroom and grow with your peers.
Future consultants, educators, policymakers, community influencers, business analysts, and more are made here. From engaging in humanitarian work in developing nations to helping your employees make better decisions to working with urban communities in public health, the impact of behavioral and decision sciences casts a wide net of possibility.
What we're looking for
Our Admissions Committee takes a holistic approach to evaluating applications. Along with a solid academic record, our program is looking for individuals who strive to make an impact in their chosen field through behavioral and decision sciences. We are also seeking self-starters who will use their time at Penn to pursue research opportunities, and academic rigor beyond the classroom.
Admissions requirements for the program reflect the high standards of the School of Arts and Sciences. Admissions criteria include:
A bachelor's degree or higher from an accredited institution
A minimum 3.0 GPA
TOEFL scores of at least 100 (iBT), 250 (CBT), or 600 (PBT) for international applicants (TOEFL scores are not required from international students who are attending or have attended English-speaking institutions or programs for their undergraduate or graduate degree)
GRE test scores for applicants who have recently completed undergraduate studies or who have less than five years of professional experience
Undergraduate courses in (a) introductory statistics and (b) game theory or microeconomics are strongly preferred
After a complete application is received and reviewed, candidates under serious consideration may be invited to interview with a member of the Admissions Committee on campus or remotely.
Submitting your application
Applications are handled in two rounds: priority admission and standard admission. Each round has a different corresponding decision release date. Applicants who have submitted a completed application by the priority admission deadline are expected to receive their decisions earlier.
We encourage applicants to submit before the December 1 priority deadline for a faster enrollment decision. The MBDS program only admits a certain number of students each fall, so getting your application in early increases your chances of being considered for enrollment.
A completed application means that all transcripts, test scores, letters of recommendation, and required essays have been received by the MBDS admissions office. Applicants can view whether their application is complete by checking the application portal. Applications that are missing required documents, such as a letter of recommendation, will not be reviewed until all materials have been received.
Application deadlines
| Term of Entry | Deadline |
| --- | --- |
| Fall 2024 (priority admission) | December 1, 2023 |
| Fall 2024 | February 1, 2024 |
Application requirements
Applications must contain all of the following to be considered complete:
Please describe your interest in the Master of Behavioral and Decision Sciences at Penn and what you hope to gain from the experience. The length of your personal statement should be approximately 500 words that fit on two double-spaced pages.
Submit your current resume, which should highlight your professional and academic experiences, including nondegree coursework, certificates, and MOOCs. We encourage applicants to include all positions held, including non-behavioral science jobs, internships, or volunteer experiences.
To apply to a program, you must submit transcripts from each post-secondary school by uploading copies of unofficial transcripts through the online application system. We accept file formats .doc, .xls, .pdf, and .txt. Applicants are strongly encouraged to upload a copy of their official transcript, along with the transcript key/legend.
If you are offered admission, you will be required to provide official final transcripts of all previous academic work to verify the information provided. Offers of admission are not binding until academic records are verified.
For a transcript to be considered official, we require one of the following:
Original hard copy mailed to Penn LPS directly from the issuing institution (see address below)
Copy with an official stamp, seal and/or embossed marking, which arrives in a sealed envelope bearing the institution's stamp or seal (this may be sent from the applicant)
Emailed transcript from official electronic delivery service
Copies, opened or unsealed envelopes, and unofficial printouts or facsimiles will not be accepted. You must show your original school record for your coursework; transfer credits as indicated on another school's transcript are not accepted. In addition, you are required to submit official transcripts from each school you have previously attended or are currently attending. Many schools take several weeks to fulfill transcript requests, so please plan accordingly.
Please note: Since all required supporting documents are submitted through the online application system, hard copy material other than official transcripts or letters of recommendation will not be accepted. Please urge your recommenders to submit their letters through the online system. All application materials become the property of the University of Pennsylvania and will not be returned. Remember to retain a personal copy of your application.
Official transcripts should be sent to the following address:
College of Liberal and Professional Studies Admissions
3440 Market Street, Suite 100
Philadelphia, PA 19104-3335
Please check with your university or college to determine if an electronic transcript delivery service is available.
If the option is available, please request your final official transcripts be sent electronically to lps-admissions@sas.upenn.edu. Electronic submission of transcripts improves tracking and reduces processing time.
Once your official transcripts arrive in our office, allow 3-5 business days for your academic records to be processed and verified. Processing time may be longer during peak periods.
If there are discrepancies between the self-reported academic work and official records, the offer of admission will be revoked. The school grading scale or other standards of evaluation, including minimum passing and failing marks and the definition of grades between them, should appear on official records or be provided as an attachment. You will be unable to register for courses until your final official transcript has been received and verified.
GRE test scores are required for applicants who have recently completed undergraduate studies or who have less than five years of professional experience.
TOEFL/IELTS: If your undergraduate or graduate degree courses were taught in English, the TOEFL/IELTS test requirement can be waived by indicating this in the appropriate field in the application. Applicants whose native language is not English must submit Test of English as a Foreign Language (TOEFL) scores to demonstrate English proficiency. Please note that the TOEFL is rarely waived; therefore, we encourage applicants to take the test to avoid delays in completing the application. The minimum TOEFL scores required for admissions consideration are 100 (iBT), 250 (CBT), or 600 (PBT). The TOEFL must be sent from ETS using the institutional code 2986.
International English Language Testing System (IELTS) is also accepted and the minimum score for consideration is a 7. You may upload a copy of your IELTS test to the standardized test score section of the application.
Each applicant must submit two letters of recommendation. Letters should come from individuals in a position to evaluate your professional and/or academic work, such as a supervisor or professor, and who know of your desire to enter the Master of Behavioral and Decision Sciences program.
If you graduated less than five years ago, we recommend that you provide one recommendation from a college instructor who knows your academic work and one from a work supervisor who can speak to your professional performance. If you graduated over five years ago, two professional recommendations are appropriate.
Recommendations may be submitted online (preferred) or by mail. For online recommendations, please follow the instructions in the Recommendations section of the online application.
Complete and submit the online application. There is a $75 nonrefundable application fee. You may submit your application fee online by credit/debit card.
International transcripts from institutions outside the United States
Applicants who have attended a college or university outside the US are required to have a course-by-course credential evaluation (with grade point average and course levels) performed by an outside evaluation service. You do not need to have a transcript evaluation done for a university which was attended for only one semester as an exchange student. Credential evaluations will be reviewed by our administrators, and the determination of degree equivalency to US degrees is at the discretion of the College of Liberal and Professional Studies. The following two evaluation services are acceptable:
CertiFile/CollegeNET Document Service: Applicants from international institutions are encouraged to use the CertiFile/CollegeNET Document Service within the College of Liberal and Professional Studies application to request and submit authenticated transcript(s) and other academic documents. This service provides certified documents and course evaluations which are then included as part of your application materials. If using this service, Penn requires the "Evaluation" service at a cost of $190.
World Education Services Inc. (WES): WES must complete a course-by-course evaluation of all post-secondary credentials. The course-by-course evaluation should include the comparability level of your education and list each of your courses along with the equivalent US marks and credit. Please select the WES basic course-by-course evaluation (with grade point average and course levels) and request that WES send your evaluation to Penn College of Liberal and Professional Studies Admissions. The school can be found by searching the University of Pennsylvania and then selecting College of Liberal and Professional Studies. The evaluation becomes an official academic record and sole property of the University upon its receipt. For additional information about the WES application and its review process, please visit the WES website.
Please note that these services charge a fee for the evaluation.
Admissions interview
Admissions interviews may be conducted after your complete application is received and reviewed. Candidates under serious consideration may be invited to interview with a member of the Admissions Committee on campus or remotely. An invitation to interview means that your application has advanced in the process but does not imply admission to the program.