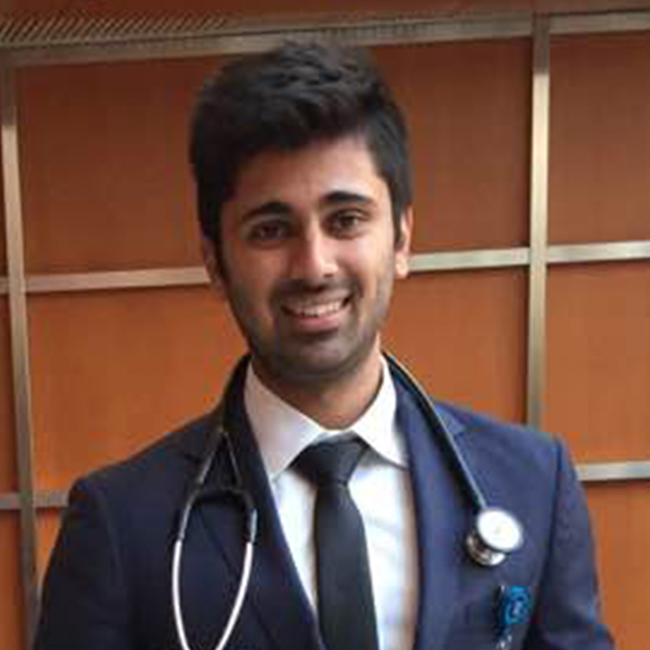 Pre-Health Specialized Studies '15
Education:
Mayo Clinic Alix School of Medicine '21
Pre-Health Programs, University of Pennsylvania '15
Bachelor of Arts in Economics, Vassar College '13
Rahul Kanade was halfway through his bachelor's degree in economics when he discovered that his ideal career path lay in medicine. Although he finished most of the prerequisites for medical school in his last two years at Vassar College, his undergraduate advisors encouraged him to consider post-baccalaureate programs before applying to medical school. Out of all the programs he considered, Rahul recalls, "I thought Penn Pre-Health Programs was the best option because of the location, research opportunities, and the classes offered." An international student, Rahul took four classes every semester and completed the Specialized Studies track in two years. "It was really busy," he laughs. "You take on a lot of responsibility in the program—which I think is appropriate, given that medical school only gets more intense and you'll have to shoulder more responsibility. But you also get appropriate support."
Now in his third year at the Mayo Clinic Alix School of Medicine, Rahul has rotated through his neurology, psychiatry, pediatrics, and family medicine clerkships. "I'm still leaning toward surgery as a career choice," he says. "I just haven't had my surgery rotation yet. That will give me some idea of what the life and hours will be like as well." The clerkships have given Rahul some insight into potential career paths. "I'm thinking that I might like to focus on cardiac surgery, and then maybe further specialize in pediatric cardiac surgery. But I have maybe six years to make that decision," he adds.
As he practices alongside a new medical team every six weeks, Rahul is thankful that his educational history demonstrates a sustained interest in surgery. After completing the Specialized Studies track of Penn's Pre-Health Programs, Rahul worked in the research lab for a cardiac surgeon through Penn's Harrison Surgical Scholar program, a competitive opportunity for premedical students to experience clinical surgical research. "That was a great experience," says Rahul. "You can match with surgeons in cardiac, transplant, pulmonary, or plastic surgery, so everyone has different experiences. For me, it was a lot of translational research. We were taking work that we've done in the lab—developing models to regenerate heart muscle—and trying to apply it clinically." The experience, oriented Rahul to a variety of clinical and research environments. "It would be intimidating to walk into an operating room as a medical student and have no idea what's going on, who is doing what, or how to scrub in," he says. "I learned those things during the Surgical Scholar program, so that gave me a little bit of confidence."
In addition to the Harrison Surgical Scholar program, Rahul worked as a trauma and sexual violence counselor while applying to medical school. "That was hard," he reflects, "but it definitely made me comfortable talking to patients about intense and difficult things. You are not necessarily taught that in medical school and it can be hard to learn."
Looking back on his time in the Pre-Health Programs, Rahul says that his biggest lesson was not to rush through his preparation and application process. "When I finished my first year at Penn, I really wanted to apply to medical school, but I probably would not have been as successful as I was," he says. "Applying is such a long and painful process that when you do it, you should be completely ready, and take your time to get everything done and all your boxes checked."