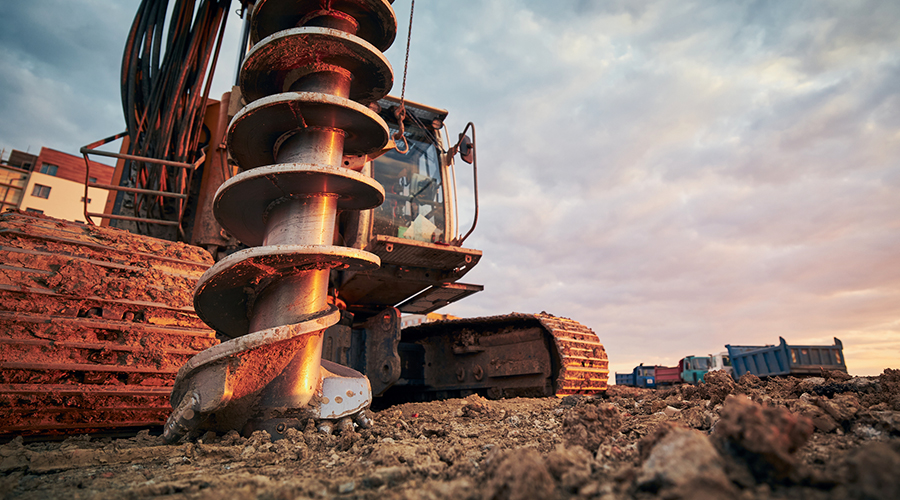 The online Master of Science in Applied Geosciences (MSAG) degree is structured to deepen your mastery in applied scientific knowledge as well as enhance the project management and leadership skills necessary to effectively put that knowledge into action in the field. The curriculum is structured with a combination of required courses and electives, which allow you to focus on topics best suited to your interests and goals.
The online MSAG requires the completion of 12 course units (c.u.)* as follows:
9 required courses
3 electives
1 Project Design thesis
Please confirm all computer technology is up to date and meets system requirements. Review current system requirements for all online students.
Required courses (9 c.u.)
Required courses help deepen your knowledge in core, applied geoscience topics. Every project in the geosciences—whether choosing the best site for a new bridge, developing stormwater solutions for a city, or helping to restore damaged wetlands—requires mastery in the areas covered by the required courses. In order to become a leading problem-solver in the geosciences, you need to be able to draw on scientific knowledge from many aspects of the geosciences and be equipped with a wide variety of tools that help you apply this knowledge effectively.
The following are the nine required courses for the online Master of Science in Applied Geosciences program:
EESC 5200 Aqueous Geochemistry
EESC 6810 Applied and Environmental Geophysics
EESC 6770 Geocomputations
EESC 5630 Hydrology
EESC 6820 Geomechanics: Solids
EESC 6620 Environmental Groundwater Hydrology
EESC 6840 Engineering Geology: Rock Mechanics, Surficial Materials & Processes
EESC 6870 Interpretation of Near-Surface Geologic Structure for Engineering and Environmental Projects - Site Characterization
EESC 6998 Project Design
Elective courses (3 c.u.)
While the required courses provide the structure you need to be successful in any geoscience field, the elective courses allow you to choose areas to develop specific expertise and also signify your mastery of an applied geosciences subdiscipline to current or potential employers. The elective courses also help prepare you to pursue the final Project Design exercise (below). The selection of elective courses is made in consultation with an academic adviser assigned to you when you enter the program.   
Project Design
The Project Design exercise is a distinguishing feature of the online Master of Science in Applied Geosciences program, blending academic and professional experiences and serving as the culmination of your work in the program. You develop a project drawing from your learning inside and outside of the classroom to demonstrate mastery of an area in the geosciences.
The subject of this project is related to your professional focus and may be selected to complement or further develop a work-related interest. It's an opportunity to showcase your specialization, your expertise, and your unique perspective within the field. 
The year-long Project Design exercise demonstrates your proficiency in critical professional practice which includes the ability to:
Identify a geotechnical, hydrologic, or environmental problem or issue that would be encountered in professional practice
Design a protocol
Acquire the data necessary to clarify, if not resolve, the question
Critically assess the quality of the data acquired
Draw defensible conclusions from those data
Communicate this process and conclusions to professional colleagues with clarity and precision
You work with two project advisors who act as supervisors for the Project Design. One advisor is drawn from the faculty in the Department of Earth & Environmental Science, and the other may be from the University or be an industry expert. Advisors are identified in the second semester of the program in the Project Design Seminar class.
Certifications and licensure
Our rigorous coursework also provides the academic depth needed for licensure as a Professional Geologist (PG) in the commonwealth of Pennsylvania. When you complete the degree, your professional geological work requirement is shortened from five years to four in most states. See your state's specific requirements.
In addition, we offer a one-week Philadelphia-based immersion course in geologic field methods each summer as an elective. Through a series of daily intensive field trips, this course trains you in the field techniques needed to satisfy state licensure requirements in states like Pennsylvania.
Time frame
Online Master of Science in Applied Geosciences students may enroll on either a part-time or full-time basis. Your time to graduation varies depending on how many classes you take each semester and whether you take summer classes. Full-time students can complete the program in two years, taking three or four classes per semester. Part-time students typically complete their work in three years, taking one or two classes per semester. Individuals working full time are advised to take no more than two courses per term.
Transferring graduate credits
Incoming students may petition to transfer up to two graduate-level credits from classes completed prior to their admission at Penn if those credits were not used to complete another degree. Students seeking transfer credit should fill out a form after they matriculate into the program and submit it to the Program Director before the end of their first semester at Penn. A transfer credit form is available on the program's Canvas Community site, which is accessible to current students only. Transfer credit is evaluated on a case-by-case basis by the Faculty Advisory Committee.