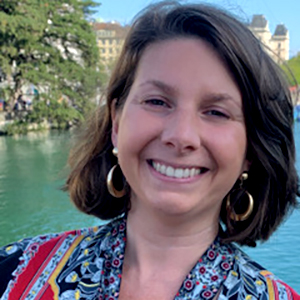 Director of Operations and Development at Main Line Classical Academy
Education:
Master of Philosophy in Liberal Arts, University of Pennsylvania '22—expected
Master of Arts in Medieval Literature, University of Oxford '05
Bachelor of Arts in Economics and Asian Studies, Lehigh University '00
"My passion has always been literature," says Rebekah Martindale (MPhil `22—expected) who is currently Director of Operations and Development at Main Line Classical Academy. "It's something I discovered at the end of my undergraduate degree, but I was already on this path toward the world of finance and economics." Even while she pursued her finance career, Rebekah still felt drawn toward the humanities. "I was at the University of Oxford and got a master's degree in medieval literature there, and that's when I really fell in love with the period," she recalls. When she reached a point when she felt she could dial back her career and explore her academic calling, she discovered the Master of Philosophy in Liberal Arts at Penn. "This was a great opportunity for me to dip my toe back in the water, work at my own pace, and figure out where I wanted to go without any pressure," she explains. "I'm a mom and I teach, so just being able to explore without committing full time is really nice for me."
At Penn, Rebekah focused on taking courses that would fill in what she felt were gaps in her medieval studies. "I had done some very intensive study on the medieval period in England while I was at Oxford, and here at Penn I've been able to look at the period in a more global perspective," she says. In addition to courses in medieval women's literature and travel narratives, she took courses in literary theory—"a difficult subject for me, but the professor really helped me grow and feel comfortable in that space," she comments—as well as focused studies in Chaucer, Dante, and Shakespeare. "I'm in the same courses I would be taking if I were in a PhD program, with the same professors, getting the same education," says Rebekah. "Everyone I've worked with on the Penn faculty has been amazing and open and welcoming to me as an MPhil student. And this experience has given me a good sense for how much I can handle and what I want to do."
Rebekah's first year of study was entirely online due to the pandemic, although she says she still felt connected to her instructors and peers. Still, she appreciated the opportunities provided by returning to campus in her second year, such as meeting her favorite instructors in person and exploring Penn Libraries. "I'm taking a great course on illuminated manuscripts in the Philadelphia area. It's taught by someone from Penn Libraries, and we will probably travel to different libraries in Philadelphia, so it's a very hands-on, object-based learning class," she says. While the course material may or may not contribute directly to her capstone project, Rebekah observes that material texts are invaluable for understanding medieval culture broadly. "There's a book at Penn from 12th century France, and the writing is so tiny," she recalls. "You imagine who would be writing and reading this book with its minuscule print, conserving every bit of paper, and it reminds you how scarce a resource a book could be. As great as all the digital resources are, you can't quite capture that scale."
For her capstone project, Rebekah plans to explore the work of Marie de France, a poet and translator in 12th-century England who wrote secular plays exploring issues like marriage, culture, and gender. "I think of her work as a tapestry with all these different threads and themes woven into it. Each time you read through it, you can follow a different thread," Rebekah explains. "And she was a female poet in medieval England who wasn't writing about explicitly religious themes. There are times when that would probably not have been possible, so the fact that she did it—and that her writing was preserved and has an afterlife—fascinates me." The medieval period, adds Rebekah, encompasses a thousand years of history and spans continents with radically different cultures. But the era itself is "an incredibly different period, with a different psychology," she says. "And yet at the same time, there are these moments of recognition, where you see writers like Marie de France grappling with some of the same problems we have. That's what's really fun about working on the pre-modern period."
Marie de France wrote in a dialect of French even though she lived in England. "One thing that people find surprising about the Middle Ages, and literature produced in England in particular, is that it was a truly trilingual culture: Latin, Anglo-Norman French, and the native English vernacular. It was a vibrant, dynamic place and the manuscripts reflect that," says Rebekah. Rebekah took classes in advanced French and medieval Latin at Penn, although most language courses don't count toward the MPhil degree requirements. "There's a group of people who read medieval Latin together for fun on Monday afternoon," she adds. "Hearing classicists read Latin poetry is really beautiful. It's a lot of work but I love being in that environment."
Rebekah definitely plans to pursue doctoral studies in medieval literature, but she's not in a hurry; while she looks for a PhD program that would be the best fit, she has access to Penn Libraries and plans for independent research. "I'm mostly doing it for the journey, rather than the destination," she says. In the meantime, she advises prospective MPhil students to make the most of the program's flexibility and opportunities for advanced study. "This is the best program for an adult trying to get back into the academic flow or just trying to learn more about what you're interested in," she concludes.