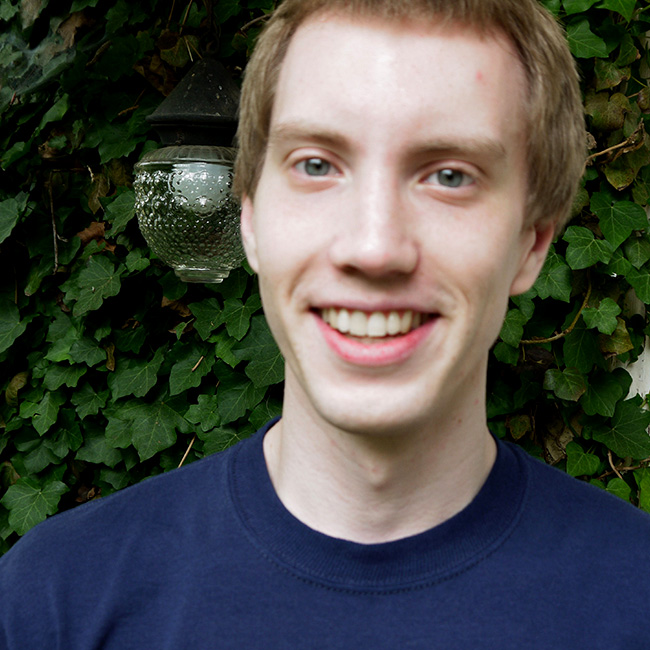 PhD student in the Neuroscience Graduate Group (NGG), University of Pennsylvania
Education:
Doctor of Philosophy in Neuroscience, University of Pennsylvania '27—expected
Post-Baccalaureate Studies, University of Pennsylvania '21
Bachelor of Science in Psychology, Penn State University '16
"Neuroscience is undergoing a huge renaissance," says Joe Stucynski, a PhD student in Penn's Neuroscience Graduate Group. "There has just been a huge explosion in terms of technological ability to examine biological systems, and there are incredible tools we can use to answer questions that would not have been addressable 20 years ago. So I'm learning new techniques literally every day."
Joe knew he wanted to study neuroscience after he graduated college, where he had taken a few graduate-level courses and worked in a psychology lab. He had his eye on the PhD program at Penn, but he also knew he needed more coursework and experience in the field to become a more competitive candidate. "I had a list of reasons to start a post-baccalaureate program," he recalls. "I could start taking classes that I knew I needed to take. I could talk to professors, and hopefully I could get some research experience to complement what I've already done in psychology." Rather than enrolling in a subject-specific program to prepare aspiring students for medical school or advanced neuroscience, Joe chose the flexible Post-Baccalaureate Studies Program in Penn's College of Liberal and Professional Studies. "Penn seemed to offer the most freedom in terms of setting your own schedule," he says. "I just customized my own post-bacc experience."
At Penn, Joe selected his courses based on his interests each term, but also conferred with his academic advisor and fellow neuroscience students for their recommendations. He took courses in circadian biology and neuropsychopharmacology, which confirmed his interest in neuroscience and helped him feel ready to take on advanced topics in the field. "I had been out of school for a year and a half. I wanted to make sure, confidence-wise, that I could get back into it and rebuild those skills," he says. Joe also felt he should have some formal training in coding to augment his undergraduate programming research, so he took classes in Java and programming design. As a Penn student, Joe could visit the biomedical library to check out his neuroscience textbooks and join a journal club to keep up with cutting-edge research and discourse.
Through his post-bacc studies, Joe explored the possibility of specializing in the neuroscience of sleep. "Nobody knows exactly what goes on in the brain during sleep. It's so mysterious," he says. "You spend a third of your life asleep, and we still know relatively little about it, even seemingly basic things like how and why the brain transitions between sleep states. There's just so much untapped potential there." Fortunately, Joe had come to exactly the right place: "Penn has one of the largest cohorts of sleep researchers in the country. I didn't know that going in," he laughs. "It just worked out for me." By making the most of his academic network at Penn, Joe was able to combine his need for research experience with his interest in sleep science and took on a part-time role as a research specialist in a University lab which studies REM sleep in mice. "Part of the lab work is computational, so the programming classes I took were invaluable," he says. "You can collect all the data you want, but you still need the programming skills to analyze the data. If I didn't have that, I would have been in over my head."
When his part-time lab work grew into a full-time role, Joe dialed back his coursework and focused on applying for graduate school. "This is where the flexibility of the post-baccalaureate program came in very handy," he adds. He was accepted to a PhD program in Michigan but deferred due to the pandemic. After another year of developing his research projects in the lab of Dr. Franz Weber—and publishing a paper on his findings—he reapplied and was accepted to his top choice, the Biomedical Graduate Studies program at Penn's Perelman School of Medicine.
In graduate school, Joe is still interested in sleep science but enjoys branching out. "The way the program works is that you rotate into a different lab every semester or so, so you can find a lab you want to do your thesis research in," he explains. "I'm currently in a lab that does pain and opioid research, doing the same sort of technique work I've done in the past with neural circuits." At this stage, he is open to different post-graduate career pathways but sees other laboratories in his future. "I like being at the bench. I like doing experiments. I want to stay in research, whether that's academic or industry," he reflects.
Joe values the time and flexibility the Post-Baccalaureate Studies program gave him to launch the next chapter of his education and advises other post-bacc students to take advantage of what the program does best. "This was a really good stepping stone," he says. "You're not limited in what you take at all."