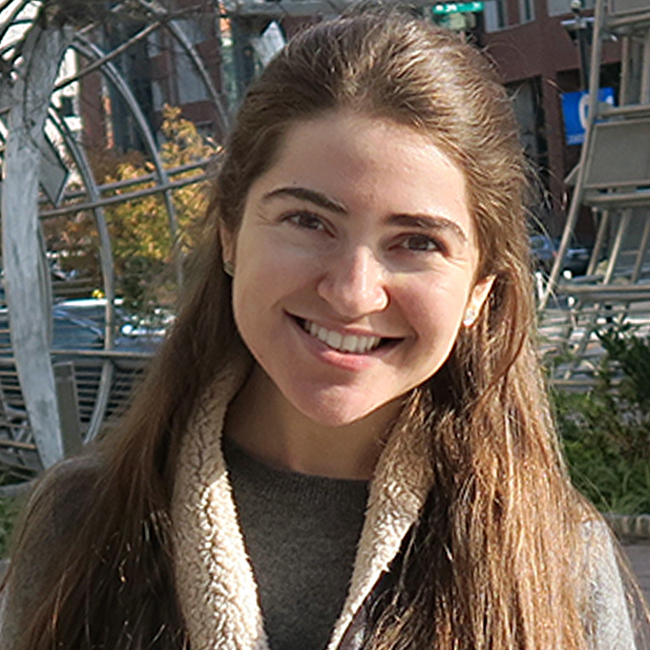 Pre-Health Core Studies '18
Education:
Pre-Health Post-Baccalaureate Programs, University of Pennsylvania '18
Bachelor of Science in Business, Leonard N. Stern School of Business, New York University '14
"The opportunities at Penn are second to none. Students can take advantage of shadowing world-class clinicians, working with renowned researchers, volunteering in the diverse Philadelphia community, and participating in extracurricular clubs, both existing and new," reflects student Diana Zarowin (Core Studies '18). "And, if an object of your particular interest does not already exist, you can create it!" Diana shares.
Diana joined the Pre-Health Programs to pursue her passion for clinical medicine and patient care after her undergraduate education at NYU's Stern School of Business. "I think my experiences in the business sphere, especially pertaining to leadership and advocacy, have helped me excel and make the most of my time at Penn." She adds that her unique background has "strengthened my understanding of and appreciation for the intersection between business and medicine in exciting ways."
Using her entrepreneurial spirit, Diana founded the Pre-Health student group Penn Future Women in Health, a chapter of the American Medical Women's Association, during her first year in the program. Diana and her executive board put together 22 events ranging from panels with expert women in medicine, interactive roundtable discussions, wellness events, and local charity fundraisers, and welcomed 40 speakers in their inaugural year. "Having a group of women here supporting you, a community that strives to provide you with opportunities and guidance who are excited about women in all health fields and helping one another is very special," she beams. "We created the first-ever pre-med AMWA branch at Penn and built this group from the ground up. The happiness of our members and the success of this club have been incredibly rewarding."
Throughout her studies at Penn, Diana has taken advantage of the many applied clinical and research opportunities available, including shadowing renowned doctors in the University of Pennsylvania Health System, working for the Chairman of the Department of Dermatology, as well as wet bench and clinical research work. She gained first-hand experiences from the Chair of the Department of Surgery at Pennsylvania Hospital, the Director of Penn Cardiology Preventive Care, Penn dermatologists, pathologists, and sports medicine physicians. She notes that "Shadowing is one of my favorite aspects of the pre-med journey. My enjoyment during each shadowing experience only strengthens my love for medicine, and the physicians at Penn are so willing to share their knowledge."
Diana also feels fortunate to work under the world-renowned Dr. Cotsarelis in the Department of Dermatology at Penn. She appreciates that this work has given her the opportunity to immerse herself in novel aspects of the health system and gain essential skills in medical editing and writing. "I have been able to collaborate with and learn from these talented physician-scientists. I am inspired by them every day," she enthuses.
When Diana isn't working hard in her courses, she is supporting the efforts of the Social Justice in Medicine Club as its Vice President and collaborating with the P-Cubed Service Group. She volunteers with the American Heart Association (AHA) – Philadelphia Chapter, representing the organization through lecturing about heart health and CPR to Philadelphia communities. Her interest in fashion led to her organizing a winter clothing drive, encouraging students to sort and deliver clothes to several Philadelphia shelters. Diana's robust schedule motivates her. "I am most productive and driven when I'm actively involved in doing what I love," she says.
Diana offers some advice for future Pre-Health students. "The opportunities I've been exposed to at Penn have been transformative. Advisors and faculty can be your most supportive mentors. Your experience as a pre-health student can be whatever you make of it. I like to share one particular rule of thumb: Say yes to opportunities that come your way. I promise you won't regret it. And if you come to Penn, you'll be saying yes to a lot of those and enjoying every step of the way!"
Addendum
After her time in Penn's Pre-Health Programs, Diana began her medical school education at the Albert Einstein College of Medicine in the Bronx, New York. After completing her first year, she looks forward to a quality improvement research opportunity this summer. "As first-year med students, this is one of the last times we will have an extended break," she shares. "It's a great opportunity to work with a principal investigator and spend the summer immersed in a research program!"
Diana continues to be proactive in seeking out community action and partnerships in her new cohort, acting as the Senator for Student Affairs for the Class of 2023, Patient Advocate Coordinator for Einstein's ECHO free clinic, and as a preventative health educator in grade school classrooms through her presidency of Bronx, Obesity, Diabetes, and You (BODY). In addition, as the COVID-19 pandemic sent Diana and her classmates into virtual learning environments, she started a volunteer group to collect funds for food donations and organize deliveries to Einstein and Montefiore health care professionals working on the front lines. "Food for the Front Lines grew much larger than I had anticipated," she says. "What began as just an idea turned into a group of 18 committed students interacting daily with more than 100 companies and eateries, arranging food deliveries, snack donations, coffee and tea supplies, and anything else we could think of that would be helpful for our healthcare workers during this pandemic.
"No matter how challenging this time period has been for us as students, I feel more empowered than ever to be on this path and continue my education to become a physician," adds Diana. "I can't imagine doing anything else."