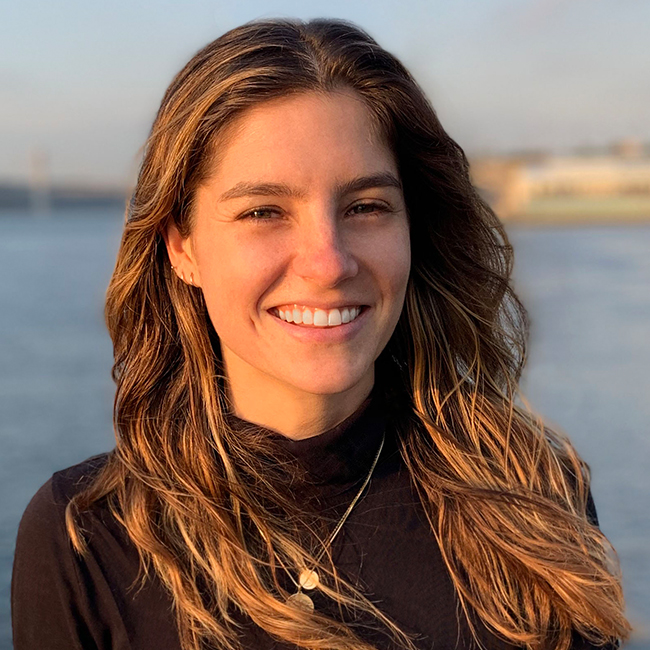 Pre-Health Core Studies '21
Education:
Cleveland Clinic Lerner College of Medicine '27—expected
Pre-Health Programs, University of Pennsylvania '21
Master of Communication Management, University of Southern California '16
Bachelor of Arts in Biology and Society, Cornell University '13
Daniela Schmulevich describes education—in or out of the classroom—as a beautiful night sky. "Each star is a subject, a conversation, an experience. As you go through life, you start to see the connections between these seemingly disconnected lights. Then one day, you wake up, and you're suddenly an astronomer that has found a new constellation in the sky," she laughs. "Three years into working in marketing, I finally saw the big constellation come together."
The constellation, in her case, was the gradual realization that her career path lay in medicine—which brought her to Penn's Pre-Health Programs to prepare for medical school. Although Daniela has physicians in the family—her grandmother finished medical school shortly after her father did—and studied both life sciences and social sciences in college, she had shifted her focus to social marketing and product management in graduate school. "In undergrad, I was more focused on the relationship between biological and sociocultural forces, especially with regard to how we communicate scientific findings to the general public. In graduate school, I focused more on how population-specific communication could both promote better understanding of core messages and elicit desired responses," she reflects.
"Working at a social marketing firm during graduate school helped me better understand motivators, or why people do the things they do, and barriers, or why they don't. One of my favorite projects was working with a creative team on a campaign to minimize barriers for recycling paint cans in predominantly Latino communities in southern California. These types of projects had a broad impact but lacked the person-to-person interaction." Even so, she says, adding social marketing to her constellation of educational and professional experiences was instrumental in preparing her for the complex challenges of medicine and medical school. "My interdisciplinary background allows me to tackle problems from different perspectives," she says. "There are many ways to learn. There are many ways to study. There are many ways to get from point A to point B."
Daniela's background in communications and talent for making connections had unexpected benefits when the University shifted to remote learning in response to the COVID-19 pandemic just as she began her second year of the Core Studies program. Although online classes were in some ways more conducive to time management, she says, it was challenging to stay as engaged virtually. Some things that helped: "Trying to check in with the teachers. Showing up to as many synchronous sessions as I could. Forming study groups outside of the class," she says. "The thing that really helped me get through physics class was meeting every week with three other students in the class. It helped me stay on top of the material and was a way for me to connect with friends outside of the classroom. Seeing friends (even just virtually) and having a community has been so important."
Balancing a full-time job as a clinical research coordinator in the Department of Trauma Surgery in the University of Pennsylvania Health System, Daniela hadn't intended to take on extracurricular student groups like the Post-Baccalaureate Pre-Health Programs Society. But she kept thinking about the new Pre-Health students who would be starting the program remotely in 2020 and wanted to help build a community for them. "The Pre-Health classes are meant to be intense and demanding, and that's good because I wanted a program that would prepare me for the rigor of med school," she says, "but my experience taking virtual classes has taught me that it's hard to engage with other students unless you really take the initiative."
So Daniela took that initiative: she continued to participate in UPenn AMWA (American Medical Women's Association) and the journal club, and became president of the executive board of the Post-Bacc Society. With the board, she helped launch a student newsletter and a series of online events they call CommuniTEAs: informal gatherings where students can check in, connect, and stay up to date on things like research and volunteer opportunities. "It is a nice opportunity to see what new students are thinking, and for them to get to know our board members, who are so incredible—I cannot speak more highly of them," says Daniela. "It's a group of both dreamers and doers, which is rare. There are six of us coming in with different skill sets. Each person is passionate and excited about different things but willing to also help out and support the other board members. It has truly been one of the best teams that I have been a part of."
"It has been really inspiring to see the extent to which fellow students are stepping up, taking on leadership roles, and trying to help one another during this very strange time," Daniela adds. "The past six months have really exemplified how much the people in this program care about fostering and maintaining a community." For those students who are just starting out or preparing to transition to medical school, Daniela sees these extraordinary times as an opportunity to develop flexibility and resilience. "We're going to be asked to adapt to changes, to learn, and to grow throughout our entire careers," she points out. "There are always new discoveries being made and new technologies introduced. This is a field where we will have to continue to learn and adapt. To me, that is part of what makes it exciting."
ADDENDUM:
After completing the requirements for the Pre-Health program, Daniela pursued a Clinical Research Certificate through Penn's Center for Clinical Epidemiology and Biostatistics as she continued working in Penn's Department of Surgery. Despite her demanding schedule, she remained involved in community-building and service by participating in Penn AMWA events, playing in the CASA Philadelphia recreational soccer league, and volunteering with Metropolitan Area Neighborhood Nutrition Alliance (MANNA). "I cannot stress enough the importance of finding and building community," she says. "The journey to medical school is not always easy. It was having a community that made it manageable."
Daniela begins the next chapter of her medical education at the Cleveland Clinic Lerner College of Medicine in 2022—a program that appealed to her because of its culture of collaboration and its unique curriculum, which includes an integrated research year. Although she can envision herself continuing to focus on surgery throughout her career, she plans to keep an open mind. "The past two years have further highlighted the fact that racial and ethnic minorities, along with many other vulnerable populations, are at risk for disparate healthcare access and outcomes because of economic, cultural, or health characteristics," she reflects. "Regardless of which specialty I choose, I hope to help vulnerable communities make individual healthcare choices based on their needs, support structures, and preferences."