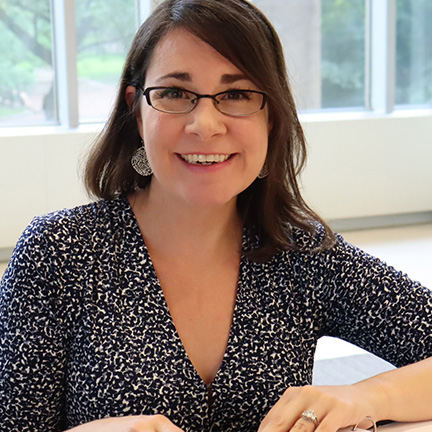 Director of Marketing and Communications, Cesium
Education:
Master of Philosophy in Liberal Arts, University of Pennsylvania '19
Master of Liberal Arts, University of Pennsylvania '09
Bachelor of Arts in English and Communications, Villanova University '02
"My job is to inspire," says Andie Tursi (Master of Philosophy in Liberal Arts '19), a senior writer in Penn's Office of Development and Alumni Relations. Andie has made a career writing features that celebrate alumni accomplishments and illustrate the impact of philanthropic contributions to the University. Outside of the workplace, she recently completed a collection of short stories as the capstone project of her Master of Philosophy in Liberal Arts (MPhil) degree. For Andie, her professional responsibilities and creative pursuits draw on the same set of storytelling skills. "Being able to identify the heart of a story, to move readers emotionally—that fiction-writing education comes in handy," she says.
Before coming to Penn, Andie worked in the financial sector and dreamed of writing full time. She enrolled in Penn's Master of Liberal Arts program in order to take graduate-level writing courses. "A huge attraction of the program is that I could study exactly what I wanted and take the classes that I was interested in," she recalls. By the time she finished the MLA program, Andie had written a draft of a novel for her capstone and landed her first professional writing job on Penn's Almanac staff. "I really feel like a Penn-made writer," she says. "Penn gave me the confidence to pursue a career in writing, and a big part of that was learning from faculty who told me 'Yes, you can do this, and not only can you do it, I expect you to do it.'"
When Andie began to envision her short story project, the MPhil program seemed to be the obvious next step. An advanced interdisciplinary degree that offers the same flexibility and customizability she enjoyed during her master's degree, the MPhil program allowed Andie to continue cultivating her writing career while taking evening and online classes. "When you have a full-time job, finding time to write is always a challenge," she explains. "The MPhil provides structure and deadlines for your work—and the guidance of someone who's done it before and believes that you can do it too."
As an MPhil student, Andie had the opportunity to explore new topics and classroom experiences, such as a course in children's fiction—taught by a prolific local author who would become one of Andie's capstone advisors—and an online screenwriting workshop that was as immersive and intimate as any campus workshop Andie had experienced. "I actually made friends in the online class that I've never met in real life," laughs Andie. "You really get to know the people in your workshop—you're sharing your writing with them, they're sharing with you, and you have to trust each other."
"Penn is its people," she adds. "I was not expecting to be able to take classes with Penn's top faculty, who are some of the most brilliant minds I've ever encountered, and classmates from every part of the country and different parts of the world. But you're really part of the world of Penn when you're in one of these programs."
ADDENDUM: As of 2019, Andie is the Director of Marketing and Communications at Cesium.