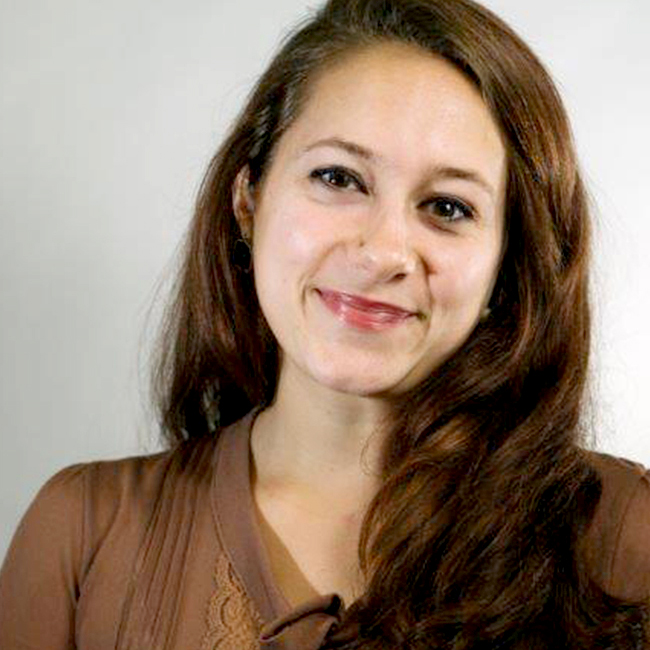 Immigration Services Program Manager, Jewish Family Service of San Diego
Education:
Master of Applied Positive Psychology, University of Pennsylvania '20
Bachelor of Arts in Theater Arts Education and Spanish, Appalachian State University '14
Celeste Caton (Master of Applied Positive Psychology '20) says she decided years ago that she would someday apply for the MAPP program and that it was just a question of when. She remembers the moment she identified positive psychology as a guiding principle for her life and a field she wanted to study formally. As a newly minted college graduate living in Tijuana, Mexico, she was working at a migrant shelter for women and children who had been deported from the United States or who had come to the border to seek refuge in the US. There, she worked alongside a seasoned psychologist whose remarkable optimism was as infectious as it was seemingly unlikely.
"These were women who were facing such incredibly difficult circumstances, and yet our staff therapist was talking to them about grit and resilience and hope," Celeste recalls. "I saw how transformative it was for our guests to know their own strengths and inherent worth." Soon after, Celeste found herself researching Penn's Master of Applied Positive Psychology program and understood that its themes would become the essence of her life's work.
Five years on, Celeste is still working with immigrant populations "in this precious corner of the world," but now her desk is on the other side of the border. She works at the nonprofit agency Jewish Family Service (JFS) in San Diego as part of their Immigration Department, which provides immigration services to the community at large. JFS is also one of only four organizations in the city that provides refugee resettlement services. As Celeste has taken on more responsibility within the organization, her purview has shifted from direct service to developing and managing programs. "My understanding of well-being has expanded," she says, "because now I am thinking not only about helping our clients thrive, but also making sure that our staff are thriving, too, and not burning out. I recently joined a committee at my agency that's looking at how we can support our internal culture of resiliency and well-being."
Celeste began the Master of Applied Positive Psychology degree in September 2019, embarking on an educational chapter she had long envisioned. She says the experience thus far has been "magical." The program's hybrid model, which combines intensive on-site classes at Penn one weekend each month and interactive distance-learning modules in between, allows Celeste to continue working full time and draw connections between theory and practice. Additionally, she says the low-residency aspect of the program makes for a diverse cohort, geographically and professionally. "All of us are coming to this material from such different perspectives," she notes. "It's been heartening to see that people-centered work can take many forms, in many settings. It makes you realize that this kind of work is happening all around us, and all contributes to social change."
Celeste is the 2019 recipient of the Christopher Peterson Memorial Fellowship, a scholarship award that recognizes outstanding service to others. The fellowship honors the legacy of MAPP instructor Christopher Peterson, who taught through word and deed that "other people matter."