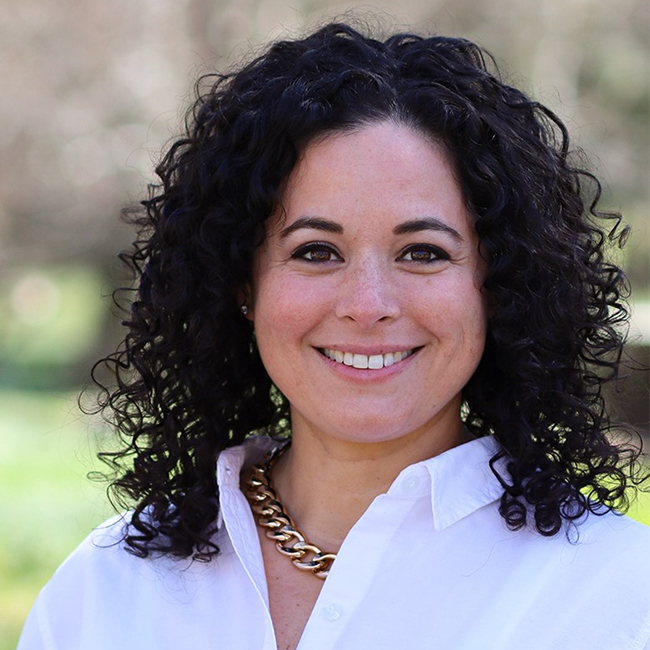 Executive coach, consultant, and PhD candidate at Fielding Graduate University
Education:
Doctor of Philosophy in Human Development, Fielding Graduate University `23—expected
Master of Philosophy in Organizational Dynamics, University of Pennsylvania `21
Master of Science in Organizational Dynamics, University of Pennsylvania `20
Bachelor of Science in Business and Bachelor of Arts in Economics, Penn State University `02
When Rachel S. Hudson (MPhil `21) decided to pursue executive education, she was motivated by pure curiosity—she simply wanted to learn. After completing the Wharton School's General Management Program, "I had the itch," she laughs. "I wanted to keep going and expand my learning." An information session with members of the Master of Science in Organizational Dynamics (MSOD) team at Penn encouraged her to explore graduate studies—for what would become the first of three advanced degrees.
"To be in class again, learning and talking about these theories and real-world applications, to then also have classmates with diverse backgrounds made the experience richer," reflects Rachel. "Learning with classmates in higher education, nonprofits, public companies, private companies, all these different perspectives made it even more meaningful. I felt that each of my classes was an open and safe space for us all to be ourselves, ask our questions, and support each other." In this personal, discussion-based environment, Rachel made lasting connections with both classmates and faculty members.
Working full time as Vice President of Media Operations at the media company Cadent when she began the program, Rachel also valued the practical dimensions of the coursework. "One thing that was exciting for me is that these rich and thoughtful conversations could be applied the next day—or even in the moment. Every course I took supported a higher level of practical application." For example, learning concepts such as subject/object theory gave her ways to shift her perspective on her professional experiences. Courses in management and coaching supported her leadership pathway as she advanced at her company. "I remember how energized I was that the theories spoke to me. The things I was experiencing weren't unique to me. There are names for them, we can study them," she recalls. "That, for me, provided options."
As she began to learn about coaching, Rachel began to shift her focus. She had tailored her master's degree with a concentration in Leading and Managing Through Change, culminating in a capstone thesis about navigating organizational politics as a middle manager. "My capstone was about me and what I was experiencing," she says. "I enjoyed the whole process of the research, the data, and then the writing that brought together my studies in the program." But once she took courses in coaching, she knew she wanted to pursue that line of inquiry in further studies. "Something about coaching inspired me and I loved it," she recalls. "One of my favorite things about my career is working with people, and my courses in organizational dynamics helped me strengthen and fine tune my approaches to supporting their growth and their development."
The Master of Philosophy in Organizational Dynamics (MPhil) provided the logical next step: with only six required courses and another capstone project for MSOD graduates, Rachel was able to pursue a concentration in Organizational Consulting and Executive Coaching and take a different lens to her professional interests. "I enjoyed writing my first capstone so much that the thought of writing a second one didn't make me blink," she laughs. "Executive coaching focuses on the individual person within their organization or system. For my MPhil capstone, I considered the impacts of the system, the organizational culture, on the individual." Her capstone earned Rachel the 2022 Faculty Award for Outstanding Academic Achievement in the Organizational Dynamics Program.
While she has continued developing her career and coaching and consulting practices, Rachel remains committed to learning and expanding her knowledge. As a PhD candidate at Fielding Graduate University, she studies human development and organizational development and change—a field that allows her to continue pairing classroom theories and concepts with practical experiences in the workplace. "In my doctoral studies, I'm studying the individual and organizations and how they relate to and impact each other," she explains. "It could be thought of as part three of my Organizational Dynamics capstones. I went from focusing on the individual to the organizational system, and now I'm bringing both together."
Rachel has also remained very involved at Penn, working with faculty members as a teaching assistant and recently moderating a panel of Penn faculty titled Professional, Personal, Virtual: Fostering Human Connections. "I want to continue to be a part of and contribute to Penn, a community that has had such an impact on me," she says. "by bringing the most rewarding part of my career, facilitating and supporting others' learning journeys, and my continued studies."
"For me, it's about how we can all be better together," Rachel concludes. "When I think about work as a manager, as a leader—how do we all work better together? I have a fierce belief in what can be accomplished together."