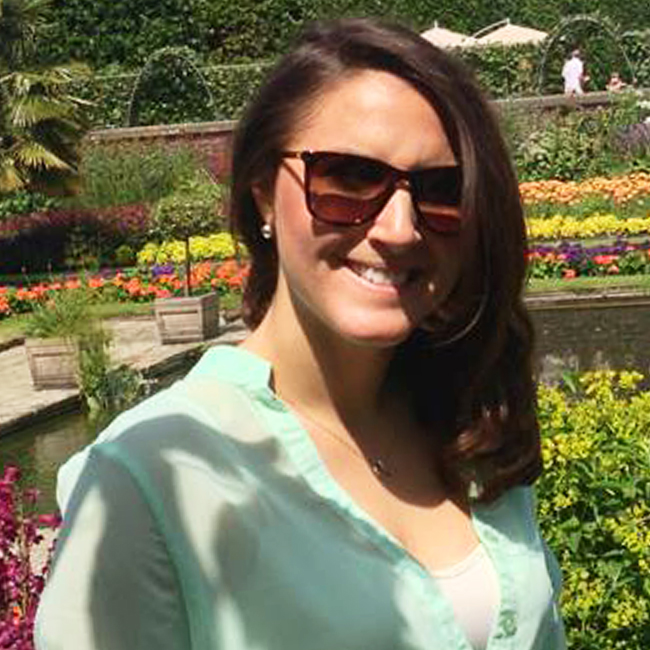 Team Leader, Retail Customer Logistics, Johnson & Johnson
Education:
Master of Science in Organizational Dynamics, University of Pennsylvania, 2015
Bachelor of Science, Commerce and Engineering, Drexel University, 2007
Ashley Nettuno has always been a team player. This was first evident on the soccer fields of central New Jersey, where she grew up. She was a standout high school player, recognized for her ability to "see" the whole field, anticipate strategic opportunities and quickly move to set up her teammates to score.
When it came to academics, math and science fascinated her. In 2003, Ashley was accepted into the commerce and engineering program at Drexel University. Her coursework was a perfect fit as it linked technology, science and mathematics. She also was a starting player on the varsity soccer team and earned the Most Valuable Player honor.
For her Co-op, Ashley worked at Johnson & Johnson, and this experience marked the start of her career in a global organization, responsible for supply chain planning, procurement and logistics.
She started as a logistics planner at McNeil Consumer Healthcare, one of the Johnson & Johnson family of companies, after her 2007 Drexel graduation and quickly advanced. In 2012, she moved to another division, Ortho Clinical Diagnostics, as a senior supply buyer and planning analyst. Ashley worked in a highly regulated environment and led cross-functional teams to proactively identify and address potential service issues.
The same year, Ashley met with her work mentor to discuss professional development opportunities and was encouraged to advance her education and earn her master's degree. When one of her colleagues, who had earned her Master of Science in Organizational Dynamics, highly recommended Penn's program, Ashley explored what it offered.
"I already had a background in the technical side of business management and I wanted to grow as a strategic professional. When you are in charge of a team, there's a lot more to consider than just the mechanics of manufacturing, shipping and delivery of household brands.
I wanted to learn more about myself and gain insights into how to be an influential and effective leader.
When I met with Dr. Alan Barstow, the Director and Senior Scholar of Organizational Dynamics, he explained the program would cater to my specific needs and I would be able to select the courses most beneficial to my future career objectives. I shared with him that I wanted to gain insights into how to lead a diverse team of 22 individuals in the context of our division's goals.
My curriculum provided me with exactly what I wanted. My course in the history of modern large-scale corporations in America was fascinating. By reviewing the history of large establishments, we learned how to better anticipate when an organization might change, given global competition and other complex factors.
I enjoyed exploring the deeper social and psychological currents influencing group and team dynamics. It helped me gain a deeper understanding of how diverse work groups develop and learn. Our class focused on both the theoretical and experiential methods that influence a team's ability to accomplish its goals.
With the program offerings of evening and Saturday classes, I was able to schedule one course each semester and completed my capstone project this summer. It brought together all that I learned about global operations and the human side of an organization.
Essentially, the core qualities of leadership transcend cultures and environments. Whether on the soccer field or in an international environment, the same elements of skill, anticipation, performance and productivity impacts a team's performance. Organizational Dynamics has been an ideal educational experience for me because it embraced science, research and innovations in team leadership."