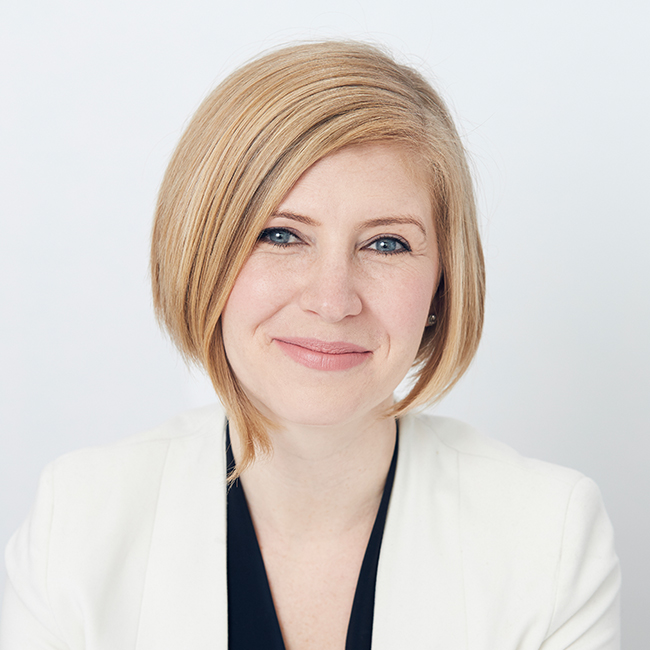 President, Partner, Executive Coach, The Center for Advanced Emotional Intelligence
Education:
Master of Science in Organizational Dynamics, University of Pennsylvania, 2017
Bachelor of Science, Finance, LeBow College of Business, Drexel University, 2003
Alicia Del Real (MSOD '17) has always been interested in the human side of leadership. After growing her career for more than a decade in the retail and consumer packaged goods industries, she chose to pursue a Master of Science in Organizational Dynamics at Penn. At the time, Alicia served as general manager for a PepsiCo sales region in Chicago, managing a 200+ person team. "What has always brought me the most joy at work is helping someone get to the next level, helping somebody get promoted, seeing someone thrive."
Despite the fact that Alicia was living in Chicago and working a full-time, demanding job while raising young children, she decided to commute to Philadelphia because of the experiential element that the Organizational Dynamics program offers. Most of the classes are held on weekends, catering to students and instructors who work full-time. Each student works with an advisor to develop his or her own curriculum to best match individual goals and interests.  Through the program, Alicia had the opportunity to complete an organizational consulting practicum with Kensington International where she evaluated its on-boarding process for executive coaches. "Helping individuals reach their potential has always been one of my goals," Alicia notes.
One of the highlights of the Penn program for Alicia was "finding that community of people who are equally interested, passionate, and enthusiastic about the human side of business." She became connected with her business partner, Bob Biglin, who was her classmate in the program. She explains that she was assigned as his executive coach for their class coaching assignment. Now, they have been professional partners for more than four years. Alicia says, "I'm incredibly grateful to Penn for making that connection for me."
Alicia is President, Partner, and Executive Coach at The Center for Advanced Emotional Intelligence. Here, she utilizes the research that she completed for her master's capstone, "The Executive Coach's Library: Curated Readings to Unlock Client Growth." She says developing a curriculum for her clients to read is an essential component of what she does as an executive coach. Recently, Alicia wrote an article, "5 Ways Reading Makes You a Better Leader," that was published by Chief Learning Officer.
Alicia greatly values the learning community that she found at Penn. "I view it as an essential peer-advisory group that I now have to lean on. I know that I can pick up the phone and call any of the individuals that I met through the program at Penn, and I do. I stay in touch with them. I view them as thought partners."
Alicia feels fortunate that it is her "full-time job now to help people reach their potential." She cannot say enough about the far-reaching implications emotional intelligence has on all aspects of our lives. "Yes, emotional intelligence will make you a better leader at work, but it will also make you more effective in all facets of life. You'll be more effective at home. You'll be more effective in your community. And you'll be more effective with yourself."
The impact of emotional intelligence at home has become of particular interest to Alicia since COVID-19 restrictions have been in place. "I had a lot of clients asking me, 'Hey, I feel like I'm not doing a great job at home with the kids, and I feel like it's all on me. How can I be better at home? I feel completely overwhelmed. I don't think I'm showing up well.'"
Alicia found herself feeling the same way and wanted to make sure that she was modeling emotional intelligence to her own kids. As she says, "when you're under stress, it's hard. It takes a lot of intentionality to act with true EQ." Alicia decided to pay it forward with her knowledge of emotional intelligence by writing an article titled, "6 Little Ways to Help Kids Be More Emotionally Intelligent," for Parents magazine. She is sure to note, though, that emotional intelligence "is always a work in progress. Fully realized emotional intelligence is something that we have to constantly strive for."
It's clear that Alicia is a person with a love for learning and improving. She says of her time at Penn, "I always viewed it as a vacation. I loved going to school, and I miss it in many ways." Her advice to people who may worry about being up to the challenge of completing the program is this: "If this is something that you're passionate about, that you view as interesting and progressing your lifelong learning goals, then do it. If I could do it, living in Chicago, with three kids and a full-time job demanding job, absolutely—you can do it, too!"