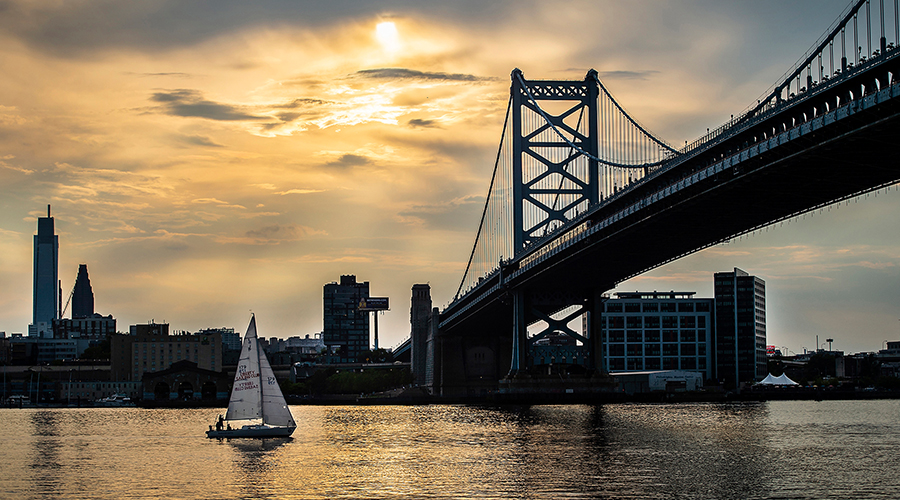 Photo Courtesy of Eric Sucar
The health of the Delaware River has improved dramatically over the past 50 years, so much so that the environmental organization American Rivers named the Delaware its 2020 River of the Year. Now, two students from the master's programs in earth and environmental science are part of a project by the Water Center at Penn to research how to make the river even cleaner so it can be safe for swimming.
Rupika Ketu, a student in the Master of Environmental Studies program, is researching the regulatory context of cleaning up the Delaware, such as the allowable wastewater discharges, current water quality criteria, and what additional restrictions would need to be put in place to raise the water quality. Zach Villari, a student in the Master of Science in Applied Geosciences program, is studying what recreation activities are currently taking place along the Delaware, including when, how, and by whom.
Rupika and Zach are working with Karl Russek, director of programs and applied research for the Water Center, and Howard Neukrug, the Center's executive director. Neukrug teaches in Penn's Master of Environmental Studies program and is the former commissioner and CEO of the Philadelphia Water Department.
"I never imagined that I'd be getting to work with people who have led water utilities," Rupika says. "It's really exciting to learn from them and work with them, and hopefully find a way to improve conditions in the future."
The 15-month project is being funded by a grant from the William Penn Foundation. Neukrug says the project's findings have the potential to improve quality of life for millions of people in and around Philadelphia, Camden, and Chester.
Read the full article in Penn Today: "What would it take to make the Delaware 'swimmable'?"