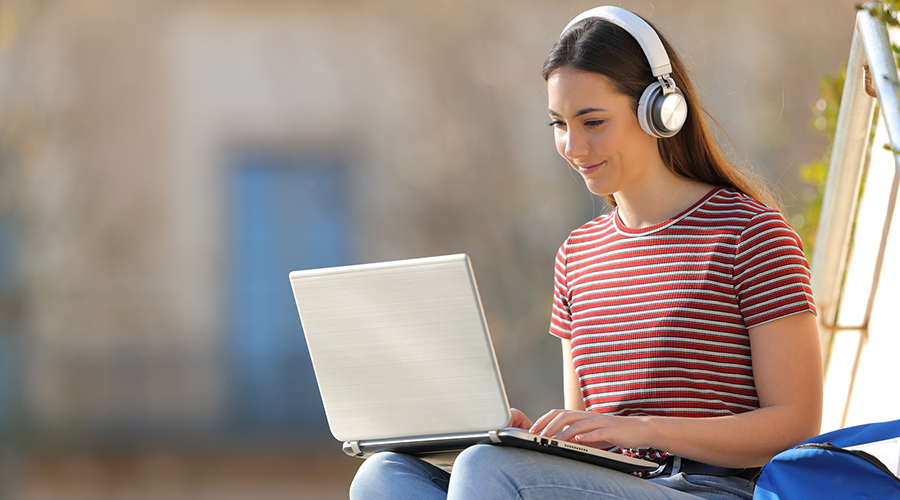 Every summer, hundreds of academically talented high school students come to Penn to learn about subjects that excite them, meet like-minded peers, and get a taste of college life. In this historic year, Penn Summer High School Programs are taking place online due to the pandemic. The reimagined summer programs are the latest development in more than 20 years of innovative online offerings from Penn's College of Liberal and Professional Studies (LPS). This deep expertise helped make the online redesign of the summer programs a successful one. Students can expect an educational experience this summer that is just as meaningful and enriching as previous on-campus iterations.
The disruption caused by the pandemic has been challenging for young people, who miss their friends and the stimulation of academic pursuits. Tiffany Clayton, Director of High School Programs for the School of Arts and Sciences, says the virtual summer programs are the perfect antidote. "Despite the change in delivery model this year, students will still experience the joy and confidence that comes with exploring their favorite subjects more fully," she says. Students will also gain insights into themselves, their peers, and the world around them.
Many instructors and students find that online courses have deeper, more vibrant class discussions. The combination of live sessions, course blogs, and group projects invites fuller participation from students of all personality types and learning styles. Students can also leverage chat tools, video calls, and email to connect with their instructors and get a prompt response. "Professors are going above and beyond this year to make sure they are engaging students even more than they normally would," says Clayton. These programs allow students to build confidence in their ability to excel in college and shed light on what they hope to achieve in college and beyond. The experience can also boost college applications.
LPS and the Penn Arts and Sciences Online Learning team supported instructors as they redesigned their courses using new tools and teaching strategies developed for online delivery. The academic excellence that has always defined these programs is still front and center in the new online courses, as is connection between students. "Penn instructors are passionate about building community in their courses," says Clayton. To achieve this virtually, the courses include a range of opportunities for classmates to get to know one other and exchange insights: small group activities, breakout rooms, and live sessions with instructors.
The Penn Summer High School Programs include several two- and three-week non-credit programs and the opportunity to study alongside Penn undergraduates in six-week credit-bearing courses. "Our programs have something for everybody," says Clayton. In the Penn Summer Academies, students are exploring research in either biomedical science, chemistry, experimental physics, math, or social justice. The Penn Summer Prep Program offers undergraduate-level modules from across disciplines, from the traditional (Introduction to Economics) to the imaginative (Monsters at Penn). Students in the Pre-College Program and Young Scholars Program are taking credit courses from across the University. The Young Scholars Program runs year-round, providing ambitious Philadelphia-area students the intellectual challenge and rigorous pace of a true undergraduate experience.
Another change for summer 2020 is an entirely new program, Penn Summer Coding Camp. The three-week sessions (offered July 6 – 24 and August 3 – 21) feature classes led by veteran industry practitioners, structured lessons, paired practice, and flexible group work. Students build websites and games while gaining foundational programming, critical thinking, and problem-solving skills. The Penn Summer Coding Camp was conceived by Rita McGlone, Executive Director of the Professional and Organizational Development team at Penn LPS. She says, "Given the high demand for technology-related jobs, we wanted to give high school students opportunities to develop these important skills, which can support their academic and professional aspirations." Registration for this program is still open, and Penn faculty and staff are eligible for a $500 discount toward its tuition.
If your child is a recent high school graduate and is considering postponing plans for college due to the pandemic, they may be interested in one of the LPS gap year programs. These include Penn LPS Online courses and certificates, professional-level boot camps, and other opportunities for students to continue learning and challenging themselves as they navigate their next steps.
Summer is an ideal time for students to inhabit their love of learning on their own terms, with fascinating real-world topics that they select. The pandemic presents barriers to many of the activities that young people cherish, including immersive educational experiences. Fortunately, breaking down barriers to lifelong learning is what Penn LPS has done for over a century. This year's Penn Summer High School Programs build on that history of designing world-class Ivy League programs that are attainable and relevant to students of all ages.