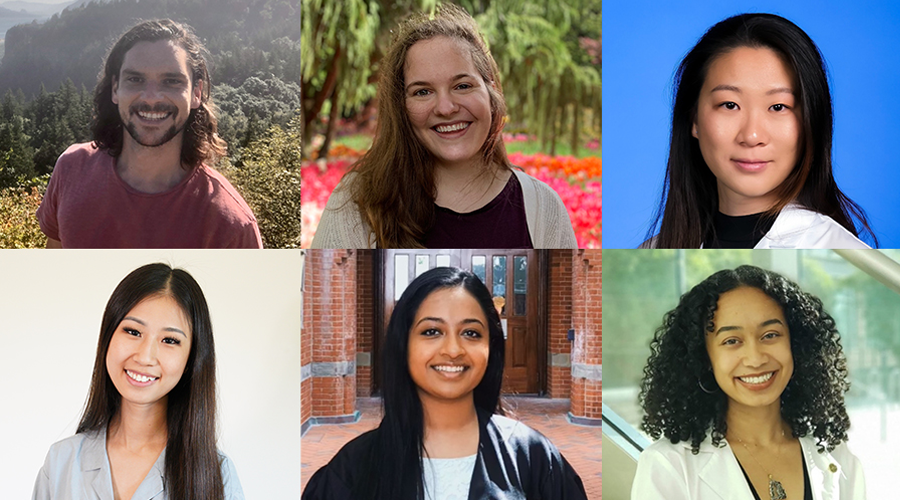 In the midst of the summer of 2020, during COVID-19 shutdowns and the height of the mass protest movement in response to the murder of George Floyd, a handful of Pre-Health Programs students preparing for medical school were motivated to give back. The first step was organizing a student group that would serve as a platform for education on the social determinants of health—a traditionally overlooked area of health education. "We started the Affecting Social Justice in Medicine (ASJM) student club because we wanted to do more and be closer to the Philadelphia community," says Alex Burdzy (Pre-Health Programs '22), club co-founder. "We wanted to develop a more culturally-responsive pre-health workforce," adds club co-founder My Nguyen (Pre-Health Programs '21). Within two years, the club would reach a milestone by launching a peer-led online academic enrichment course for Penn Pre-Health Programs students called Social Determinants, Disparities, and Preparing for the Future of Health Care.
The idea for the course started as part of a larger grant submission to the University. The proposal targeted reducing health disparities, which are driven by social and economic inequities and play a large role in health outcomes. With the support of Pre-Health Programs Director Jackie McLaughlin and Vice Dean of Professional and Liberal Education Nora Lewis, ASJM drafted an ambitious proposal that included the framework for a peer-to-peer academic enrichment course as well as training opportunities for Penn Pre-Heath students in a community clinic, a mentoring program with local high school students, and more. "We received a lot of help and support from Jackie," says My. "It was a good learning experience and really helped us build the foundation to develop the course."
When they were not awarded the grant, the Pre-Heath team was disappointed, but not discouraged. "The vice dean continued to be supportive," Jackie says. "She encouraged us to figure out what the students could take from the proposal and implement themselves. The peer-to-peer course stood out because it was self-contained and could be developed without a lot of funding." The students agreed and set to work.
Members of the course development team—ASJM members Alex Burdzy, Michelle Dai, Alex Kalvar, Carly Marten, Ive Muse, Veda Nagubandi, My Nguyen, and Jennifer Paul—did most of the topic research themselves. A synchronous online version of the course was first offered to high school students through the Penn Summer Prep Program in 2021. Using that curriculum framework, developed by My, Michelle, and Jennifer Paul (Pre-Health Programs '21), the team built out and adapted the course for the pre-health post-baccalaureate audience. They enriched the course content, added case studies and additional readings, and expanded the topics to include units about environmental health and cultural competency in healthcare. A Penn School of Arts and Sciences faculty member reviewed their lesson plans and the team recorded their lectures, working closely with the Penn Arts & Sciences Online Learning team to ensure easy access and smooth delivery of the course through the platform Canvas.
The first module introduces students to health disparities and social determinants of health before launching into these additional subjects: racial injustice and implicit bias; gender inequalities; age and disability; nutrition; mental health; socioeconomic policies and institutionalized racism; environmental health; healthcare costs and effects on health disparities; cultural competency and bioethics in healthcare.
Each team member played to their strengths in developing the course, selecting multiple topics and responsibilities in which they had expertise or interest. Like many students in Penn's Pre-Health Programs—which offers a post-baccalaureate STEM curriculum to prepare students for medical, veterinary, or dental school—the development team members had a variety of academic and professional knowledge and personal experiences to draw from. For example, Carly Marten (Pre-Health Programs '22) studied gender and health as an undergraduate and contributed that knowledge to related modules. Jennifer, a registered dietitian, did the heavy lift on the nutrition module. Michelle, who developed the module on US healthcare costs, was driven to explore the topic after she had an emergency medical experience in China that was vastly more affordable than comparable care in the US. A key objective for the team was to go beyond simply raising awareness about health disparities. "Our course is really different because we are giving solutions and discussing how to implement those solutions," Michelle explains. "For example, we discuss what kind of language to use when you talk to your patients that are gender non-conforming, or how as future healthcare practitioners we can help our patients find affordable medications they need every day."
While creating valuable course content was the priority, the development team was also challenged with driving course participation. Pre-Health Programs students already have packed schedules; in addition to taking challenging STEM-focused classes, many also work full or part time. "We didn't have to sell our peers on the course ideologically," Alex says. "A lot of people were really excited about the course. But time is a valuable resource for us. Addressing those time constraints was tough."
The course was offered online and asynchronously to give learners maximum flexibility. The development team worked hard to keep their module lectures under fifteen minutes and the overall time commitment for the course at five hours. And in a gentle nudge to encourage participation in the non-credit course, every Pre-Health Programs student was automatically enrolled and given access to the Canvas course site. Post-module quizzes were implemented to keep students on track and make sure knowledge was absorbed, as well as to provide useful quantitative and qualitative data for the team. "To entice students further, we offered a digital certificate for students who completed the course," Michelle shares.
The course launched during the spring semester of 2022, achieving a 22% participation rate. Even greater participation is expected in the fall, when the course is not competing with time commitments among the pre-health community, like the MCAT and medical school application deadlines.
Initial feedback from spring course takers has been positive; all participants agreed that the course objectives were met, the materials and resources were valuable, and they believed they will apply lessons from the course to address health disparities in the future. There was an encouraging interest in having more space in the course for group discussions and additional guest speakers—enhancements the team hopes to incorporate in the future. 
Part of the course evaluation includes a follow-up survey sent to participants three months after course completion. "The highest level that we're evaluating is a change in behaviors," says Veda Nagubandi (Pre-Health Programs '23), who helped design the survey based on the Kirkpatrick Model, which includes the crucial assessment of whether a training has altered behavior. "We want to measure how attitudes changed and how students applied lessons from the course to real life," she adds. Carly, a qualitative researcher, has helped analyze the data and derive insights. "We want lessons from the course to become fundamental to the way we practice medicine," Carly says. "A lot of our peers are involved in medical fields now, working as scribes or in research, so we can see how completing the course may have changed their daily interactions within the healthcare environment." Early feedback indicates the course is meeting a need in healthcare education. Students have reported they have been able to self-reflect and adjust behaviors in their personal and professional lives, and even spread the course education to peers, friends, and family.
As an additional testament to the development team's success, the course was honored this fall with the University Professional and Continuing Education Association (UPCEA) Mid-Atlantic 2022 Outstanding Program Award. Jackie and the development team gave a presentation about the course at the October UPCEA Mid-Atlantic conference, and the group plans to complete an evaluation research paper for publication after fully assessing course feedback.  
As members of the original course development team move on to medical school, glide years, and health-related professions, incoming students will inherit the responsibility for the living course, sustaining and updating it each year. "This course breathes. This course evolves," says Michelle. "Laws are going to get passed, society is going to change. The material will need to keep up with current issues of the day." ASJM is already recruiting new club members to pick up the mantle and bring new ideas and perspectives to the course. "That's the beautiful thing about the Pre-Health Programs," says Jackie, "we have students with such diverse backgrounds who can continue to contribute to the richness of the learning experience."