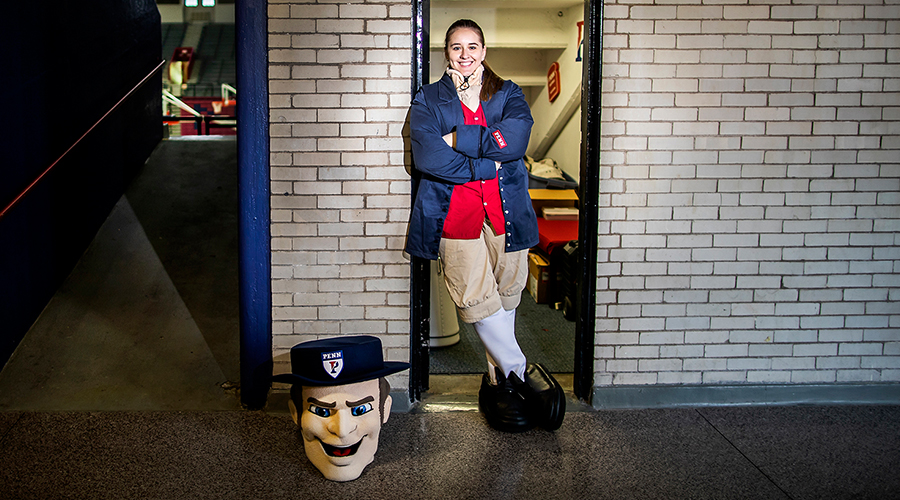 Photo credit: Eric Sucar
By the time she applied for the job as the Penn Quaker, first-generation college student and Cuban American Sophia Zehler (MPA `22) was already a mascotting pro. Zehler began her mascot career as an undergraduate in 2018 as the Blue Hen at the University of Delaware, then at Fordham University as Ramses the Ram after a transfer. "Being a mascot is unique in what it is and what it offers," Zehler says. "It makes you stand out. It gave me so much, in and out of suit."
As the only Quaker mascot for the past year (usually Penn Athletics employs several people to rotate through the role), Zehler cheerfully posed for photos along Locust Walk, spent time with University President Liz Magill, and attended countless events, including nearly every Penn football and basketball game. Still, she was devoted to her one-year accelerated master's degree in public administration—even bringing some of her mascotting enthusiasm into the classroom.
"Sophia has been a staple of the Fels community over the last year," says Mindy Zacharjasz, director of the Master of Public Administration program. "She is an active and engaged student, and she's great at rallying the troops and encouraging other students to engage. The fact that she was the mascot was a unique bonus. We joked that the Quaker attended our holiday party and admitted students day—but somehow Sophia kept missing him."
Next, Sophia is taking her education and experiences to a position in the strategic initiatives unit at the NYC Department of Correction Headquarters at Rikers Island.
Read more about Sophia's experience at Penn and how she is applying her public administration degree at Penn Today >