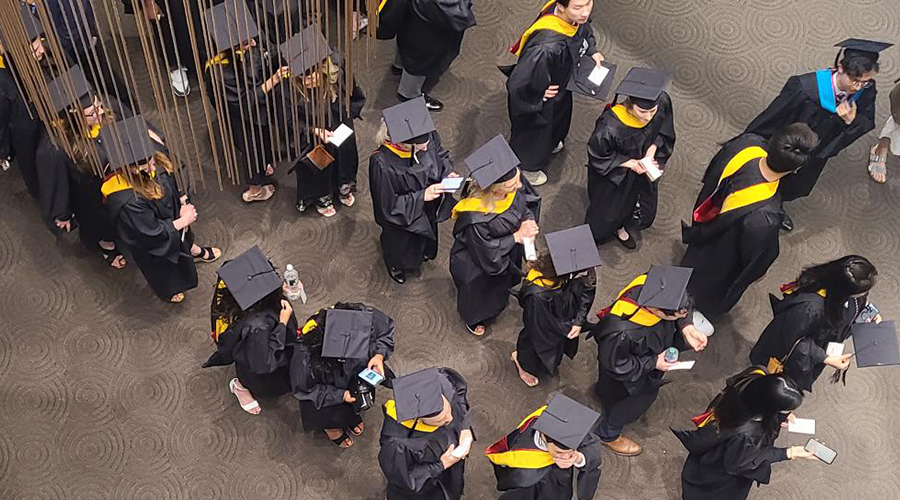 On Sunday, May 14, Penn's College of Liberal and Professional Studies (LPS) welcomed family, friends, faculty, and the Class of 2023 for a graduation ceremony at the Annenberg Center for the Performing Arts. This year, LPS conferred 487 degrees on graduating students: 70 undergraduate degrees and 417 master's degrees, which is the largest group of graduating professional master's students to date.
In her opening remarks, Vice Dean Nora E. Lewis addressed the body of graduating students—a group representing 27 countries and a wide range of professions. "Despite differences in your mode of study, the very backgrounds you brought to Penn, and the different academic careers you have pursued, you each embody a most powerful combination of elements," she said. "You came to Penn with purpose, urgency, and a strong sense of the problems facing the world in the 21st century. You brought to Penn a unique combination of intellectual talent, maturity, and a spectrum of experiences and accomplishments. Individually and collectively, you have enriched discourse in Penn classrooms and throughout the academic community."
Vice Dean Lewis also introduced this year's guest speaker: Dr. Brighid Dwyer, Vice Dean for Diversity, Equity, and Inclusion in the School of Arts and Sciences. "My advice to you today is to stay connected," she began. "Community matters. Build it, nurture it, cherish it, and treat it as the precious commodity that it is." Dr. Dwyer also emphasized the diversity of experiences and accomplishments represented by our students; "This graduating class is extraordinary," she said. As an expert in fostering dialogue, Dr. Dwyer spoke about the importance of communication and community, even inviting those onstage and in the audience to introduce themselves to the people around them and share their joy about the achievements being celebrated that day; "It's important to celebrate ourselves and one another when we have the opportunity."
We invite you to join us in celebrating the accomplishments of our Class of 2023. Several members of the Class of 2023 received awards for their leadership, dedication, service, and academic excellence. Take a look at the full list of student award recipients and the faculty members who received 2023 Distinguished Teaching Awards.
View photos from the ceremony on the Graduation 2023 photos page >
Watch a video of the ceremony on YouTube >