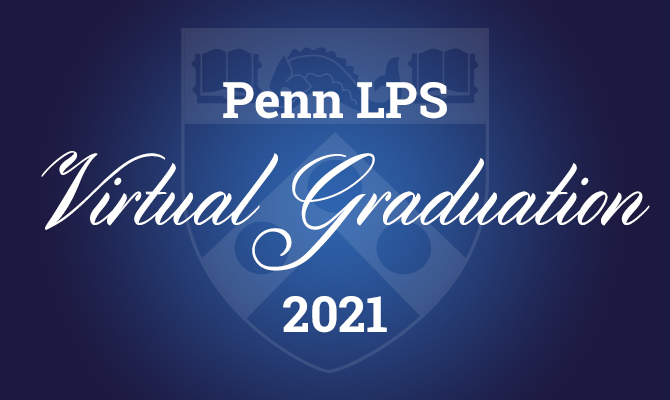 On Sunday, May 16, Penn's College of Liberal and Professional Studies (LPS) welcomed family, friends, and faculty for the Class of 2021 virtual graduation celebration. Of the 285 LPS students honored, 235 graduated with master's degrees and 50 with undergraduate degrees.
In her opening remarks, Vice Dean Nora E. Lewis spoke directly to the "laudable academic achievements" of this year's graduates. "You each embody a most powerful combination of elements. You each came to Penn with purpose, urgency, and a strong sense of the problems facing the world in the 21st century. You each brought to Penn a unique combination of intellectual talent, maturity, and a broad spectrum of experiences and accomplishments. Individually and collectively, you have enriched the discourse throughout the Penn community. So, we salute you, LPS students!"
Steven J. Fluharty, Dean of the School of Arts and Sciences, also addressed the graduates, wishing that everyone could be together to celebrate each hard-earned accomplishment. "It is exactly these challenging times that remind us how vital knowledge is, and therefore just how important your new degree is to our world," he said.
This year's guest speaker was Sulaiman W. Rahman, President and CEO of DiverseForce, who spoke of the outstanding LPS graduates who are being recognized globally for their incredible stories, research, and fellowships. He said, "All of this is happening as treacherous winds are blowing at us all. The winds of a global pandemic; the winds of social and political unrest; the winds of irreversible change. However, you decided to set yourself in a direction that would allow you to move forward in life. You allowed that wind to blow you forward one more step. And I congratulate you!"
Several members of the Class of 2021 received awards for their leadership, dedication, service, and academic excellence. Take a look at the full list of student award recipients and the faculty member who received 2021 Distinguished Teaching Award.
Download the graduation program and watch the video from the 2021 Penn LPS Virtual Graduation Celebration.