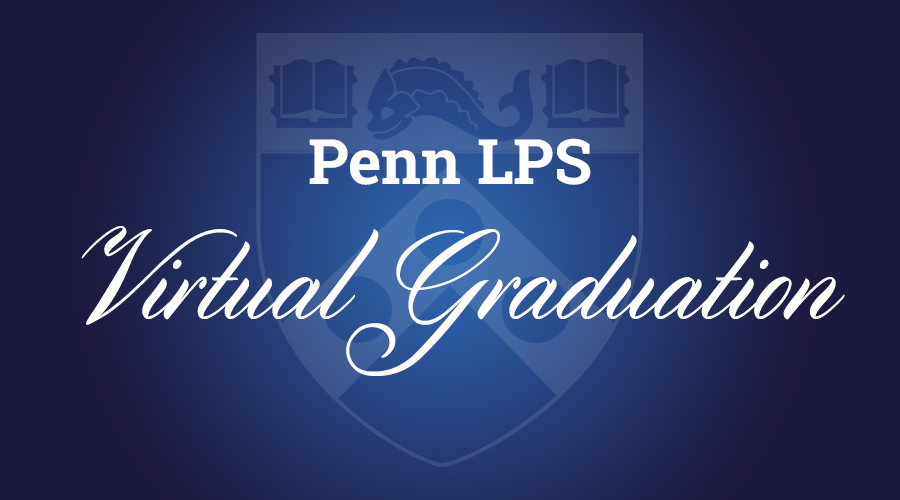 On Sunday, May 17, Penn's College of Liberal and Professional Studies (LPS) welcomed family, friends, and faculty for the Class of 2020 graduation ceremony. Of the 346 LPS students honored, 283 graduated with master's degrees and 63 with bachelor's degrees.
In her opening remarks, Vice Dean Nora E. Lewis noted that it was the first virtual graduation event in the 126-year history of the College. "Although we gather in a different way and a different format than years past, we would not for the world neglect this important opportunity to celebrate the amazing students of LPS and all you have accomplished over your time at Penn," Lewis said. This year's celebration included another important milestone: the inaugural cohort of Penn LPS Online Bachelor of Applied Arts and Sciences graduates. The BAAS is the first fully online bachelor's degree in the Ivy League.
Dean Steven J. Fluharty, Dean of the School of Arts and Sciences, also addressed the graduates. "In spite of these challenging times, there is nothing that can take this joyful moment away from you," he said. "On the other hand, it is exactly these challenging times that remind us how vital knowledge is."
This year's guest speaker was Al Filreis, Kelly Professor of English, Faculty Director of the Kelly Writers House, and Director of the Center for Programs in Contemporary Writing. He read a poem by Cid Corman, "It isnt for want," and described education as a collaborative, mutual connection between teachers and learners.
Several members of the Class of 2020 received awards for their leadership, dedication, service, and academic excellence. Take a look at the full list of student award recipients and the faculty who received 2020 Distinguished Teaching Awards.
Download the event program and watch the video from the 2020 Penn LPS Virtual Graduation Celebration.