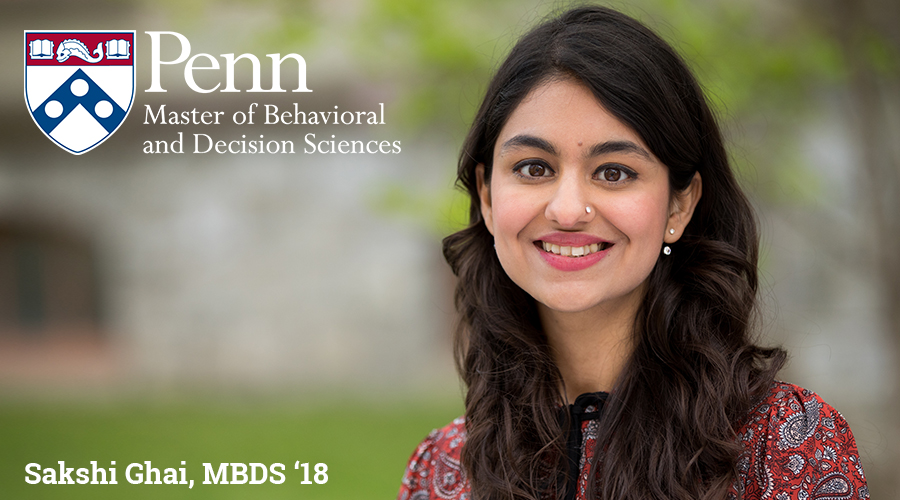 Sakshi Ghai, a 2018 graduate of Penn's Master of Behavioral and Decision Sciences (MBDS) program, is on the cover of the latest issue of the Observer, a magazine read by thousands of Association for Psychological Science (APS) members around the world. Sakshi is also featured in the magazine's cover story, "Award-Winning Ideas from the APS Virtual Poster Showcase." She won a Researching Injustice and Social Equality (RISE) Award at the APS 2020 conference for her research with MBDS Founding Director Dr. Cristina Bicchieri.
Bicchieri and Sakshi's winning poster—"The Critical Role of Trendsetters in Inspiring Behavior Change at Scale: Evidence from India's Sanitation Campaign"—was also advised by Peter McNally and Raj Patel of the Center for Social Norms and Behavioral Dynamics, the Penn think tank that Bicchieri leads. In collaboration with UNICEF India, the team conducted interviews with public figures, NGO leaders, and grassroots organizers throughout India. They found individuals at every level of the social hierarchy facilitating the country's sanitation campaign, and that these trendsetters share specific characteristics.
Sakshi Ghai is a graduate of the inaugural class of the MBDS program at Penn. This interdisciplinary degree prepares students to understand how individuals and groups make decisions and how to influence those decisions to solve real-life problems in a range of fields, including social and public policy, law, education, business, economics, and medicine. Sakshi recently finished her first year of a psychology doctorate at the Body, Mind and Behaviour Lab at the University of Cambridge. She is interning this summer with the World Bank's Mind, Behavior, and Development Unit.
Bicchieri is a world authority on social norms. In addition to her roles at MBDS and the Center for Social Norms and Behavioral Dynamics, Bicchieri is S. J. Patterson Harvie Professor of Social Thought and Comparative Ethics; Professor of Philosophy and Psychology; Professor of Legal Studies at the Wharton School; Head of the Behavioral Ethics Lab; and Director of the Philosophy, Politics, and Economics Program.
To learn more about Bicchieri and Sakshi's research collaboration, see "Award-Winning Ideas from the APS Virtual Poster Showcase" in the Observer.