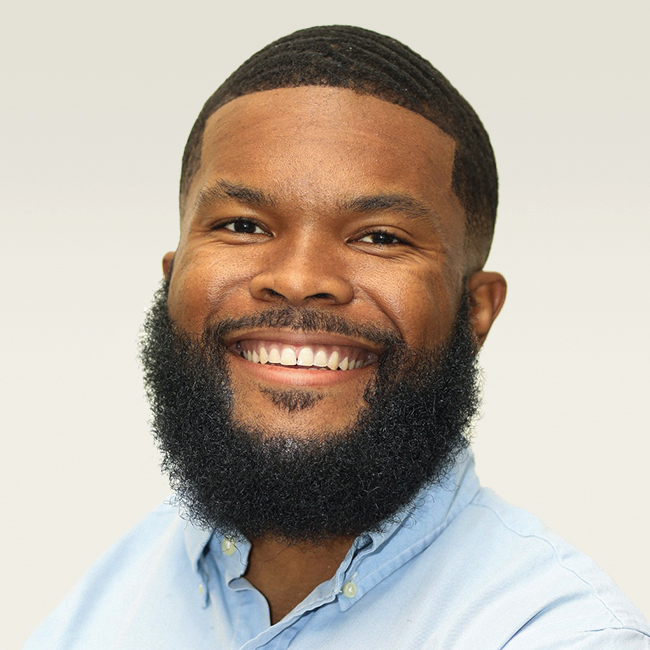 Pre-Health Specialized Studies '21
6th Grade Lead Science Teacher, KIPP Academy, Chicago, IL
Education:
University of Illinois College of Medicine, Chicago Campus '26—Expected
Pre-Health Post-Baccalaureate Programs, Specialized Studies, University of Pennsylvania '21           
Bachelor of Science in Biology, Williams College '14
Tre Colbert (Pre-Health Specialized Studies `21) was several years into his career teaching middle school science in Chicago when he had a revelation. He had just finished re-vamping the sixth-grade science curriculum, building investigation-based lessons that used case studies to teach the students about health and disease. "We essentially put the kids in the role of physician," he says. "It was really cool, and I was putting a lot of time and effort into it. It made me realize that I had created a space in a classroom environment that was really where I wanted to be. I actually wanted to be on the physician side of the coin." That's when he found the Penn Pre-Health Programs.
Before college, Tre had dreamed of becoming a doctor. And while he credits his undergraduate experience with broadening his horizons and interests, he also recognizes it steered him away from pursuing medicine. "I think there's a degree of self-doubt that can take seed as an undergrad, especially when you're in this big pool of really smart people," he shares. Even though he was on a pre-med track, Tre can now see that as a first-generation student, he wasn't on a level playing field with some of his peers. "I didn't have the roadmap," he says. "I didn't know when I was supposed to take the MCAT or that I was supposed to take it during my undergrad education. At a certain point, I thought 'you don't have the framework to get this done, so it just can't happen the way you always thought it could happen,'" he reflects.
Instead, Tre joined Teach For America after graduation and launched his career as an educator. Six years in, however, his dream of becoming a doctor persisted. "Every day I told students they can be exactly what they want to be when they grow up, and I realized I had given up on that dream for myself," he says. "I thought, 'It's time to chase that dream. That's where your passions are.'"
Tre was accepted into Penn as a Pre-Health Specialized Studies student, eager to fill the gaps in his undergraduate experience and prepare for medical school. "I was really excited about the types of classes that I could take," he shares. "I was a biology major, but I still hadn't taken many of the courses that were offered in the Pre-Health Program. Those same courses are part of the reason my MCAT score went up significantly," he says, giving a nod to biochemistry and advanced cell biology.
Tre also credits advisors and professors for their support. "My bio-chem professor made me love hard science. She brought the class together around collaboratively conquering biochemistry, and I left with a confidence that added to my MCAT improvement," As for the program team, Tre comments, "I would schedule advising meetings all the time to talk about the courses I was selecting or the expectations or study plans. I feel like everyone there lent a hand."
Tre was able to work full time as a Philadelphia school teacher while completing the Pre-Health program. He returned to Chicago to teach during his glide year applying to medical schools.
As a doctor, Tre plans to serve Black urban communities, combining his teaching experience with patient care. "I'm not pursuing medicine because I don't love education," he explains, "I'm pursuing medicine because I think there's a space for health education in Black communities. I think we can empower people about their health a lot more than we do. I don't want to teach to privilege," he continues. "I want to teach someone's grandmother or aunt—or my grandmother or aunt—about diabetes and what it's actually doing to their bodies."
To this end, Tre is leaning toward a specialty like family medicine or internal medicine where he can build long-term relationships and trust with his patients. "I want to be a part of communities and families and live at the intersection of community care and education," he summarizes.
As medical school acceptance letters and scholarship offers came in this spring, Tre prioritized a school with a vibrant, supportive space for Black students in his decision process. This fall he will be attending the University of Illinois College of Medicine, Chicago campus.