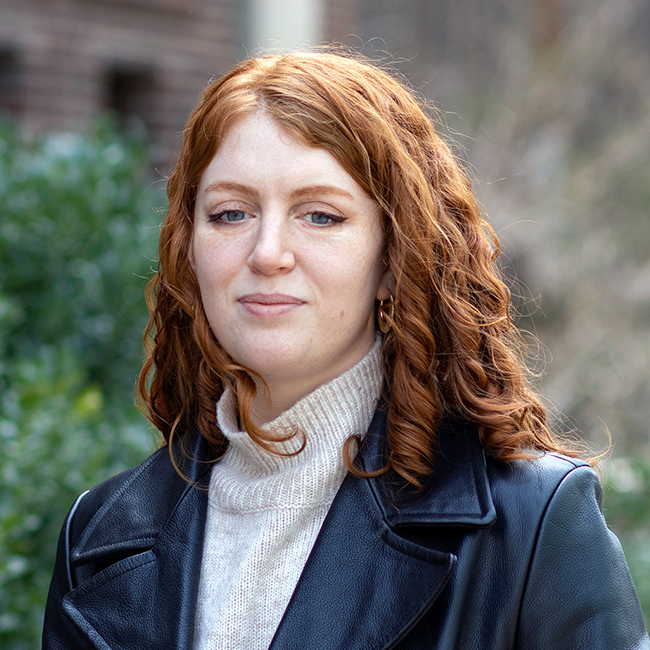 Pre-Health Core Studies '23
Education:
Bachelor of Science in Economics, University of Pennsylvania `18
Bachelor of Arts in English, University of Pennsylvania `18
After graduating from Penn with degrees in business and English and spending some time in the workforce, Sam Fox (Core Studies `23) found herself at a crossroads. While she loved her undergraduate experience, she was reconsidering her professional trajectory. "I spent a year and a half working for a marketing consulting firm and hated it," she recalls. "I chose a career path when I was 18 and I no longer felt like it was the right one for me. So, I took a step back to consider my interests and ways that I could explore them."
Sam remembered she liked volunteering at an animal shelter when she was younger and started considering veterinary school and the health professions. She wasn't ready to jump back into school full time and knew she would need more science and math courses under her belt if health professional school were in her future. When she discovered the Pre-Health Programs at her alma mater, it seemed like the perfect fit.
As an alumna, Sam was already confident about the quality of instruction at Penn. In addition, the Pre-Health Programs offered the customization and pace to allow Sam to continue working full time while completing pre-health coursework and taking advantage of opportunities in the field. "I love being at Penn and in West Philadelphia. And the program has been flexible enough that I can accommodate being human while having a job, taking classes, and volunteering," she says.
Sam credits her advisors and peers with helping her get the most out of the program. An advisor connected her to a volunteer opportunity at Penn Vet's Ryan Veterinary Hospital early in her Pre-Health studies. And through the Penn Pre-Health Facebook page, a fellow student informed Sam of a position at the North Philadelphia PSPCA that would be eye-opening for her. "I had been at the clinic for about a month when a dog came in haggard with a taut belly," she begins. The dog had a life-threatening pyometra infection. Sam sympathized with the animal, who couldn't express her pain the way humans can. "It's heartbreaking to think of how long she suffered without being able to get help," Sam says. Though severe cases of the illness can complicate the surgical treatment, the procedure went smoothly and the patient recovered in a few days. "I didn't know an illness like that could happen in animals. It was completely amazing to know we have the tools and knowledge to save lives." 
Committing to a pre-health education while working full time may seem daunting. To stay balanced, Sam has some strategies. She sets aside one weekday for personal time and self-care. "I go for a run or do my hair; I tell myself I'm not going to think about organic chemistry or work. The midweek break is really rejuvenating—especially when I have a lab until 10 p.m. the next day," she explains. And Sam has found her advisors are supportive of her setting a reasonable pace. "The Pre-Health advisors are always available to talk out any concerns, remind me of my long-term goals, and encourage me to take the time I need. You don't want to go too quickly and burn out. That is a piece of advice that I've really benefited from."
For potential students, Sam adds, "It's okay to take an afternoon off, spend time with friends, or make a nice dinner. Get your work done, do your best, but don't freak out over the small things; you'll need that energy later on. That's a perspective I didn't have as an undergraduate, but that a lot of my pre-health peers have now."
Taking her own advice, Sam is still deciding where she wants her pre-health education path to lead—though after testing the waters in human medicine, shadowing her family doctor, she is leaning toward veterinary school. "I'm about a year and a half away from applying to a professional program. As someone who's not sure which path is the best fit for me, the practical experiences are invaluable to understanding the ins and outs of the vet and med professions, and I wouldn't have had either opportunity without being part of the Penn Pre-Health Programs."